NFL Betting: Jacksonville-Seattle Spread one of Largest in History
by Darin Zank - 9/20/2013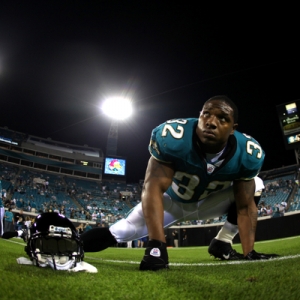 It's not too often we see one NFL team favored by three touchdowns over another NFL team, but that's about what we've got for Sunday's game in Seattle, matching the host Seahawks against the woeful Jacksonville Jaguars.
And why not? Seattle is a Super Bowl contender, while Jacksonville seems a contender for franchise relocation.
But supposedly the Jags are still a professional football team, and they will bring a professional attitude to CenturyLink Field.
Will that be enough to cover that huge spread?
Three Touchdowns
Back late Sunday night, many NFL betting outlets opened Seattle at -17 over Jacksonville. But apparently that wasn't enough, because before you could say "gimme a half-caff cappuccino" the Seahawks had been bet up to -20 and even -21 at some shops.
Of course, at first glance, this game seems like a total mismatch. Seattle has a legitimate shot to win the NFC, and has started 2-0, including a 29-3 smashing of defending conference champion San Francisco last Sunday night.
Jacksonville, on the other hand, after going 2-14 last year, is off to an 0-2 start for its new head coach, Gus Bradley, scoring a total of 11 points through its first two games.
But There's Always Hope
The Jags may have one thing going for them this week; a revived sense of camaraderie. They know they'll be up against it Sunday, playing a very tough team in a very tough place to play. But Jacksonville is on a bit of an extended training camp; the Jags lost Sunday at Oakland, but instead of going home, then making another cross-country flight, one of the longest road trips possible in the NFL, they're staying and practicing on the West Coast, at San Jose State.
So for Sunday's game they won't have to come in off a long plane ride and should be accustomed to Pacific time.
Also, Seattle is coming off a very emotional effort last Sunday night against San Francisco. You know the Seahawks and head coach Pete Carroll were jacked up for that one, going against their favorite nemesis, Coach Jim Harbaugh, and his Niners. But after an effort like that, how does Seattle get up for this game against the lowly Jaguars?
Big Dogs Have Their Days
The biggest betting underdogs have had success in recent NFL betting history.
Back in 2011, New England was favored by 20 points at home over the Peyton Manning-less Colts, who at that moment were in danger of going winless for the season. The Patriots led 31-3 through three quarters but Indy, with the great Dan Orlovsky at QB, scored three times in the fourth quarter to lose 31-24 but cover the spread.
In 2007 New England was favored by 24 points over an injury-depleted Philadelphia Eagles team being quarterbacked by AJ Feeley. But Andy Reid had his boys ready to play, and the Patriots had to fight like hell to win, 31-28. So big-dog backers took the cash that day, too.
Also that season New England was favored by 18 points at Baltimore, 21 points against the Jets and 21 points against Miami. The Pats, of course, won all three of those games, but they didn't cover the spread in any of them.
Over the last six-plus seasons, NFL underdogs of more than two touchdowns are 17-13-1 ATS, and dogs of more than 17 points are 4-0-1 vs. the numbers.
Strange But True
The Jags, or at least those who might be thinking about backing them financially Sunday, might have one other trend, a strange one, in their favor for Sunday's game.
Jacksonville got held to a safety in losing its season opener to Kansas City; last week the Jags scored nine points in losing at the Raiders.
Over the course of the last six-plus NFL seasons, teams have scored in single digits in back-to-back games 40 times, 41 times now with Jacksonville. But for whatever reasons, whether it's embarrassment, or something they do in practice, or perhaps some over-adjusting by the oddsmakers, those teams have gone 26-14 ATS the following week and averaged 21 points per game.
If the Jags can somehow put up 21 points Sunday, that means the Seahawks would have to score at least six touchdowns to cover.
The Insider Angle
Finally, Jacksonville's Coach Gus Bradley was the defensive coordinator at Seattle for four seasons, the last three under Carroll. So maybe Bradley has a little insight as to what the Seahawks might be up to this weekend. Also, I wonder if Carroll might be at least somewhat reticent to run up the score on his former colleague.
Of course, Sunday's game could blow up on the Jags; let's face it, they are not a very good team at the moment. But bottom line – 20 points is a whole lot for an NFL pointspread.