2013 NFL Draft: Props Odds and Betting Picks
by Alan Matthews - 4/17/2013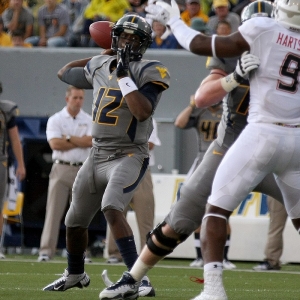 If you are like me, you are no doubt totally jonesing for football right now. The college season ended a little more than three months ago -- sorry, I don't get too excited about the spring games around the nation since you can't bet on them -- and the NFL a bit over two months ago. NFL camps don't open for another 100 days or so.
But I have good news: The next week-plus is the best offseason stretch in pro football. First, the 2013 schedule will be released on Thursday night. We already know each team's opponents, but nearly every hard-core fan will go through the schedule once it's set and say something like "yep, I see 11-5 and a division title this season." It's funny how no one projects their team to finish below .500.
Then a week from Thursday, the NFL Draft begins with the first round in New York. This year's class is being called rather weak at the top because there are no franchise quarterbacks like Andrew Luck and Robert Griffin III (and apparently Russell Wilson) last year. A quarterback has gone No. 1 overall in four straight years and 10 of the past 12.
There are also no franchise-level pass-rushers like South Carolina's Jadeveon Clowney, who will almost assuredly be the No. 1 overall pick in 2014. The Class of 2013 is considered deep on the interior of both lines, which doesn't exactly make for sexy storylines. It seems a near-lock that the top pick will be an offensive lineman for just the third time since 1990 (Orlando Pace 1997, Jake Long 2008).
The NFL Draft props are starting to trickle out at the books, and here I'd like to take a look at five "over/under" props for big-name players at Sportsbook.ag.
--West Virginia QB Geno Smith over/under 6.5, with over at -130 and under at even. There's little argument that Smith will be the first quarterback taken. He seemed to have a case for the top overall spot midway through last season before he and the Mountaineers tailed off big-time at the end. Some wonder if he was a product of Dana Holgorsen's system. The Chiefs took themselves out of the Smith sweepstakes by trading for Alex Smith this offseason. Jacksonville at No. 2 seems willing to give former first-rounder Blaine Gabbert one more year to prove he can be a starter or take a QB later. New coach Gus Bradley likely will look for a pass-rusher at No. 2. So that leaves potential options for Smith with No. 3 Oakland, No. 4 Philadelphia and No. 6 Cleveland to stay under that number. The Raiders just got QB Matt Flynn from Seattle and probably give him a chance to be a No. 1. The Eagles are very interesting. It seems like Smith would be a perfect fit in Chip Kelly's up-tempo offense, and Smith could learn for a year under Michael Vick. Plus, Eagles owner Jeffrey Lurie was part of the Eagles contingent that worked Smith out in Morgantown. That's rare for an owner to do. I say the Eagles do take him, so go under.
--Southern Cal QB Matt Barkley over/under 32.5, with over at -130 and under at even. This seems like an under lock. Barkley was projected as a possible No. 1 overall when he returned for his senior season at USC. That didn't work out at all, but Barkley reportedly was impressive at the USC pro day. I very much believe some team will trade into the latter half of the first round to pluck Barkley. It could be the Jaguars -- some mocks have them taking Barkley with the first pick of the second round (No. 33 overall). Thus, you can see why the number is set at 32.5 -- or Cardinals or Bills, but their first-round picks are too high to take Barkley. Take the under.
--Notre Dame LB Manti Te'o over/under 26.5, with over at -140 and under at +110. He's the story of this draft, and it obviously has nothing to do with his on-field performance. Rather smartly, Te'o turned down the NFL's invite to attend the draft and hear more Lennay Kekua questions. ESPN's Mel Kiper has Te'o going No. 20 to the Bears to replace Brian Urlacher. SI.com's Don Banks has Te'o at No. 25 to Minnesota. ESPN's Todd McShay has him at No. 32 to Baltimore to replace Ray Lewis. I think he does go to the Ravens because the Bears trade out of the first round (they want to recoup a lost third-rounder from the Brandon Marshall trade), so go over.
--West Virginia WR Tavon Austin over/under 13.5, with over at -105 and under at -125. Austin ran a scalding 40 time and his stock is soaring. The Rams are salivating to get him at No. 16, which is where Kiper and Banks have him going. McShay has the Bucs taking Austin at No. 13, but I believe that pick will belong to the Jets by that point in a Darrelle Revis trade. If Austin was 6-1 instead of 5-8ish, he'd be a lock Top 10. But I'd go over here.
--South Carolina RB Marcus Lattimore over/under 84.5, with both at -115. Lattimore is a Top-10 talent but coming off another incredibly severe knee injury. He is apparently ahead of schedule, but it's probably not wise not to count on anything from him in 2013. Some team with lots of picks -- 49ers? -- could take him and just stash him away for a year while he recovers. That 84.5 number is right after the No. 22 pick in the third round, currently held by the Bengals. I could see the Niners taking Lattimore at No. 74 overall, a pick from Carolina, as a long-range replacement for Frank Gore (someone who came back from serious college injuries himself). Lattimore's intangibles are off the charts. Take the under.
Read more articles by Alan Matthews