NFL Handicapping: Most Consistent Teams to Bet On or Against
by Trevor Whenham - 10/3/2013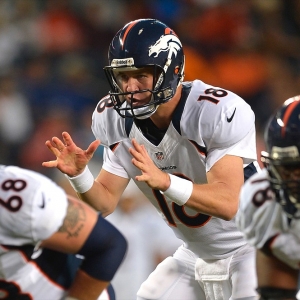 Last week we looked at teams in the NFL that gave me the biggest headaches — their inconsistency making them all but impossible to handicap with any confidence. This year we want to do the opposite, because it feels so much more positive — look at the teams that have been pleasingly consistent and comprehendible through the first month of the season. These are the four teams which, so far at least, have made the handicapper in me smile:
Denver Broncos
I came into the season respecting the Broncos a lot, though I still have long-term concerns about the durability of Manning and their ability to hold up if he were to go down. He has been healthy and flawless so far, though — otherworldly. His strength against a collection of four teams that had some major flaws in one place or another — flaws that the Broncos should be able to exploit — made them a comfortable pick in each of their four games. They have been strong favorites in all four games, and they have done enough to make covering look easy three if the four times. The only time they didn't cover, they still pushed. They were up by 23 late against the Raiders, so they let the waterboy play defense on the last Oakland drive, and the Raiders scored a meaningless TD to reach the 16-point spread. All in all, though, the Broncos have been very predictable — unstoppable through the air, very protective of the ball, and all but impossible to run against. The spreads will only get bigger as they keep winning — if they win in Dallas and the Jags struggle again this week then ,we have a real shot at the first 30-point spread in NFL history in Week 6 — but for now handicapping this team has been as easy for us as scoring touchdowns has been for them.
Jacksonville Jaguars
You don't have to be good to be consistent. The Jaguars certainly aren't good. In fact, through four games I really don't believe that I have seen a team in my years as a fan of the NFL that is any worse than this one. They can't score, they can't play defense, and there is really nothing they can do about any of it in the short term. They may find a way to win one at some point — some really bad teams have — but until they show a spark of competence it would be really hard to have any faith in them. All you need to know about this team right now is that they are facing a St. Louis team next week that was just plain terrible last week in a game that has been much talked about, yet the Rams are still favored by 11.5 points. Jacksonville hasn't even come remotely close to covering a spread this year — a gift for handicappers. The problem here, though, is the opposite of Denver — the worse they play, the more points oddsmakers will give them, and the harder it will be for them to lose by enough to keep failing to cover.
Kansas City Chiefs
The Chiefs have been far from the most exciting team to watch so far, but they sure have been impressive. A team coming off a two-win season has already doubled their win total, and it has been far from a fluke. What has made them so pleasingly consistent (3-1 ATS) is that they know exactly how they need to play to win, and they have proven very good at setting that tone and controlling how the games turn out. They aren't flashy on offense, but they move the ball. Defensively they are relentless against the pass, and they make teams earn tough yards. An offense that doesn't rely on big plays and a defense that is talented and tough on every snap — that's a formula for consistent betting success.
New York Giants
Again, the Giants prove that you don't have to be a good team to be a consistent one. You can't get any more consistent than 0-4 ATS, and in the last two weeks they have failed to cover by 39 and 21 points. The biggest reason why they have been so pleasingly consistent is their absolute failure on defense — they have averaged 36.5 points against in their four games and have allowed at least 31 points in all four. They have gotten worse as the season has progressed, too, and have barely shown up to play their last two. Combine that with struggles moving the ball on the ground and a real talent at turning the ball over, and you have problems that aren't going to go away in a hurry. This is not going to be a quick turnaround. That is great news for us bettors.
Read more articles by Trevor Whenham