NFL Handicapping: New England Patriots Passing Game
by Trevor Whenham - 10/10/2013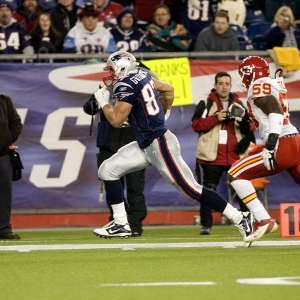 There have been a few things we can always be sure of in the NFL. Marvin Lewis will find ways to disappoint and make his team underperform but will still keep his job. The Bills will always find a way to fall below expectations — no matter how meager they might be. And Tom Brady will always be able to pass like crazy. The first two, thankfully, are as true as ever this year. The third, though, has been far from the case, and frankly it has me all disoriented.
In a monsoon in Cincinnati on Sunday, Brady failed, for the first time in 53 games, to score a single passing touchdown. That was a remarkable streak, and at first it seemed jarring that it came to an end. When you take a closer look at the stats, though, it's a miracle he made it through the first four games. The lowest completion percentage of Brady's career was 60.2 percent, and that came way back when he was a rookie. This year he is completing just 56.6 percent of his attempts. His yards per attempt haven't been below 7.6 since his rookie year. This year he is at a lousy 6.2 — anything below seven is underwhelming. His QB rating of 80.5 this year is well below his previous worst of 85.9 — as a rookie as well — and miles below the 98.7 of last year. Perhaps most alarmingly, he has averaged just over 36 touchdowns per year the last three seasons, but is on track for just 22 this year — which would be another career low. It has just not been a good start. The sample size is still reasonably small, but five games have been enough to learn that this isn't the New England team through the air that we are used to. But why? And can it change? Those are very important questions for pro football handicappers looking to decode this very public team going forward:
Injuries haven't helped
The team has struggled with injuries — and one homicidal maniac — that have left them very short of key personnel. Thanks to the absence of Hernandez and Gronkowski, the tight end, a position Brady has used spectacularly — has been a non-factor. Michael Hoomanawanui is the leading tight end, and he has just four catches for 38 yards. Hernandez and Gronkowski were averaging better than 12 catches and 110 yards combined per game. That alone has been a huge issue for Brady. Gronkowski could return as soon as Sunday, but it would be a mistake to assume that that he will be a miracle fix.
Injuries at running back have hurt almost as much. Shane Vereen was hurt right away, and Stevan Ridley was next to go down. That decimation of a position that already had real depth issues is a real problem. Brady has been the master of play action throughout his career. Against Cincinnati on Sunday, though, the team just ignored his efforts every time he tried it. Lacking personnel made him too predictable, and the results were bleak. Ridley is practicing again. However, even with him in the lineup, the running game isn't the help it could be.
Chemistry with receivers
Brady and Welker shared a brain. Before that, Brady had an incredible understanding with Randy Moss. He just doesn't have that now — and given that Julian Edelman is his primary option, it's no wonder. Edelman has been mediocre in his role, but he's just not suited for what he is being asked to do. Edelman looks like Calvin Johnson compared to the guys behind him, though. It's almost impossible to believe that a team with a quarterback this good would fall down so badly assembling a corps of receivers. Kenbrell Thompkins and Aaron Dobson are rookies, and they are not exactly guys that teams were fighting over. Danny Amendola is a classic underachiever. Brady and this group just aren't on the same page, and it's hard to see that improving dramatically. The receivers also have taken the art form of dropping passes to a whole new level, and that is erasing many gains. To add to that, as teams have started to gather more video on the rookies, they have gotten better at knocking them off their games, and that has made them even less effective. This is a real problem.
Pass rush
The Patriots have a solid offensive line. However, given the offense it is protecting, that unit is all but hopeless. The Bengals harassed Brady by collapsing the pocket all day. They sacked him four times and hit him eight. The most striking thing, though, is that they didn't have to be creative to do it. They just rushed right up the middle time and again in an attempt to make Brady uncomfortable. And because Brady had no escape valve of note, it worked again and again. That is a horrifying trend — especially with a game against Rob Ryan's creative blitzing defense up next. For the first time in his career, opposing defenses aren't respecting Brady's shiftiness because they don't have to. Things won't improve for the team through the air until that changes. Gronkowski may be able to help a bit as a relief option when the pressure intensifies, but there is only so much he can do alone.
Frustration
Brady has always had a sharper temper than some of his peers. What we have seen this year, though, is unlike what we are used to even from him. He's clearly frustrated, and he has repeatedly taken it out on the players who aren't where they are supposed to be. Brady strives for excellence, works extremely hard to achieve it, and expects the same from his teammates. He's not satisfied that he is getting that — or at the very least he isn't seeing the results from their work — and he is letting it get to him more than ever. Brady is the ultimate pro, though, so unlike other areas, I don't expect this to haunt him through the season. He's done too much and been too good to be brought down by his own mind.
Read more articles by Trevor Whenham