NFL Handicapping: New York Giants Face Long Odds for Playoffs
by Trevor Whenham - 9/26/2013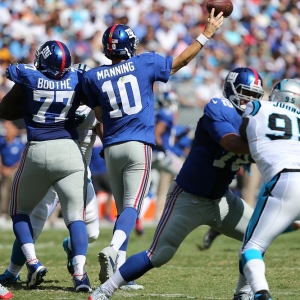 I am not privy to the strategy sessions of the New York Giants' inner circle. I am confident, however, that this is not how the first three games of the season were supposed to turn out. Not only are they 0-3, but they have been progressively less competitive with each outing. They narrowly lost in Dallas in the opener, were not particularly competitive at home against the Broncos, and seemingly missed their flight to Carolina. So, can this team turn things around and perform better from this point forward? Or is it going to be a lost season — one that will provide value for bettors who bet against the Giants regularly?
Offensive line
There were a lot of problems in the loss to the Panthers, but none were more significant than the offensive line play. They can't block, so they can't establish the run — though it is questionable whether they have the running backs to have a good running game even if the blocking was solid, but that's another issue. They can't protect Eli Manning, so he is always working in a panic instead of with calm and focus. Injuries have been an issue — starters Chris Snee and David Baas are out, and former starter David Diehl has struggled with injuries as well. Beyond that, though, depth is a massive issue, and there is a total absence of chemistry. This does not look or feel like a quick-fix issue, and that means that it is hard to be particularly optimistic about the rest of this season.
They have already tried a lot of the things you can do to improve in a hurry, and it hasn't worked. They could bench starters and start backups, but when your backups are lousy — as is the case with the Giants — that is hardly an inspiring option. The line woes have wide-ranging implications. Their run game is absolutely pathetic — dead last in the league through three games with just 44.3 yards per game. Manning can't be as effective as he can be, and he is in much more danger of being injured as well — a blow that would likely be fatal for this team.
Pass rush
Management made the calculation that they would be fine if they let Osi Umenyiora leave for the Falcons in the offseason. They were wrong — at least in the short term. Jason Pierre-Paul has not been nearly effective enough without the dual threat of Umenyiora, and opposing quarterbacks have had all the time in the world as a result — and are clearly making the most of it. Again, it's hard to see how they can turn this around in the short term.
History of 0-3 teams
History is not on the side of the Giants here. Just three teams since the league expanded the playoffs to 12 squads in 1990 have made the playoffs after an 0-3 start. The last squad to do so was the 1998 Bills. Every other teams since 1990 to start 0-3 — all 112 of them — have not played beyond the end of the regular season. Ouch.
Coach Coughlin
You can't help but notice that Tom Coughlin is the third longest serving coach in the league behind only Bill Belichick and Marvin Lewis, with nearly a decade on the job. That doesn't mean he is over the hill or done by any means, but even great coaches can lose their spark and struggle to get their messages through after such a long time. You only have to look at Andy Reid for proof — he is like a new man in Kansas City. I have to be careful here, because the last time I questioned whether Coughlin's time was coming to an end he went out and won a Super Bowl that year. Still, the longer the injuries struggle, the louder the Coughlin queries will become.
Heart
The team quit against the Panthers — plain and simple. They knew they were in trouble, they were sure they didn't have the game on that day to come back, so they just packed it in and let the Panthers run away with the game. That's a massive concern. A team that curls up in a ball when challenged is hard to trust to fight back from a hole like the one they are in now.
How good have they really been lately?
Because this team won the Super Bowl in 2011, there is an impression that they are an elite-caliber team, and that has a lot to do with the reputation they enter each season with. They get respect from the public and the media that lesser teams don't. The truth is, though, that since 2009 they have had little success aside from the Super Bowl win. Since the start of the 2009 season they are just 36-31. That is hardly an elite record — in fact, it is the same record as that team in green they share a building with, and the Jets are hardly in their golden age. The only four playoff wins — in fact the only appearance — have come in 2011 when they won it all. In short, it might not be worth panicking about what is wrong with the Giants because, for the most part, there hasn't been a whole lot right with them lately.
Read more articles by Trevor Whenham