NFL Handicapping: Tough Teams to Bet On
by Trevor Whenham - 9/24/2013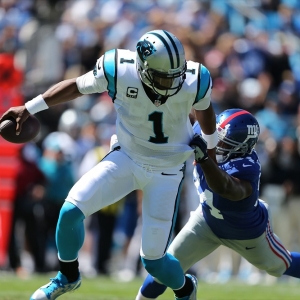 Heading into an NFL season, most handicappers have a sense of what they expect from most teams. They have an idea of which teams will struggle, which ones should be strong, and which ones could provide some intriguing value. The teams I like are the teams that more or less meet those expectations through the first three weeks of the season. It's those teams that are inconsistent and hard to predict, though, that really make my head hurt. Through three weeks of this season here are the three teams that have been the toughest to comprehend.
Carolina Panthers
Coming into the season, it was reasonably easy to be optimistic about this team. They had finished strong last year after a brutal start to the season. The talent was decent, the coaching staff was more established and had made strong changes, and Cam Newton was giving off signals that he had grown up and was ready for a big step forward. Their first two games evaporated a lot of that optimism. It wasn't that they were awful — they played Seattle tighter than anyone else has in their opener, then they lost by a single point in Buffalo. They were playing with an absence of spark, though, and it looked like this was a team that could easily fall off the rails. They faced a crucial game against a Giants team that was clearly vulnerable and had been beaten up by the Broncos the week before. A win was important, but far from assured. Carolina unleashed one of the most jaw-dropping performances of the year, winning 38-0 while sacking the Giants almost at will. Newton was confident and effective, the running game was excellent, and they clearly and easily got into the heads of Eli Manning and company. Was that the sign that the team had found their stride? Or will they fade back into frustrating apathy after their bye week? Things would make a bit more sense if they were playing right away, but having a week off now just adds an unfortunate layer of complication.
San Francisco 49ers
In the opener against the Packers, Colin Kaepernick really couldn't have been better. He complied 412 passing yards, an impressive 10.6 yards per pass, three touchdowns, no picks — it was a tour de force. Since then, though, Kaepernick has looked like a high school sophomore forced to start for the varsity squad. His passes have lacked accuracy and crispness, he has looked lost, and he has been able to do very little — the team has just 10 points in their last two games combined. Losing at Seattle could be somewhat excused — the crowd that night was incredible. Laying a massive egg at home the next week against the Colts, though, was really concerning. On top of Kaepernick's issues there are some injuries, and all the drama surrounding Aldon Smith. That certainly doesn't help. The schedule isn't easy the next three weeks, but this is still one of the most talented teams in the league — if they can start to play like it. To add to the challenge of it, we don't know how the team is going to handle adversity like they are facing now because this is the first time Jim Harbaugh has lost two straight. The team was my Super Bowl pick heading into the season. While that belief has dimmed somewhat, it isn't extinguished, but I sure don't know what to expect from them in the coming weeks.
Houston Texans
I feel like we have seen this movie before — the Texans have plenty of talent, made a few offseason changes, and were expected to be dangerous, yet they seem to be a step or two away from ready for primetime. In their opener they tried their hardest to let the Chargers win before coming back strong to grasp a narrow victory. It required a lot of heart and talent to come back like that, but it's a concern that they got into the hole in the first place. Then they needed overtime to beat Tennessee at home — a real red flag. Much more of a red flag was waved, though, when they were crushed by the Ravens in Baltimore. The final score of 30-9 didn't do justice to how bad the Texans were. On paper this should be one of the five best teams in the league — at least. Right now, though, they are playing like that spoiled prodigy that is so in love with his talent that he is unwilling to do the work required to maximize his potential. They are in good shape, still, at 2-1. However, will they show that they are a real contender when they host the Seahawks this week and travel to San Francisco next week, or will they keep trying to coast through on less than real effort?
Read more articles by Trevor Whenham