NFL Handicapping: Will Broncos or Chiefs Win AFC West?
by Trevor Whenham - 10/17/2013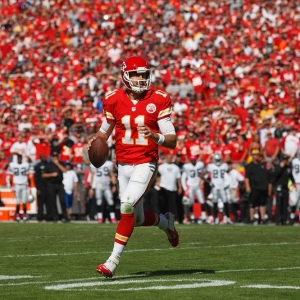 It would have been absolutely impossible to believe it could happen, but the Denver Broncos have a legitimate threat to win their own division. The Kansas City Chiefs — the same team that had the first overall pick in the NFL Draft last year after a 2-14 disaster of a season — are 6-0 and playing outstanding defense. It has been assumed by many that the Broncos would win the Super Bowl, so their division was a given — an afterthought. However, can an argument be made that the Chiefs could actually finish ahead of the Broncos? Yes. How strong is that argument? Let's take a look:
Schedule
There are two factors here — how impressive are the teams they have beaten, and how tough is the road ahead? The fact is that both teams have played reasonably weak schedules up to this point, with five opponents in common — the Giants, Dallas, Philadelphia, Oakland and Jacksonville. The only difference is that the Chiefs won at Tennessee while the Broncos beat Baltimore at home. Neither has been fully tested yet. However, given the common opponents, that is far less of a concern. Denver has six road games left, including tough trips to Indy, San Diego, New England, Kansas City and potentially Houston, if they get back on track. Kansas City only has five road games left, and with the exception of their trip to Denver it is much easier — Buffalo, Washington, Oakland and San Diego. Their next two home games are against Houston and Cleveland — very winnable games as well. The Chiefs have a solid edge in the schedule, though those two head-to-head games between the teams — in Denver week 11 and two weeks later in Kansas City — will likely determine how things turn out.
QB
This one is a no-brainer. A competent guy thriving in a system that suits him, or one of the greatest pivots of all time — not a tough choice. There is only one qualifier here, though. Manning is 37 and is still just over a year away from a very serious neck injury. One hit could end the season of any QB, but that is especially true for Denver. If that happened, with all apologies to Brock Osweiler, the team would be in serious trouble. On the other side, if Chase Daniel or Tyler Bray had to fill in, there would be a period of adjustment, but the loss of production wouldn't be nearly as severe as it would be in Denver. So, Denver has the clear edge here — as long as they are lucky and Manning stays healthy.
Defense
The edge here for the Chiefs is massive. Kansas City is first in the league with 10.8 points allowed per game. Denver has allowed 26.3 against mostly the same schedule. Denver is tops in the league against the run, but that is largely because they are dead last against the pass, so teams feel little need to focus on their ground game. Kansas City has 18 takeaways to 10 for the Broncos and 30 sacks to just 17 from the Broncos. Things could get better starting this week for the Broncos when Von Miller returns to action, but that is far from certain given the issues he has faced since he last played and the resulting uncertainty about his mindset. This is a Kansas City defense that will certainly be tested by the Broncos, but at this point they clearly are the superior unit by a wide margin — and the biggest reason the Chiefs are where they are.
Coaching
No clear edge here. I'd much rather have Andy Reid on my side than John Fox, but that's just personal preference. Both guys are a good fit for their squads, and both clearly have full buy-in in the locker room. I give the Kansas City staff a slight edge because I don't like Jack Del Rio as a defensive coordinator, but both teams have great new offensive coordinators and good talent throughout the staffs. It is less likely than in a typical season that the coaches will make the difference here — at least not in a negative way.
The bottom line
A more favorable schedule, a dramatically better defense — even with Miller back in the fold — a competent offense, and strong coaching. The Broncos are the better team and have the better chance of winning the division, but counting out the Chiefs is not a good idea. Right now the Broncos are -700 at Bovada to win the AFC West, with the Chiefs at +350. Based on what we have seen, it is clear that the value there lies with the Chiefs — and quite substantial relative value at that.
Read more articles by Trevor Whenham