NFL Office Pool Picks Week 11
by Trevor Whenham - 11/11/2013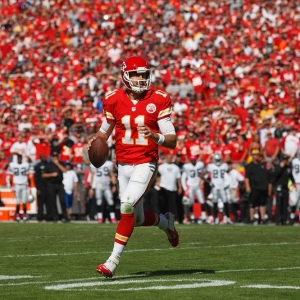 There is absolutely nothing good to say about last week's office pool picks. The Rams?!?!?! The Jaguars?!?!? Ugh. Forget and move on. Here's how I see the 15 games on the schedule playing out this week for straight up picks for NFL office pools:
Indianapolis at Tennessee: I don't know what to think of what we saw from either of these teams last week. The Colts just plain didn't show up at home against the Rams and were humiliated, but the Titans didn't put up much of a fight against the previously-winless Jaguars. Ugly on both fronts. The Colts are healthier, though, so they get the nod here. They just need to remember to show up for the first half. Take the Colts.
Baltimore at Chicago: The Ravens played tough and deserved their win against the Bengals — though it wasn't easy for them. Chicago lost a tough one, but there was still a lot to like. Take the Bears.
Arizona at Jacksonville: Break up the Jaguars! They finally won one last week, and the game wasn't as close as the score suggests. It was a solid, heart-filled effort. But can they replicate it? I'm guessing not. Arizona's defense in the second half against Houston was just plain brilliant, and is going to provide real issues for these fragile Jaguars. Take the Cardinals.
Washington at Philadelphia: I am a believer in Nick Foles. His numbers this week weren't as flashy as last week, but he still threw three TDs without a pick, and his 12.7 yards per attempt were outstanding. He's very confident, and he's at home against a Washington team that isn't playing with much confidence right now. Take the Eagles.
San Diego at Miami: If only you could pass on a game. There are all sorts of reasons not to trust either squad. The Chargers showed some life in an attempted comeback against the Broncos last week — the defense was outstanding, and Rivers was solid. Take the Chargers.
Cleveland at Cincinnati: The Bengals are an absolute mess of a team on the road, and that's the biggest reason why they aren't going to do anything in the playoffs this year. They are at home here, though, and they should be good enough for a win here against a Cleveland team that isn't as good. Take the Bengals.
New York Jets at Buffalo: I had some faith in the Bills last week against the Steelers. I shouldn't have. They were absolutely awful and made a bad Pittsburgh team look good. I don't like these Jets much, but I have no choice but to take them here. Take New York.
Atlanta at Tampa Bay: The Bucs have a world of issues. The Falcons have quit on themselves. Flip a coin. Mine came up heads, so I'm on the home team. Take Tampa Bay.
Detroit at Pittsburgh: The Lions never seem to play quite as well as they should, but they still find ways to win more than they lose. They have a big advantage in this one because the Steelers just aren't very good — and they know it. Take the Lions.
Oakland at Houston: Houston just keeps losing, but the last two weeks I have liked a lot of what they have done. Case Keenum has been impressive, J.J. Watt is playing his heart out, Andre Johnson is relevant again, and the team plays right to the end. They aren't a playoff team right now by any means, but they deserve better, and they are going to get a deserved win at some point — and this is that point. Take the Texans.
Kansas City at Denver: This is the game of the year so far — something that certainly wouldn't have been predictable at the start of the year. I respect both teams a lot, but I have to give Denver the edge for geography if nothing else. Take the Broncos.
San Francisco at New Orleans: Before last Sunday, I would have taken the Niners and felt good about it. I really didn't like how they responded to being punched in the mouth by a very good Carolina defense, though, and I just don't trust this offense in general right now — especially if Vernon Davis proves to be injured beyond just last game. Take the Saints.
Minnesota at Seattle: I am not as fond of the Seahawks as a lot of people, and I was impressed by the feistiness the Vikings showed in their Thursday night win over the Redskins. I can't go against the Seahawks at home, though — the home-field advantage is just too significant, and they are the better team.
Green Bay at New York Giants: As I write this the only healthy quarterback on the Green Bay roster is Scott Tolzien. That's not a good thing. I don't like much about these Giants right now, and they had far too much trouble beating an Oakland team that was truly lousy on the road on Sunday, but they are the pick here. Take New York.
New England at Carolina: A couple of weeks ago I suggested that there was some value in the Panthers as a live longshot at 28/1 to win the Super Bowl. They justified my faith in a very impressive win at San Francisco, and I expect them to show people that they are for real again here. Take the Panthers.
Doc's Sports is offering new clients free NFL picks from any handicapper on our Advisory Board. This special offer does not require a credit card, and you will never have to deal with a salesman. Click here to get your free $60 NFL picks credit today.
Read more articles by Trevor Whenham