NFL Office Pool Picks Week 15 - December 10 2013
by Trevor Whenham - 12/10/2013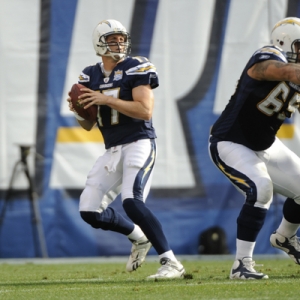 Every week we offer free NFL office pool picks to help you win your office pool. As always, all of our free picks are without the point spread, and these will be posted on Doc's Sports homepage every Tuesday during the NFL regular season. The following are this week's office pool picks:
San Diego at Denver: The Chargers showed a real spark last week — something we haven't seen like that from them in a while. That was at home against a troubled Giants squad. Now they travel to face a Denver team fighting to maintain their home-field advantage and a QB on the verge of some impressive records. That's not good for San Diego. Take the Broncos.
Washington at Atlanta: What an incredibly lousy game. Both teams quit weeks ago, and we don't know how much of RGII we'll see. A handicapping nightmare. The Falcons are at home and are arguably a tiny bit less dysfunctional, so they get the nod here. Take Atlanta.
Chicago at Cleveland: The Browns were very feisty last game and almost caught New England sleeping. Chicago is coming off a huge Monday night win, though. They are confident and playing well on offense, and they will be hungry to keep pace atop their division. Take the Bears.
Houston at Indianapolis: Ugly game. The Texans have lost 11 straight and just cost their coach his job. The Colts just clinched their division, but they did so despite an ugly loss and ongoing struggles. The Colts have little to play for — they are in tough to move up beyond the fourth seed in the playoffs since they lost the tiebreaker to the Bengals — so they could be flat. I'm willing to gamble that the Texans will get a post-firing boost. Take the Texans.
New England at Miami: Losing Rob Gronkowski is a major blow to a team that doesn't exactly have receiving depth to spare. They know how to play without him, though, and know that they need to keep winning to give themselves a chance to catch the Broncos and grab the home-field advantage. Take the Patriots.
Philadelphia at Minnesota: The Vikings are a mess, and as I write the status of Adrian Peterson is uncertain. Philadelphia has won five straight, they showed tremendous heart last weekend, and they now have a lead in their division they will be looking to at least maintain. Take the Eagles.
Seattle at New York Giants: We have taken four road teams already, and we are going to add to that unlikely trend. The Seahawks aren't the same team on the road that they are at home. The Giants aren't much of a team anywhere this year and do not match up well against this defense. Take the Seahawks.
San Francisco at Tampa Bay: And the trend continues. I like some of what the Bucs are doing right now, but they are outmatched by a confident San Francisco team that has won three straight. Take the Niners.
Buffalo at Jacksonville: Another pretty ugly one. The Bills looked just lousy last week, and E.J. Manuel is having issues. Jacksonville, meanwhile, has been reborn and has improbably won three in a row and four of five. They are the less-talented squad, but they are in the far better place here. Take the Jaguars.
Kansas City at Oakland: Another road team. The Chiefs shook off their funk with a dominating performance against the terrible Redskins. Now they face another outmatched squad, and Kansas City will again smell blood in the water. This won't be close. Take the Chiefs.
New York Jets at Carolina: The Jets remain a mess despite a win last week. Carolina was humbled by the Saints, but they are still a very good team that will bounce back well here. Take the Panthers.
Green Bay at Dallas: Dallas was exposed by the Bears and has really struggled in the last month. It would be tempting to pick against them. The Packers barely beat the lousy Falcons, though, so they are not exactly in a good place. Take the Cowboys.
Arizona at Tennessee: The Cardinals are playing good football, but though 8-5 would have them in great shape in the AFC, it is a game out of the NFC playoff race. They need to win and hope for the best, and they have a winnable game here. The Titans are rumored to be on the verge of a coaching overhaul, and they won't be at their best. Take the Cardinals.
New Orleans at St. Louis: The onslaught of road teams continues. The Saints are not a great road team, but they are better than these Rams right now, and they know that they need to keep winning. Take the Saints.
Cincinnati at Pittsburgh: The Bengals are playing well right now, but because they lost to the Ravens once already they have to keep winning to avoid the risk of losing their division. Thankfully, they are playing a winnable game here. The Steelers are just playing out the string. Another road team — take the Bengals.
Baltimore at Detroit: I don't much like either team right now. The Ravens have won three straight, though, and just keep finding ways to pull things off. The Lions, meanwhile, are wildly-inconsistent. Road teams are the thing this week, so take the Ravens.
Doc's Sports has been handicapping the NFL since before every single player currently in the league was born. That's experience. You can get that experience on your side absolutely free. Doc's wants to give you $60 worth of free NFL picks - the same ones that members get. No obligation. Click here to get started today.
Read more articles by Trevor Whenham