NFL Office Pool Picks Week 2
by Trevor Whenham - 9/10/2013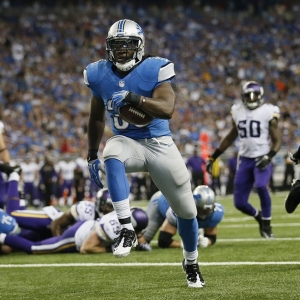 It was a solid first week for me in office pools —12 wins that should have been 13 if someone had told new San Diego coach Mike McCoy that his team has to play for four quarters. Now that we know a little more about what to expect from teams than we did last week, let's see if we can improve on that with these straight up picks:
New England at New York Jets - I certainly did not expect the Jets to win their opener. I don't give them a lot of credit for it, though — the Bucs did as much to lose that one as anything. New England had some opening issues as well and weren't nearly as strong as hoped. Despite that, you have to go with the strength. Take the Patriots.
St. Louis at Atlanta - I have been very bearish on the Falcons — I just don't believe that Matt Ryan and company are built to be a top-level contender. Their opening loss to the Saints didn't help that. I really liked how St. Louis performed in their opener, and I like their prospects going forward. I feel a real urge to gamble, but it's too early in the season to go against decent home teams. Take the Falcons.
Carolina at Buffalo - The Bills were surprisingly solid in their opener. The Panthers were frustratingly tentative. I don't believe ever was a true representation of what to expect from the teams. Carolina will make a statement here. Take the Panthers.
Minnesota at Chicago - Jay Cutler looked solid, his team looked competent, and they won — Marc Trestman got off to a good start with the Bears. Minnesota struggled — especially at QB. Take the Bears.
Washington at Green Bay - I liked the heart the Redskins showed late against the Eagles to try to come back after a disastrous start to the game. They are a solid team, and RGIII knows how to play this game. This is a tough spot for them, though, and the Packers are going to be hungry for a win after a frustrating opener in San Francisco. Take the Packers.
Miami at Indianapolis - Tough game. I really liked a lot of what the Dolphins did in their opener at Cleveland. I didn't like a fair bit of what the Colts did, but they came through when it mattered. Coin flip. The home team gets the edge. Take the Colts.
Dallas at Kansas City - Dallas was as frustrating and inconsistent as we would expect in a win against a Giants team I don't love. Kansas City was sensational, but their game was against a truly lousy team. I don't know how sustainable it is, and this is a big step up in class, but I like the Chiefs a lot right now, and they are the pick.
San Diego at Philadelphia - The Chargers showed more spark than they ever did under Norv Turner. They really didn't respond well defensively when the Texans cranked up the tempo in the second half, though. Crazy tempo is what Chip Kelly is all about, and he will be able to exploit that San Diego weakness — especially since the Chargers are coming off a short week and face long travel. Take the Eagles.
Cleveland at Baltimore - Brandon Weeden should have improved significantly by now. If he has then he is keeping it a secret. His season debut was horrible. The Ravens weren't exactly dominant, and you or I could probably get significant reps at receiver at this point, but they are at home. Take the Ravens.
Tennessee at Houston - The Titans get a lot of credit for a solid defensive game in their opener. Very solid. Pittsburgh is just horrible on the ground, though, and Houston isn't. This one will be more interesting than it could have been — especially with Houston coming off a short week after their late Monday night comeback — but the Texans are the clear pick.
Detroit at Arizona - Arizona lost, but their loss was as solid as any on the week. They played a good team, Carson Palmer was solid, and the team was clearly improved. Detroit had a very nice opening win, though, and is just so dangerous through the air. Take the Lions.
New Orleans at Tampa Bay - Before the season started I was excited about this one. I am not going to write Tampa Bay off after one week, but that was a shockingly-disappointing, wildly-undisciplined performance against a mess of a team. Take the Saints.
Jacksonville at Oakland - Two worst teams in the league, but only one of them played like it in their opener. Oakland was far from good, but Terrelle Pryor showed flashes of brilliance — especially with his feet. Jacksonville was just plain lousy. Before the season I suspected that this would be an almost impossible game to pick. After one week the Raiders are the easy choice.
Denver at New York Giants - The Broncos' hype is absolutely out of control. Total craziness. I just don't like the Giants enough to trust them here, though — even at home. Take the Broncos.
San Francisco at Seattle - Seattle was second-guessing themselves against a Carolina team that was tentative and exploitable. They won, but they were lucky to do so. San Francisco was incredibly impressive on offense and mostly solid on defense. At this moment the 49ers are the better team, and are the pick.
Pittsburgh at Cincinnati - I don't like Cincinnati, but there is absolutely nothing I like about the Steelers at this moment. Take the Bengals.
Doc's Sports has been successfully handicapping the NFL for years – more than four decades in the business – and wants to give new clients a chance to try our service for free. Click here for the hassle-free sign up and get $60 in free NFL picks today.
Read more articles by Trevor Whenham