NFL Office Pool Picks Week 3
by Trevor Whenham - 9/17/2013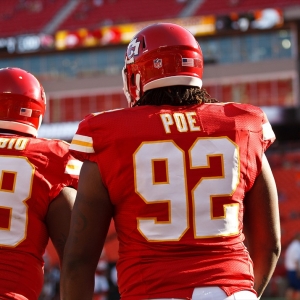 Last week was a solid week — 11 wins — and would have been better if I had maintained my faith in the Dolphins and Chargers and had given up on the Panthers instead. Lessons learned, and now we can apply them to this week. On the surface this seems like the most straightforward week we have seen yet in our pursuit of Office Pool glory. Here are my straight up picks for the week:
Kansas City at Philadelphia - The Eagles offense is fun to watch. The defense is a serious work in progress. So, it comes down to how well you think Alex Smith can handle the pressure of scoring points in a shootout and how well Andy Reid can channel his burning desire to win this game in his former home. My heart says the Chiefs, but my head says the Eagles are the correct pick.
Houston at Baltimore - The Texans like to make their fans sweat. They have won late — very late — in both of their first two games. They should have an easier time here, because I just don't think Baltimore can keep up if Houston has a good day. Take the Texans.
Arizona at New Orleans - I don't like how New Orleans won last time out, but they won. They are at home here, and that is big for them. I like the Cardinals and how they are playing under Bruce Arians, but this will be too much for them against a New Orleans team that should be playing angry after the uncharacteristically weak offensive showing last week. Take the Saints.
New York Giants at Carolina - I really, really wanted to like the Panthers this year. I just don't. Cam Newton hasn't made the step forward he needed to, the team isn't nearly as mentally tough as they need to be, and their game planning is far from crisp. Take the Giants.
Detroit at Washington - If RGIII and the Redskins' offense could play even remotely well in the first 20 minutes of games they would be 2-0 right now. They are off to very slow starts, though, and it has hurt them badly. If they can get off to a better start here they can win. I'll give them one more chance. Take the Redskins.
San Diego at Tennessee - I have been very impressed by these new-look Chargers in three of the four quarters they have played. That's a decent ratio — especially considering where this team was last year. Last week was a huge confidence-builder for Rivers and company, and they will build on that. Take the Chargers.
Tampa Bay at New England - The Patriots have been as frustrating and disappointing as a 2-0 team can be. The Bucs, though, have been as bad as any team in the league that doesn't play in Jacksonville. Take the Patriots. Confidently.
St. Louis at Dallas - A good win and a close loss for both teams. Not a lot to choose between the two. I like the Rams better, but not so much so that I will overlook the advantage of the location. Take the Cowboys.
Cleveland at Minnesota - No wins between them. Minnesota looked solid last time despite the loss, though. Cleveland has just been lousy. Until the Browns show that they have some game, they are easy to ignore. Take the Vikings.
Green Bay at Cincinnati - The Packers found their offensive mojo last week. Their problem, though, is that they just don't have a particularly inspiring defense. The Bengals are not a great team, but they showed some toughness in confidently beating the Steelers. That win wasn't dominating enough offensively for me to pick them here, though. Take the Packers.
Atlanta at Miami - I have been underwhelmed by the Falcons this year — just as I was expecting to be headed into the season. Miami, on the other hand, has been a pleasant surprise. Ryan Tannehill has been excellent, the team is well-coached, and they believe. Take the Dolphins.
Indianapolis at San Francisco - The Niners were embarrassed, and they will be looking for revenge. They are more than capable of getting it here against an Indianapolis team that has bright spots but is far from well-rounded. Take the 49ers.
Buffalo at New York Jets - This is a battle — the first of many, likely — between two top QB picks in the most recent drafts. Of the two, Manuel has looked far more poised and confident at this point — and has a much better environment around the team. Take the Bills.
Jacksonville at Seattle - The Seahawks. Obviously. Easiest pick on the board. Easiest pick of the year.
Chicago at Pittsburgh - I like what Marc Trestman and the Bears have going on in Chicago right now. I don't like anything about what is happening in Pittsburgh. They can't run the ball. Their defense is playing without discipline. Big Ben is not being careful, and he is clearly frustrated by his lack of receivers. Take the Bears.
Oakland at Denver - The Broncos. Obviously. Second easiest pick on the board.
Read more articles by Trevor Whenham