NFL Office Pool Picks Week 4
by Trevor Whenham - 9/24/2013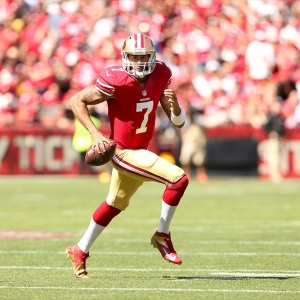 There are many weeks during the course of the NFL season in which you feel like you know what is going on. You had suspicions about how games would turn out, you made the picks in your office pool, and you were right far more than you were wrong. This past week was absolutely not one of those weeks. Ouch. I didn't see Cleveland waking from the dead. Or the Giants being that bad. Or the Ravens laying a major beatdown on the Texans. Or the 49ers forgetting how to play football. It was just plain ugly. All we can do when this happens is forget about it, move on, and do better on the coming week. Like nothing ever happened, let's make some straight up office pool picks for Week 4 of the NFL season:
San Francisco at St. Louis: Both teams have been a major disappointment to me this year, so it is a tough game to pick. The teams also face a short week, and that won't help in either case. Since both squads are troubled, all you can do is pick the more talented team and hope for the best. Take the 49ers.
Baltimore at Buffalo: I have absolutely no idea where that performance by the Ravens against the Texans came from. It just makes my head hurt. Was it circumstantial? Or can it happen again? Buffalo is vulnerable — they are coming off a loss to a Jets team that is hard to respect too much — but they are at home? This is a coin flip. Take the Ravens.
Cincinnati at Cleveland: The Browns pulled off a shocking win last week. That had a lot to do with emotion, though — proving that they weren't going to quit despite losing their best player. Now they have had more time for things to sink in, though, and the Bengals have more time to prepare for Hoyer. Take the Bengals.
Chicago at Detroit: The Lions are doing fine, but I don't have real faith in them. Marc Trestman was an excellent coaching hire for the Bears, and he has this team believing in itself. Time to gamble on the road team. Take the Bears.
New York Giants at Kansas City: The Giants can't provide even an ounce of protection for the QB, and they can't run the ball at all. There is no quick fix for that, and judging by how they quit against the Panthers, the players know it. Kansas City is confident and will be tough at home. Take the Chiefs.
Pittsburgh vs. Minnesota: I don't know what the poor citizens of London did to deserve hosting a game like this. What a horrible mess. Neither of these teams can do anything right now, and they just aren't any good. The Steelers are somewhat worse, though — mostly because their running game is laughably bad. Take the Vikings.
Arizona at Tampa Bay: The Cardinals have a few issues, but they are confident and moving in the right direction. The Bucs, meanwhile, are a freaking disaster. Greg Schiano seems to have lost control of his team, and they absolutely cannot be trusted at this point. Take the Cardinals.
Indianapolis at Jacksonville: Indianapolis just dominated one of the best teams in football. The Jaguars have been humiliated three weeks in a row. It's a mismatch — like almost every Jacksonville game will be this year. Take the Colts.
Seattle at Houston: A week ago, I would have struggled mightily to pick this one. Now it's much easier. The Texans showed that they have some issues — mental as much as anything. Seattle, meanwhile, hasn't had a misstep the last two weeks. The Seahawks have to go on the road again, but they are still very strong and have to be the pick each time they play until they falter.
New York Jets at Tennessee: I don't really trust either team. The Titans have been surprisingly solid this year, though — a win at Pittsburgh, overtime in Houston, and a gutsy comeback against the Chargers. They have the edge here at home, so take the Titans.
Philadelphia at Denver: Philadelphia has issues — starting with the fact that Michael Vick seems to have regressed since the start of the season. Denver has yet to show any major flaws — on the field, at least. Take the Broncos.
Washington at Oakland: This game shouldn't be hard to pick. The Redskins should be by far the better team. So far, though, they really haven't been. I would really like to be able to trust the Raiders here, but I just can't — especially not on short rest. Mike Shanahan won't let himself lose in Oakland if he doesn't have to. Take the Redskins.
Dallas at San Diego: San Diego has stumbled late in all three of their games but have held on only once. While that really frustrates me, I like a lot of what they are doing this year more than I like the Cowboys. Take the Chargers.
New England at Atlanta: I have been really down on the Falcons since before the season started, and with each outing my doubt grows. This is not a mentally-tough team right now. The Patriots have plenty of flaws, but still have to be the pick.
Miami at New Orleans: Who would have guessed before the season that this would be the best game of the week. It is, though. I would love to pick the Dolphins, but the loss of Cameron Wake to injury really hurts. Take the Saints.
Doc's Sports is offering new clients free NFL picks from any handicapper on our Advisory Board. This special offer does not require a credit card, and you will never have to deal with a salesman. Click here to get your free $60 NFL picks credit today.
Read more articles by Trevor Whenham