NFL Playoffs Handicapping: Potential Betting Traps
by Trevor Whenham - 12/30/2013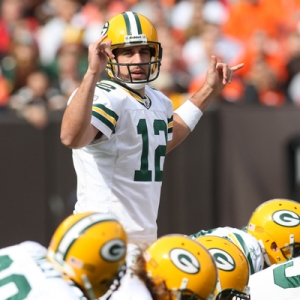 Everything is new in the NFL once the playoffs start. What happened in the regular season is relevant, but it is far from a defining factor. The last two years a fourth seed has won the Super Bowl. The year before that Green Bay was a sixth seed that got hot at the right time. If handicappers get too tied down by what happened in the regular season they can fall into traps that might lead to bad decisions. Here's a look at one such potential trap in each of the four wild-card games:
San Francisco at Green Bay - Rematches: This is the fourth time in the Harbaugh era that these two teams have met. Each game has been high-profile, and the Niners have won all three reasonably easily. They have met in the season openers the last two years and the playoffs last year. The betting public loves few things more than rivalries — especially when they are one-sided. The truth is, though, that those meetings have next to no real impact on how this game might turn out. They haven't played at all since the first game of this season and haven't played in Green Bay since the beginning of last season. So much has changed with these teams since then, starting with the health of Aaron Rodgers, the development of a decent running game in Green Bay, the evolution of the offense in San Francisco, and so on. You can barely trust what happened a month ago in this league given how quickly things change. Trusting what happened on a mild afternoon in San Francisco four months ago is just plain ridiculous. The public is heavily on the Niners in this one, and the line is moving accordingly, so you can be sure that they are giving the recent history more attention than it deserves.
New Orleans at Philadelphia - Road blues: One of the most overused storylines in these playoffs so far is the New Orleans Saints and their issues on the road. While they have indeed struggled, it's easy to overstate the concerns. They were 3-5 but lost at New England by a field goal, Carolina by four points, and the Jets by a point less than a touchdown. If two, or even one, of those games go the other way then this isn't a big storyline. More significantly, two of those three teams are Top-2 seeds in these playoffs, and New Orleans was far from blown out. Philadelphia features a QB without playoff experience, and they lost four home games. The weather could be lousy in Philadelphia, too, so that would make this game even more unpredictable than it otherwise would be. You can handicap this game in all sorts of ways, but relying too heavily on New Orleans' road woes is just lazy handicapping.
San Diego at Cincinnati - San Diego's struggles last week: More than once in the last day I have read about how San Diego is tougher to trust now than they were a few days ago because they barely beat Kansas City and their backups. I really struggle to care. What matters more to me is that they did find a way to win and that they fought back from a 10-point hole at the start of the fourth quarter to do so. They showed toughness, and they did it against one of the deeper teams in the league. They have won five of six and are playing with tremendous confidence and faith in their coach and system. If you are going to dock them style points for their last loss then you have to give them extra for winning in Denver in Week 15.
Kansas City at Indianapolis - Chiefs limping into the playoffs: I'm tired of hearing how the Chiefs have limped into the playoffs, losing five of their last seven. First, if you believe strongly in momentum in the NFL then you obviously haven't been watching the league closely enough. More significantly, you can't judge the state of this team by their recent form. Their fate was essentially sealed when they beat up on Washington in Week 14. They had 10 wins, and it was very unlikely that they wouldn't be the fifth seed at that time and all but impossible that they would miss the playoffs, and it was seemingly impossible to win the division at that point. The last three weeks have just been about survival. Given that, the fact that they beat up on the Raiders, took the Chargers to overtime on the road with backups, and gave nothing away against a Colts team that they knew was a likely playoff opponent really isn't too bad. It certainly isn't reason to panic. At best it is just incomplete information. You can doubt the Chiefs for a lot of reasons, but momentum isn't one of them — especially not against an Indianapolis team that doesn't have an impressive win since beating the Broncos on Oct. 20 and which has three truly ugly losses since then.
Read more articles by Trevor Whenham