NFL Power Rankings - Week 11
by Robert Ferringo - 11/12/2013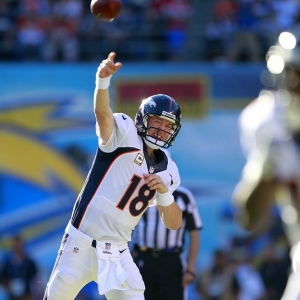 Can anyone play this game?
Four weeks ago it looked like Ron Rivera was going to lose his job, and now his Panthers are coming off a convincing win over preseason Super Bowl favorite San Francisco, and Carolina is favored over Tom Brady on "Monday Night Football".
St. Louis absolutely thrashed the Colts, who have wins over Denver, San Francisco and Seattle this year, by 30 points on the road last week.
Not only did Jacksonville and Tampa Bay score their first wins of the season, but both teams are being heavily bet here in Week 11.
The NFL continues to be the Circus of the Absurd. Parity and rule changes each week equals a spin of roulette for teams looking to gain a foothold near the top of the league's hierarchy. And as we enter Week 11, one thing that bettors need to be wary of is "Records Handicapping".
Records Handicapping is what I call the phenomenon where casual bettors look at Team X, which is 6-3, and see that they are heavy favorites over Team Y, which is 3-6, and instantly back the favorite because one team is perceived as "good" while the other is "bad". That is dangerous and foolish thinking.
This is generally when we see teams start to regress toward the mean. Even bad teams in the NFL manage to win five or six games. And that means that teams like Atlanta or Buffalo or Oakland probably still have an upset or two left in their quiver, and they should be handled appropriately against more seemingly formidable opponents down the stretch.
Here are Doc's Sports Week 11 NFL Power Rankings:
1. Denver Broncos (8-1) – Peyton Manning will play and will throw three touchdown passes this week. Book it. All of the focus this week will be on Manning's offense against the top-rated Kansas City defense. However, the team that wins the Chiefs offense vs. Denver defense matchup will be the team that takes the cash on Sunday.
2. Kansas City Chiefs (9-0) – Dwayne Bowe is a first-rate idiot. He was arrested for speeding and possession of marijuana during the Chiefs week off. That said, I don't know if the arrest would automatically bring a suspension from the team. I fully expect him to play – though not well – this week at Mile High.
3. New Orleans Saints (7-2) – I think the betting public is going to overreact to the Saints blowout victory over Dallas on "Sunday Night Football". That play made a lot of money for a lot of bettors and was absolute domination by the Saints. However, San Francisco represents New Orleans' bugaboo: a tough, physical, run-first team with a powerful defense.
4. Seattle Seahawks (9-1) – Seattle is just 1-3 ATS this year as a double-digit favorite, including tight wins over Tennessee, St. Louis and Tampa Bay. I think it is safe to say that the Seahawks home-field advantage has become somewhat overvalued by the sportsbooks.
5. San Francisco 49ers (6-3) – Outside of a season-opening win (and miracle cover) against Green Bay at home, the 49ers' best win of the season may have come against Arizona. That's not good. The 49ers have been outgained in four of their last five games despite their 4-1 ATS mark.
6. New England Patriots (7-2) – Tell me that this isn't a vintage Brady-Belichick setup: the Patriots are primetime underdogs, on "Monday Night Football," against a trendy, sexy opponent that is coming off its biggest win of the season. The Patriots are 5-0 ATS on their last five Monday night games, although just 0-3-1 ATS after a bye week.
7. Cincinnati Bengals (6-4) – As incredible as it would've been to win last week's game – in overtime set up by a Hail Mary – I now wonder if it is almost more demoralizing to lose it the way that they did. Cincinnati is just 3-9-1 ATS in its last 13 divisional games.
8. Detroit Lions (6-3) – The public continues to hammer away at the Lions. But Detroit is just 4-10 ATS in its last 10 games on grass, and they are coming off a couple of tough, hard-fought, emotional games. Detroit is also 2-5 ATS against teams below .500, and they may not be as "up" for this game as they would've been if the Steelers were having a better year.
9. Indianapolis Colts (6-3) – This is still a young Colts roster, and we saw their total lack of focus last week. Since they lost Reggie Wayne the Colts were blown out by 30 by the woeful Rams and should've lost to Houston. This team has a great resume, but I am less impressed with them by the week. The Colts are 10-1 ATS the week after a loss and 6-1 ATS in their last seven divisional games.
10. Carolina (6-3) – Carolina is No. 3 in the NFL in converting third downs this year, with a 46.15 success rate. That is a result of success on first and second down as well as the fact that Carolina is one of the least-penalized teams in the NFL.
11. Green Bay Packers (5-4) – If I were the Packers, I think I would go with Matt Flynn, off the street, this week. Scott Tolzien is a mess and has no idea what he is doing. He's essentially a poor man's Jeff Tuel. I would roll the dice with Flynn and hope for a little bit of magic against the Giants.
12. Chicago Bears (5-4) – Like turnovers, injuries are cyclical. And after finishing No. 4 in the NFL last year in fewest starts lost to injuries, the Bears are getting racked by the injury bug. Charles Tillman is done for the year, and both Jay Cutler and Lance Briggs are still out this week. Remember who said last week that the Bears would be better off sticking with Josh McCown.
13. New York Jets (5-4) – We will see if the bye week was enough to knock the Jets out of their alternating win-loss-win-loss cycle for this season. The Jets have really owned Buffalo lately, going 6-2 ATS in the last eight meetings and 4-1 ATS in their last five trips to Orchard Park.
14. Arizona Cardinals (5-4) – It will take everything the Cardinals have not to have a letdown this week at Jacksonville. Arizona has snuck into the playoff picture – like I said they would – but they are traveling across country to play a 1-8 opponent. It is tough to find motivation for that, especially with a Bruce Arians rematch game against Indianapolis on deck.
15. Baltimore Ravens (4-5) – That was a season-saving win over the Bengals last week, despite a shaky fourth quarter out of Baltimore. But the Ravens still have plenty of work to do, and they are just 1-4 ATS in their last five road games. Baltimore is on a 7-0 ATS rush against teams above .500, and they are 15-5-1 ATS in their last 21 games against teams with a winning record.
16. Tennessee Titans (4-5) – Tennessee's once-promising season may have been sent off the rails by last week's shocking loss to Jacksonville. Not only did they give away a game they had to have in the division, but also they lost Jake Locker – again – and are now stuck with Ryan Fitzpatrick, who is pathetic. Home teams have been very good on Thursday nights the last two years
17. San Diego (4-5) – The public is all over the Chargers this week despite the travel disadvantages for San Diego. Nearly 90 percent of the bets are coming in on the Bolts, who have gone 2-2 SU and ATS in the East this year. This is San Diego's third cross-country trip in the last five weeks.
18. Philadelphia Eagles (5-5) – The Eagles haven't won a home game in a year and are 0-4 at The Link this season. The home team has won only twice in the last seven meetings with Washington, and the home team is just 2-7 ATS in the last nine meetings.
19. Dallas Cowboys (5-5) – Dallas has about four guys starting on defense – Ernie Sims, Bruce Carter, Danny McCray and Jeff Heath – that probably shouldn't even be in the NFL. And if you take Dez Bryant and Jason Witten away from the offense, there isn't a lot to like there either.
20. Cleveland Browns (4-5) – Believe it or not, the Browns can thrust themselves back into the thick of the AFC North race with a win over division-leading Cincinnati this week. Cleveland is 3-0-1 ATS in its last four against the Bengals, and the underdog is an outstanding 12-3-1 ATS in this series.
21. Miami Dolphins (4-4) – Can we be done with the Incognito-Martin Saga now? That story has been beaten to death. What is more noteworthy is how quickly Miami's season has turned into a dumpster fire, with the Fins going 1-5 SU and ATS in their last six games.
22. Oakland Raiders (3-6) – Back-to-back road games is not something the Raiders are built to handle. This Raiders team was able to build some momentum and confidence through September and October. But they also played five of seven games at home between Week 2 and Week 9. They are 3-1 ATS on the road so far this year, but I don't expect that to last.
23. Pittsburgh Steelers (3-6) – Road losses to Minnesota and Oakland are an anchor around this team's neck right now. Had they won both of those contests they would be 5-4 and in the thick of the race in the AFC North. The Steelers are 3-10-1 ATS following a win and just 4-9 ATS in their last 13 games overall.
24. New York Giants (3-6) – Eli Manning is still a train wreck, and the Giants actually won in spite of him – again – last week. New York should be throwing the ball to Victor Cruz at least 13 times per game. No one can cover him, and he is by far their most reliable offensive weapon.
25. Buffalo Bills (3-6) – After a solid 5-2 ATS start to the season, the Bills have gone 0-3 against the number. They have been outgained in four of their last five games, and yet they are favored this week against the Jets, whom they allowed 513 yards to back in September.
26. St. Louis Rams (4-6) – I am still not buying into Tavon Austin after one big day. I have seen him screw up way too many times this year to forgive and forget thanks to one fluke game.
27. Houston Texans (2-7) – LOL Wade Philips. Anyone that bets on this loser deserves what they get!
28. Washington Redskins (3-6) – The Redskins have allowed four of their last five opponents to score 30 or more points and are surrendering 31.9 points per game this year. They have gone "over" in four straight, yet their total in Philadelphia this week is "just" 52.5. Looks like a trap to me.
29. Atlanta Falcons (2-7) – I don't see more than two more wins on the Falcons schedule this year. As I have been saying for weeks/months, beyond Atlanta's starters on offense and defense, they don't have NFL-caliber talent. Right now Atlanta is suiting up maybe seven guys that are legitimate NFL-caliber starters.
30. Minnesota Vikings (2-7) – The Vikings may welcome back a pair of starters in the secondary this week. Jamarca Sanford and Chris Cook both practiced this week and may play in Seattle. The Vikings secondary has been one of the three or four worst in football since Harrison Smith went down in mid-October. They were one of the six or seven worst before that.
31. Tampa Bay Buccaneers (1-8) – One win does not mask a season of ineptitude. Just ask Jacksonville. The home team is 3-1-1 ATS in the last five in the Tampa Bay-Atlanta series. But the Bucs, like Miami in the southern part of the state, have become one of the worst bets in football at home, going just 11-28-1 ATS over the last five years.
32. Jacksonville Jaguars (1-8) – Can the Jaguars make it two in a row? The spread on their game with Arizona is actually coming down after Jacksonville's peak performance last week. Maybe the Jags have a little more magic this week against a distracted Arizona squad.

Throughout the season I will have my NFL Power Rankings every Tuesday. My next ones will be released on Tuesday, Nov. 19.
Robert Ferringo is a lead writer for Doc's Sport and he is off to a strong start to the season. Robert nailed his 7-Unit NFL Game of the Year last week with Tennessee over St. Louis and banked $1,300 in profit in Week 9. Robert has earned three of four winning football weeks overall and will be back with more this week. Take advantage of our free, no-strings-attached $60 credit to use toward a purchase of Robert's football selections and get on this big game. CLICK HERE for $60 absolutely free!
Read more articles by Robert Ferringo