NFL Power Rankings - Week 16
by Robert Ferringo - 12/17/2013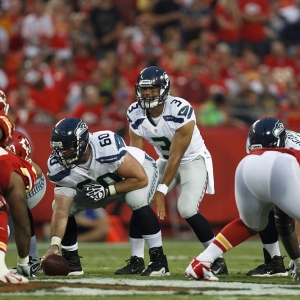 Week 14 was the highest scoring week in NFL history.
Until Week 15.
Like I touched on last week, defense has essentially been outlawed in the NFL. And right now bettors are almost blindly betting on every game to beat the posted total. The books are scrambling to adjust. But they know that this week features a host of what are essentially playoff games, which are usually lower-scoring. The books are caught in the middle of the road. And the freight train that is NFL scoring just keeps bearing down on them.
Defense is against the rules in the NFL, apparently. And it is not a coincidence that three of the top four teams in my Power Rankings have three of the best defenses in football. Further, if you look at the Top-11 teams you'll notice that they are primarily teams with solid, Top-10 or Top-12 defenses. The Broncos (No. 23) and the Patriots (No. 24) are the lone exceptions, but no one seriously considers them as Super Bowl favorites. And by "no one," I mean me.
Defense still wins championships, boys and girls. And we're getting into Winning Time in the NFL. Strap them up. And don't lay points with teams that can't get stops.
Here are Doc's Sports Week 16 NFL Power Rankings:
1. Seattle Seahawks (12-2) –Interesting point at the end of the Giants game last week: that could have been Seattle's final road game of the season, and if they do have to play away from home again it would be back in Giants Stadium in the Super Bowl. Seattle is 34-16-1 ATS in their last 51 games, and the Seahawks are an amazing 36-16-1 ATS in their last 53 home games. They are 6-2 ATS the last eight times they have hosted the Cardinals.
2. San Francisco 49ers (10-4) – The 49ers were in a massive letdown spot last week after the big win over Seattle. They were flying across country for the dreaded 1 p.m. EST start time. And they were facing a Tampa Bay team that had been playing hard. And San Francisco dominated that game from start to finish in spite of those factors working against them. This team is on a major upswing. They should also have some extra juice on "Monday Night Football" since this is the last regular season game to be played at Candlestick Park.
3. Denver Broncos (11-3) – It is pretty simple: at some point you have to be able to stop someone. Right now the Denver defense is as bad as anything we've been seeing from teams like Chicago, Dallas, Philadelphia or Washington. They have become an Accidental Defense. That is what I call any defense that only gets stops thanks to opponents' screw-ups – penalties, missed throws, etc. – rather than going out and actually stopping someone.
4. Kansas City Chiefs (11-3) –If the AFC playoff form holds, then Kansas City, despite having the better record, would have to play at Indianapolis, this week's opponent. I imagine that has to dig at the Chiefs, who are better in all three phases of the game. Kansas City has more motivation than Indy this week since the Chiefs actually still have a chance to win their division as opposed to the Colts, who have clinched. Further, this is the Chiefs' final home game of the regular season, and you know they will want to give the hometown fans a strong effort to remember them by.
5. New Orleans Saints (10-4) –As we've pointed out time and time again, the Saints are vulnerable against any team that can run the ball and play physical football. Unfortunately for the Saints, they are on the road to face another one of those teams this week at Carolina. Surprisingly, the public is taking a strong position with the Panthers. Nearly 68 percent of the early betting has come in against the Saints, which is very rare. The Saints are 0-5 ATS in their last five road games but are 21-10 ATS in their last 31 games against teams that are over .500.
6. New England Patriots (10-4) – Every time I turned to look at the Patriots game it seemed like they were showing a slow-mo replay of someone dropping an absolutely perfectly-placed Tom Brady pass. Seriously, it is remarkable that Brady hasn't snapped on management for making him work with these loser receivers. It is not often that the Patriots get to dress up as an underdog and even more rare when they get to wear a revenge cloak. The Patriots have beaten the Ravens three straight times – in the regular season. But New England has revenge for their failure in Foxboro last year in the AFC Championship Game.
7. Carolina (10-4) –Remember: the Panthers had two early drives stall at New Orleans, and they had to settle for field goals. If the Panthers had gotten up 10-0 or 14-0, that game, an eventual 31-13 Saints win, may have been a different story. The home team has won three of four in this series, and the Panthers are 7-3 ATS in their last 10 matchups with the Saints. If you are going to take the Panthers this week don't worry about the spread; only three of the last 10 meetings have been determined by a field goal.
8. Cincinnati Bengals (9-5) –It is very important that the Bengals show some maturity this week and not get caught looking ahead to their crucial Week 17 matchup with the Ravens. The Bengals can render that game meaningless by beating the Vikings and getting help from the Patriots. Cincinnati has just wrecked people at home this year, winning their last three home games by an average of 25 points per game. They are 7-0 ATS in their last seven home games and 15-7-1 ATS in their last 23 games overall.
9. Arizona Cardinals (9-5) –Who thought that the Cardinals were going to be this good? Oh, right, THIS GUY! My 8-Unit Futures winner on Arizona at 5.5 wins now looks like one of the best bets of the year. But these last two games, at Seattle and hosting San Francisco, are just too much for them. That said, if Carolina loses to New Orleans this week, Arizona would still have a slim chance heading into Week 17.
10. Baltimore Ravens (8-6) –Monday night made it 10 of 11 Ravens games decided by six points or less and a stunning nine of 11 determined by a field goal or less. They also played nine games decided by three points or less last year, and those 18 close games in two seasons have to be an NFL record. The Ravens are 4-1 ATS in the last five meetings, but the road team has covered five straight in this series. Baltimore is 19-6-2 ATS against teams over .500.
11. Miami Dolphins (8-6) –The favorite is 4-1 ATS in the last five games in the Buffalo series. But Miami has to avoid the letdown factor this week after upsetting the Patriots. But Miami has passed over Philadelphia as the Hot, Trendy Team now, and this group has a full head of steam. The Fins are on a five-game ATS winning streak and are just playing really good football right now. Two divisional games against two loser teams await, and I know I am not in a hurry to jump in front of this train.
12. Chicago Bears (8-6) –I do not care that the outcome was a win. It was a mistake to go back to Jay Cutler over Josh McCown. Cutler is simply too turnover prone, as a natural inclination, and right now he is out of form. The Bears offense has been on fire. The Bears have gone "over" the total in 11 of 14 road games, and they are 17-4 against the total in their last 21 games following a win. The Bears are just 2-8 ATS after a 'W,' and they are just 2-9 ATS in their last 11 conference games.
13. San Diego (7-7) –The Chargers were thoroughly outplayed by the Raiders in the first matchup this season. They have legitimate revenge, since that loss is really what is keeping San Diego out of the playoff picture. The Chargers are heavy favorites, but the road team has actually won four of six in this series. The Chargers are also just 2-7 ATS against their in-state rivals.
14. Philadelphia Eagles (8-6) – I am in second place in the prestigious Wise Guy's contest with the top football handicappers in the world. And last week I had to decide between using Seattle or Philadelphia and, naturally, I went with the loser Eagles. D'OH! Philadelphia should have an absolute field day against Chicago's pathetic secondary this week. The Eagles have won three straight home games after their nearly two-year home losing streak but are just 5-20 ATS in their last 25 games at The Linc.
15. Green Bay Packers (7-6-1) –I know everyone is jumping back on the Packers bandwagon right now. But let's be honest: if it wasn't for the stunning loserdom of Dallas, the Packers would be on an 0-7 ATS slide. I have a feeling – and this is just a guy feeling – that Matt Flynn will play again this week and that Aaron Rodgers will make his return in Week 17 to drive a dagger into Chicago's playoff hopes. If Rodgers plays this week, I expect a spread of Green Bay -3.5. If Flynn plays the Steelers may be -1.0.
16. Indianapolis Colts (9-5) –As I mentioned, the Colts have nothing to play for this week in Kansas City. They will want to be sure to protect Andrew Luck. Keeping him upright is really their only motivation. And it will be interesting to see if Indy decides to hold some stuff back from their likely wild-card opponent or if Indianapolis plays for the win and tries to make some kind of statement.
17. Pittsburgh Steelers (6-8) – I don't expect a Mike Tomlin-led team to ever roll over, so I think that the Steelers will come to play this week in Lambeau. You could worry about the letdown factor for Pittsburgh after they took down Cincinnati. But the reality is that if not for two last-second losses to Baltimore and Miami then Pittsburgh would be riding a six-game winning streak and would be 8-2 ATS in its last 10 games. I think this team has embraced its roll as a spoiler.
18. St. Louis Rams (6-8) – Take a look at this team's schedule. Wow. They have only played one team with a losing record in their last nine games, and that was at home against a better-than-its-record Tennessee team. St. Louis has been outgained in its last five games. This week is just the 12th time that the Rams have been favored going back to the start of the 2008 season. They are just 4-7 ATS when laying points, but they are 2-1 ATS as a chalk this year.
19. Tennessee Titans (5-9) – Another heartbreaking loss for the Titans. I actually think it would be a mistake to fire Mike Munchak, and I really feel like this team has some massive sleeper potential next season, assuming they get their quarterback situation worked out. Like St. Louis, the Titans have played a ruthless schedule, with seven of their last 10 games coming against teams with a winning record. The Titans are just 3-12-1 ATS in their last 16 divisional games.
20. Detroit Lions (7-7) – Seriously: the Lions are just a worse version of the Cowboys. And henceforth Matt Stafford will be known as Lil' Romo. I have said for the past two years that I think Stafford is one of the more overrated players in the game. If you took mutant Calvin Johnson away from Stafford he'd be just another mediocre quarterback with a big arm. Also, why do the Lions have to walk up eight flights of stairs just to get to their locker room? Anyone else notice that?
21. Dallas Cowboys (7-7) –Losers. That's it. Nothing more to say. As I have pointed out time and time again, the Cowboys are just complete and total losers. Period. They are now 8-21-1 ATS in December with Tony Romo under center and 6-18 ATS over the last three seasons in November and December. Losers. But over 70 percent of the public is still betting on Dallas this week against hapless Washington. I am still praying that their Week 17 game against Philadelphia is for the division. They will get crushed.
22. New York Giants (5-9) – Are the Giants worse than the Jets? According to my rankings they are not. However, that's truly the only interesting discussion related to New York football right now. My Giant-fan friends are in mourning (I am loving it), and one of them used the perfect word to describe the G-Men right now: "fodder".
23. New York Jets (6-8) –I think the Jets are on fumes after being rebuffed in their last-ditch effort for relevance in the AFC. The Jets only win in the last month-and-a-half was a mercy beating of the Raiders two weeks ago. Other than that they have been outscored 109-40 in games against the Bills, Ravens, Dolphins and Panthers. I think the fact the books haven't installed the Jets as token three-point favorites over the Browns speaks volumes.
24. Cleveland Browns (4-10) –No one has noticed, but Ray Horton has done another amazing job with a defense on a losing team. The Cleveland defensive coordinator should be one of the top candidates for what will be a plethora of coaching vacancies this offseason. I think he would be a perfect fit in Detroit. The Browns are 11-5-1 ATS in their last 17 games on turf and 16-5 ATS against their last 21 opponents sporting a losing home record.
25. Tampa Bay Buccaneers (4-10) –It is easy to tab the Bucs as a team ready to mail it in. But I don't think so. They have gone 5-2 ATS in their last seven games, and the two losses came in games against Carolina and San Francisco. Tampa came to play at Seattle and at Detroit – whom they upset on Nov. 24 – so I wouldn't expect them to get run out of St. Louis this weekend.
26. Minnesota Vikings (4-9-1) –This team has been spry the last few weeks. They are 4-0 ATS in their last four games and 6-1 ATS in their last seven games. If you toss out their blowout loss at Seattle, Minnesota's only losses were a tough last-second failure at Dallas and their wild loss-win-loss-win-loss game at Baltimore. Adrian Peterson will be back this week. And as much as I rip on Matt Cassel and his noodle arm, Cassel has a little mojo right now.
27. Atlanta Falcons (4-10) –It took seven turnovers for the Falcons to beat the Redskins. Seven! If a team turns the ball over seven times and you win by one point, that says as much about how bad your team is as it does about your bumbling opponents. Atlanta has revenge this week against San Francisco for the NFC Championship Game. But they won't get it.
28. Buffalo Bills (5-9) – A game against Kansas City back on Nov. 3 was Buffalo's last test against a team with a winning record. They have gone just 2-3 SU and ATS in their last five games against the rest of the NFL's losers. The temperature in Buffalo on Sunday is supposed to be over freezing, with a game-time high of 37 degrees. But there is a 70 percent chance of a rain-snow "wintry mix". Should favor the home team.
29. Jacksonville Jaguars (4-10) –Denard Robinson: loser. Nice fumble through the end zone. If I had lost my 7-Unit NFL Total of the Year because of that idiot I would've snapped. But fortunately the Bills defense is as bad as I think it is, and we got past the 43-point total with a 27-20 winner. The Jaguars are just 6-13 ATS in their last 19 games but are 5-1 ATS in their last six games against the Titans, including a win earlier this year.
30. Oakland Raiders (4-10) –This is going exactly as I predicted at the beginning of the season. I said I thought the Raiders would be kind of feisty early. But the fact is that their roster was so paper-thin that by this point in the season they would be running on fumes. Their total against San Diego opened at 46.5 and was instantly bet up to 50.5 and 51.0. That is a massive move on a totals number, and everyone expects the Raiders to get lit up again after allowing 124 points in their last three games.
31. Washington Redskins (3-11) – Apparently Mike Shanahan reads my Power Rankings! I said last week, days before it was announced that Bob Griffin would be placed on season-ending injured reserve, that I didn't understand why the Redskins were playing him. I completely agree with shutting him down for the season. And part of the reason is that you have to let Cousins get some reps so you can see what you have.
32. Houston Texans (2-12) –Fade Wade! I didn't think I'd ever get a chance to bet against a Wade Phillips-led team again. Last Sunday was glorious. What do you think? You think Phillips will have the Steers ready for Peyton Manning this week? Hahaha! Denver should win by 1,000.
Throughout the season I will have my NFL Power Rankings every Tuesday. But to accommodate for Christmas, our next ones will be released on Monday, Dec. 23.
Robert Ferringo is a lead writer for Doc's Sport and has been dominating the books lately with EIGHT STRAIGHT winning football weeks and EIGHT STRAIGHT winning NFL weeks. Robert has gone 35-12 against the spread with his last 47 NFL side plays and he has hit a stunning 72 percent of his last 85 NFL picks overall. Robert has earned his football clients nearly $10,000 in profit this year and is not finished.Take advantage of our free, no-strings-attached $60 credit to use toward a purchase of Robert's football selections and get on this big game. CLICK HERE for $60 absolutely free!
Read more articles by Robert Ferringo