NFL Power Rankings - Week 3
by Robert Ferringo - 9/17/2013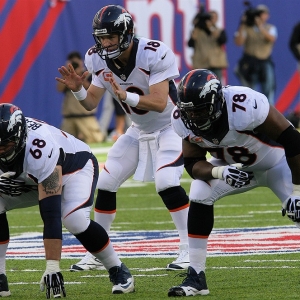 Week 2 in the NFL is Overreaction Week. After months of offseason buildup, the football-loving world grossly overreacts to Week 1 action, drawing wild conclusions from the smallest of sample sizes.
Week 3 in the NFL is Desperation Week. NFL teams that start the season 0-2 have about a 10 percent chance of making the playoffs. The tension and angst that builds up on such a slow start is already palpable for teams like Washington, Tampa Bay and New York. And all of them know that teams that start the year 0-3 have virtually no shot at the postseason. That puts these teams in full-on Desperation Mode early in the season.
However, it isn't just the 0-2 teams that are feeling the pinch. The difference between a 2-1 start to the year and a 1-2 start to the season is roughly a 32 percent differential in your playoff probability. So for teams like Buffalo and the New York Jets or even San Francisco and Indianapolis, this weekend's affairs take on a heightened meaning.
Here are Doc's Sports Week 3 NFL Power Rankings:
1. Denver Broncos (2-0) – It feels like nitpicking to criticize Denver after two blowout victories that featured 90 total points. But the drops by Eric Decker and Wes Welker are a glaring issue. It is at the point when I'm more surprised when those guys catch the ball than when they don't. That is out of character. Peyton Manning is a spectacular 11-5 ATS on "Monday Night Football" in his career, and I will be surprised if he doesn't put on a show this weekend.
2. San Francisco 49ers (1-1) – I know San Francisco was "blown out" in Seattle on Sunday night. But there is no doubt that the lightning delay was a huge benefit for the home team. The Niners had some missed opportunities early in that game, and I felt the contest was closer than the final suggested. Jim Harbaugh should have an advantage this week going up against his former quarterback, Andrew Luck, and his former offensive coordinator, Pep Hamilton. They are running the same offense Harbaugh knew at Stanford, so I'm sure the Niners coach knows it inside and out.
3. Chicago Bears (2-0) – Julius Peppers has apparently been battling through the flu, and that is partially to blame for his lackluster start to the season. I don't know about that, but I do know Chicago needs Peppers to play at a Pro Bowl level if this defense is going to remain a Top-10 unit. The Bears have just two sacks so far this season, and that is putting a lot of pressure on the secondary. Fortunately, they have two Pro Bowl corners. But those guys need help.
4. Green Bay Packers (1-1) – There is a very clear sense of purpose and focus with this Green Bay team this year. The Packers should've covered in Week 1 at San Francisco, and they easily blew out the Redskins on Sunday. Green Bay is 73-46-3 ATS under Mike McCarthy, and they have covered more than 60 percent of their road games with him at the helm. The Packers will be the squarest bet on the board this weekend. But that doesn't mean they won't be able to steal a win from the Bengals.
5. Houston Texans (2-0) – Has there been a less impressive Top-10 team? The Texans have eked out two wins against mediocre competition despite running up a 400-yard advantage the first two weeks of the season. Houston's secondary stinks. But the front seven shut down the Tennessee and San Diego running attacks. Losing Andre Johnson for any significant time would e a major blow to the offense, which was already floundering in the passing game. The home team is 5-2 in L7 meetings, and it could be a red flag that Houston was favored on the road this week.
6. Cincinnati Bengals (1-1) – The Bengals are good at everything but great at nothing. They are solid in every aspect of the game but outstanding in nothing. They are a paradigm of "goodness". Andy Dalton still looks like the weak link, and his accuracy has been nonexistent in the first two weeks of the season. The Bengals are 4-1 ATS in their last five home games and are 15-6-1 ATS in their last 22 games following a straight up win.
7. Seattle Seahawks (2-0) – Maybe I was wrong about Seattle. I still don't think that I am, though. And I think that Seattle is going to hit a wall at some point this year. But last week's effort was impressive, and now Seattle is a ridiculous 20-point favorite over former defensive coordinator Gus Bradley this week. It's a letdown spot for the Seahawks. And I am also curious as to whether or not Pete Carroll will run up the score against his former DC. Seattle is 34-16-1 ATS in its last 51 home games and 24-9-1 ATS in their last 34 games overall.
8. Kansas City Chiefs (2-0) – In my handicapping career I have noticed that in matchups of a coach going up against his former players you always want to side with the former coach. I have no statistical evidence to offer you to back up that claim, but believe me, it's a betting truism. I was just about the only analyst in the country praising the Chiefs for getting the vastly underrated Alex Smith this offseason. Now the rest of the football-loving world is starting to catch up. Smith is a legit Top-12 quarterback, and he has been an excellent leader for his new squad. The under is 21-7-1 in Kansas City's last 29 games, and I'll be interested to see how the defense stacks up against the Eagles attack.
9. New England Patriots (2-0) – I'm not telling you anything that you don't already know, but the Patriots passing game is a train wreck. It is not just that the Pats foolishly thought they could go through this season with rookie wide receivers. It is that they arrogantly thought they would be fine with terrible rookie receivers. And Aaron Dobson and Kenbrell Thompkins are terrible. There must be an NFL rule saying that the Patriots have to play 10 games against teams destined to pick in the Top 10 in the NFL Draft each season. Once the Pats finally run into someone decent they are going to get slaughtered. The Patriots are 15-7 ATS following a loss ATS.
10. Baltimore Ravens (1-1) – Houston has become one of Baltimore's bigger rivals, and this is the fifth meeting between these two teams since December of 2010. Baltimore had won the first three meetings before getting bum-rushed 43-13 last year down in Texas. Stunningly, the Ravens have been posted as a home underdog for the first time since 2008. But even more surprisingly, two-thirds of the early betting has gone against Baltimore, which has the most underrated home field advantage in the game.
11. Atlanta Falcons (1-1) – It looks like Steven Jackson is going to miss 2-4 weeks with a thigh injury. With Roddy White already gimpy, that takes two of Atlanta's top skill people out of the equation. But the two bigger injuries were to defensive end Kroy Bierman (out for the year) and linebacker Sean Weatherspoon (out eight weeks). Those are huge blows to a defense that was already short on talent and depth. Also, Asante Samuel isn't 100 percent, and that's a big problem for a Falcons pass defense that has been as horrible as I predicted it would be, giving up 347 yards per game. This team is teetering.
12. New Orleans Saints (2-0) – I have not been that impressed with New Orleans through the first two weeks. Realistically, they should be 0-2 right now, and I think that they are fool's gold in terms of long-term betting value. That said, I don't think I'm in a big rush to bet against them this week. Next to Seattle and Baltimore, the Saints have been the best home bet in the NFL over the past five years. New Orleans is 17-5 ATS in their last 22 home games. Also, the home team in the Arizona series is 4-0 ATS, and the Saints are a solid 5-2 ATS against Arizona, though they haven't met since 2010.
13. Dallas Cowboys (1-1) – I'm not going to trash the Cowboys for losing a road game against a very good Kansas City squad. But you can't deny that their old habits were in full effect throughout the fourth quarter. Whether it was Dez Bryant's brutal drop down the sideline, Tony Romo's near-interceptions, or penalties giving their opponent key first downs, Dallas just proved again why they are losers. The Cowboys are also just 2-10 ATS in their last 12 home games and just 7-20-1 ATS in their last 28 conference games. Dallas slammed the Rams in Big D back in 2011 (34-7), and the Cowboys are 6-3 ATS in this series dating back to 1987.
14. St. Louis Rams (1-1) – Janoris Jenkins is awful. I know he's young, and he made a few big plays for the Rams last year. But he is one of the worst cover corners in the league and was just abused by Julio Jones last week. I don't understand why the Rams wouldn't put Cortland Finnegan on the opposition's best receiver each week. And if Jenkins is guarding Dez Bryant this Sunday, it will be another long weekend for the St. Louis pass defense. The books are catching on to Jeff Fisher's outstanding ATS record as an underdog (11-4 ATS lately). I thought this week's line would be closer to 6.0, but Fisher's Rams are starting to get people's attention.
15. Miami Dolphins (2-0) – This has been a tough team to read in 2013 after massively overachieving in 2012. The bottom line is that Joe Philbin has created a skeleton version of his Green Bay offense. Ryan Tannehill is no Aaron Rodgers. But Miami is going to be able to move the ball all season long. Miami's defense has been active as well, and I am looking forward to Brett Grimes going up against his old team this week. When he is healthy, Grimes is one of the best corners in the NFC, and he has had two excellent games this season. As I've mentioned several times, the road team in Miami Dolphins games have covered the spread nearly 65 percent of the time for nearly a decade! That has been the most consistent trend in the NFL over that time, with betting the home team in Seattle games a close second.
16. New York Giants (0-2) – I warned last week that there was just no way the Giants defense could match up with Denver's offense. And it was pretty obvious that they couldn't. Carolina doesn't bring nearly as many weapons in the passing game to the table this week. Either the Giants or Panthers are going to be 0-3 after this week's games, and I just have a hard time seeing New York that far off the rails. The Giants are 7-2-2 ATS after a double-digit home loss, and they could be primed for a bounce-back effort. The Giants are 4-1 ATS in L5 against the Panthers, and the road team is 5-2 ATS when they square off.
17. Tennessee Titans (1-1) – Last year I was quick to slaughter Chris Johnson for running like a sissy and doing everything he could to avoid hits. So I have to commend him for how he has played this year, running hard and fighting for extra yards. Johnson's increased toughness is kind of emblematic of this entire team's transformation. They are unrecognizable on defense compared to last year and are playing tough, physical football. I don't know how confident I feel backing Jake Locker as a favorite. But I will admit the Titans have the look of a team that will be competitive for all 17 weeks in the AFC and could be a South sleeper. The home team is 5-2 ATS in the San Diego series, with the favorite going 5-1 ATS in the last six meetings.
18. Washington Redskins (0-2) – All of the drama surrounding the Redskins right now revolves around RGIII. But the bigger problem for Washington – which I predicted in the preseason – is that their secondary is a disaster. Teams are completing 73.1 percent of their passes against Washington so far this year. And there is no help on the horizon. Washington is just 2-10 ATS as a home favorite against a nondivisional opponent. And that Calvin Johnson vs. DeAngelo Hall matchup has to terrify anyone with a Redskins ticket.
19. Arizona Cardinals (1-1) – The Cardinals should be 2-0 right now. That blown lead against St. Louis is really going to haunt this team. This is a bad matchup for Arizona. New Orleans is going to blitz all day. And Carson Palmer's weakness is that he is a huge pansy. Palmer absolutely does not want to get hit. If he even senses that he might take a shot, he will bail out and just haphazardly wing the ball up for grabs. He doesn't even have the sense to throw it away. It is exceedingly frustrating to watch. Larry Fitzgerald has a sore hamstring, and I think he is no better than 50-50 to play this week. Arizona should rest him. Also, I am a big fan of their two young running backs, Stepfan Taylor and Andre Ellington. I am excited about watching them develop.
20. Carolina Panthers (0-2) – Poor Carolina. This is not a bad team. And the Panthers should probably be 2-0 right now. But their failures in close games have reached epidemic proportions, and the biggest issue in the locker room may be a crisis of confidence. Carolina's secondary was average coming into the season, and they had zero depth. They lost starting safety Charles Godfrey for the year, and four of their top five corners were injured in the Buffalo game. That's a major problem with the Giants' high-flying passing game coming to town. This is a revenge game for Carolina after an embarrassing Thursday night loss to New York last season. But without any secondary support, I have a hard time picturing them stopping the Giants.
21. Philadelphia Eagles (1-1) – I truly don't know what to do with the Eagles. And my best advice may be to just stay away from them for a few weeks until we figure out how good/bad this team is. Philadelphia's defense is one of the worst in the league. And I just don't know how this team can physically hold up this Thursday in the big Andy Reid Return. This will be Philadelphia's third game in just 11 days, and schedule makers did them no favor. Despite everyone knowing about the Eagles quick-strike offense, the team is 2-0 against the total so far this season. I think they could continue to be a blind "over" bet until we see otherwise.
22. Detroit Lions (1-1) – Same old Lions – LOSERS. This team will find ways to lose games, and they are still one of the most overrated and overvalued teams in the NFL as people continue to buy into the myth of Detroit being so "talented". Their back seven on defense is terrible. They don't get a great pass rush for having so many name players in the front four. The offensive line is mediocre at best. And outside of Calvin Johnson and the who-didn't-see-that-coming injured Reggie Bush, there is no real skill talent. So why to people keep buying into this crappy team? The Lions are 3-8 ATS on grass and 0-4 ATS on the road. They are 3-11 ATS after an ATS loss.
23. Minnesota Vikings (0-2) – On one hand, Minnesota has had a tough draw by having to open with two divisional road games. On the other hand, the Lions and Bears really should've blown them out by 17 or more in those games. So it's tough to say how good this team is right now. There is no doubt that the Vikings offense looks significantly better this year. And A.P. hasn't even gone off yet. But Minnesota can't guard anyone in the secondary. I am a huge Hunter Smith fan. He is one of the best young safeties in the league. But he is the only player in the back seven that can cover anyone.
24. Indianapolis Colts (1-1) – It was another vintage Andrew Luck game, with the Colts quarterback nearly throwing four more interceptions only to have the opposition fail to cash in on his errant passes. The Colts are mammoth underdogs this week against San Francisco, and I felt that 10.5-point spread was a massive red flag line. That said, the Colts are a perfect 5-0 ATS after a loss with Luck under center.
25. San Diego Chargers (1-1) – Philip Rivers is dealing right now. He's a Top-10 quarterback and is going to carry this team. How far he can carry them remains to be seen. Interesting to note that rather than stay the week on the East Coast that the Chargers opted to fly home. That means their flight to Tennessee this week will make it two cross-country trips in eight days for two early starts. The Chargers are 12-5 ATS against AFC and 8-0 ATS in their last eight games against Tennessee, including a 38-10 thrashing at home last year. The over is 39-15-4 in San Diego's L58 road games.
26. Buffalo Bills (1-1) – All the focus will be on the rookie quarterbacks in this week's tilt with the Jets. But the real subplot here is Bills defensive coordinator Mike Pettine going up against his old team. He knows everything about New York's offensive personnel, but to this point Buffalo's defense has been average at best. The Bills are just 4-10-1 ATS in their last 15 road games. This is a big game for Buffalo since one of these two AFC East bottom-feeders is primed to be 2-1 after Sunday.

27. Tampa Bay Buccaneers (0-2) – This team is already off the rails, and it is just Week 3! The coach-quarterback feud is tearing this locker room apart. And remember: this same core of guys quit on Raheem Morris in his second season at the helm as well. Maybe it is time to start looking at the players rather than the coaches as the problem down in Tampa. That said, the Bucs are just two plays away from being 2-0 right now, even if they have been playing ugly football. Tampa Bay is just 4-12 straight up in its last 16 road games, and you can't bet Tampa Bay this week unless you think they have a realistic shot at knocking off the undermanned Patriots.
28. Pittsburgh Steelers (0-2) – The Steelers are a perfect 7-0 ATS as a home underdog over the last decade, and they find themselves in that rare situation again this week. Can this team fall to 0-3? There are systemic problems on both sides of the ball, and the offense has generated just 17 points in two games. As I have said, I have no idea why the Steelers are keeping Todd Haley around. He and Big Ben are obviously not on the same page, so I don't know why Pittsburgh stuck with him this offseason instead of trying to bring Ken Whisenhunt back.
29. Cleveland Browns (0-2) – Jason Campbell will take the reigns for injured Brandon Weeden this week. Campbell will benefit from the return of Josh Gordon from a two-game suspension. But the Browns offensive line has been terrible, Trent Richardson has been a non-factor, and outside of Jordan Cameron there is no one on this offense that can consistently make plays. Cleveland's rush defense has been dominating, allowing just two yards per run through two games. That should help them keep it close against Adrian Peterson and the Vikings.
30. Oakland Raiders (1-1) – Safety Tyvon Branch is out this week, and that is a huge blow to the Raiders secondary. And the one place you don't want to be suspect when facing Peyton Manning is the back end. Veteran Usama Young has experience and will fill in. The Raiders are 12-5 ATS as a double-digit underdog dating back to 2008, and they have shown a little feistiness so far this season. They are in over their heads this week, but two touchdowns is still a lot of points to lay out in a rivalry game.
31. New York Jets (1-1) – The home team has won four of five meetings between the Bills and Jets, and New York is a solid 5-2 ATS in the last seven meetings. The favorite has also been the play in this series, going 5-2 ATS in the last seven. I know the Jets defense has some decent numbers to this point. But the Bucs and Patriots both have serious issues right now, so I feel New York's defensive stats are a bit misleading compared to their talent.
32. Jacksonville Jaguars (0-2) – I thought that it was smart that the Jaguars decided to stay in California this week after playing in Oakland and before their trip to Seattle. Jacksonville is a 20-point underdog this week, and that is the fourth-largest NFL spread in the last 25 years. The 2007 Patriots were -24.5 and -22.5 favorites in 2007, and San Francisco was a 24-point favorite in 1998. Interestingly, the Patriots and Niners did not cover against those bloated numbers, and since 1976 NFL teams favored by 21 or more points are just 1-6 ATS. Oh, and I will be stunned if Mo-Jo Drew suits up this week for the Jags.
Throughout the season I will have my NFL Power Rankings every Tuesday. My next ones will be released on Tuesday, Sept. 24.
Robert Ferringo is a lead writer for Doc's Sport and he is off to a strong start to the season. Robert has secured 28 of 40 winning football months and earned nearly $11,000 in profit for his backers in the last 16 football months. He is an outstanding 11-3 this year with his NFL totals and will have more this weekend. Take advantage of our free, no-strings-attached $60 credit to use toward a purchase of Robert's football selections and get on this big game. CLICK HERE for $60 absolutely free!
Read more articles by Robert Ferringo