NFL Week 14 Special Props Odds and Betting Predictions
by Alan Matthews - 12/5/2013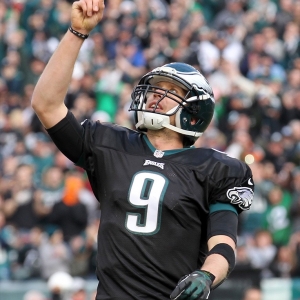 I was feeling rather brilliant for a minute there in last week's Cardinals-Eagles game. I predicted in this space a week ago that I thought Nick Foles' streak of not getting picked off would end against Arizona and that Cards star Patrick Peterson would be the guy to do it. And indeed Peterson did snag a Foles pass in the fourth quarter, but it was wiped out because of a holding call on safety Tyrann Mathieu. Arizona may have won had that stood.
That brings me to Foles yet again in Week 14 with another Bovada prop: Will he break Peyton Manning's record of throwing 20 TD passes without an interception to start a season. "Yes" is -250 and "no" +170. Foles has 19, meaning he would have to throw two on Sunday against visiting Detroit. The Lions rank 26th against the pass and are middle-of-the-pack with 12 picks. They do have a great front four that could put pressure on Foles. I think I would roll the dice on no here, that Foles throws one before getting picked off.
If you stashed Cleveland's Josh Gordon on your fantasy football bench the first two weeks of the year while Gordon was suspended, you are probably in great shape for your playoffs. Gordon has been a beast. He followed a 237-yard game against Pittsburgh with 261 against Jacksonville last Sunday to become the first player in NFL history with back-to-back 200-yard receiving games. That surprised me a bit, I thought maybe a Randy Moss or Jerry Rice or Calvin Johnson might have done it. Gordon's 498 yards receiving over the last two games is also an NFL record, breaking Johnson's mark. So naturally Bovada offers a prop on whether Gordon gets 200 yards this week at New England: yes at +500 and no at -900. Obviously it's incredibly unlikely. It does look like Cleveland will get back starting QB Jason Campbell this week from a concussion. That's actually bad news. He's a dink-and-dunker. Gordon did his damage with big-armed Brandon Weeden, who is out with a concussion. The Pats will stick top cornerback Aqib Talib on Gordon and probably double him. No way this happens unless Gordon catches a Hail Mary or two.
I also said last week that I liked Baltimore to take the AFC's sixth seed, and I thought it was worth betting on the prop that the AFC's No. 6 would get to nine wins, which was +250. Well, the Ravens beat Pittsburgh last week to improve to 6-6. Now on Bovada's AFC sixth seed prop, Baltimore is the 5/4 favorite followed by Miami (7/5), Pittsburgh (7/1), San Diego (7/1), Tennessee (10/1) and the NY Jets (20/1).
The Ravens will win this week against Minnesota, while the Dolphins (6-6) should lose in Pittsburgh. The Steelers (5-7) may not lose again with the only road game left Week 16 in Green Bay, and I have a feeling Aaron Rodgers will be shut down for the year by then. Baltimore finishes at Detroit, vs. New England and at Cincinnati. Should the Ravens and Steelers end up tied, their first tiebreaker would be a wash. The second is record in division. Baltimore is currently 3-2 and Pittsburgh 2-2. The next tiebreaker is winning percentage in common games. I like Pittsburgh's schedule better but believe Baltimore will still get to 9-7 as I don't expect Cincinnati has much to play for in Week 17.
Bovada also finally posted NFL Offensive Rookie of the Year odds. Packers running back Eddie Lacy is the +150 favorite, followed by Chargers WR Keenan Allen (+275) and Bucs QB Mike Glennon (+300). It's definitely Lacy's to lose, but his production has predictably suffered with Rodgers out. In two of his past three games, Lacy didn't top 27 yards rushing. However, this is still somewhat of a popularity contest, and some voters will overlook Allen, who is having a nice season, and Glennon, who is playing on a terrible team. Lacy also does have the chance to have big games this week against Atlanta, Week 15 at Dallas and Week 17 in Chicago. Those are three of the worst rushing defenses in the NFL. He's the pick.
Finally, NFL Coach of the Year. A few weeks ago this looked like a runaway for the Chiefs' Andy Reid. He's still the favorite at 7/4, but that gap has considerably narrowed over Seattle's Pete Carroll (3/1) and Carolina's Ron Rivera (4/1). I think this award is determined this week honestly. Kansas City could lose a fourth straight playing in Washington; I expect the Chiefs to lose two of their final four (there is a yes-only +2000 prop at Bovada on whether K.C. ends the year on a seven-game skid after starting 9-0).
The Seahawks will all but wrap up the NFC's top seed by winning in San Francisco. And Carolina will take the NFC South lead with a win at New Orleans. If the Panthers can pull the upset, they might end the year on a 12-game winning streak. That would give Rivera the award. Ditto if Seattle finishes on an 11-game run to finish 15-1. Which is more likely? I'd go with Rivera only because everyone expected the Hawks to be good.
New to Doc's Sports? We'd like to offer you $60 worth of free, no obligation picks. Try us out. See why experience matters, and why we have been around for so long while others have come and gone. Click here to sign up today.
Read more articles by Alan Matthews