NFL Week 8 Line Movement: Chiefs, Saints, Packers Seeing Big Shifts
by CarbonSports - 10/25/2013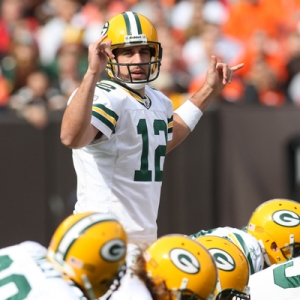 Usually by the time we hit the midpoint of the season, we have a solid idea of how teams will perform against the odds. However, as we're seeing in with the Week 8 lines, there's still a lot that's left to be decided. There are at least five games that have experienced some seismic shifts in the spread. Let's try and sort through the chaos to get a better idea of where your money is safest.
Cleveland Browns at Kansas City Chiefs -7.5
This line opened at -7 for Kansas City, and almost everyone piled on the scales to tip this handicap even further away from the home favorites. Even more money came through when journeyman Jason Campbell was announced as the starter for the woeful Cleveland Browns. Nobody seems to trust the Browns after the injury to Brian Hoyer because there's just nothing here that's really reliable. Gamblers are abandoning ship on this formerly inviting upstart.
The Chiefs, as they have all season, are a tepid play because they haven't blown out teams on the scoreboard. They're still 5-2 ATS on the season and are undoubtedly a far superior team compared to Cleveland. In this game their stalwart defense and their efficient – albeit conservative – offense is garnering almost all of the attention from the betting community.
This Week 8 betting line has likely been pushed as far as it will go, but there is a breaking point with these Chiefs. If you like the home favorites as much as the rest of the community does, now is the time to bet on this game. Likewise, if you prefer the Browns (for whatever reason), then I'd wait until Sunday to see if this line moves up even more.
CarbonSports Lines Manager Michael Stewart:
"We opened the Chiefs -7.5, and we haven't had to move off that number. While we've written way more tickets on the Chiefs, we booked a big bet from one of our whales, and that one bet outweighs all the smaller bets we've seen on the Chiefs. This number can only go up, and I very much doubt this game will get to 7."
Buffalo Bills at New Orleans Saints -11.5
Las Vegas opened this seemingly lopsided matchup at -12.5 for the home bound Saints, but it has dropped dramatically to -11.0 and could sink even lower if the prognosis on Jimmy Graham's foot isn't positive. Everyone saw the Patriots limit Graham two weeks ago, and Belichik has offered a blueprint on how to stifle the Saints' explosiveness. Kiko Alonso, a gifted linebacker for the Bills, will be more than capable of hounding Graham even if the tight end does suit up for action, and this Buffalo defense isn't getting enough credit for how stiff they can be.
All things considered, the -11.0 line for the home favorites seems to be the sweet spot. More action has come in for New Orleans since this line dropped, though there are a few sharps out there who have placed their faith in Buffalo's cagey brand of defense. Thad Lewis will start again for the Bills, and while he hasn't done nearly enough to create any type of quarterback controversy at Orchard Park, he's done plenty to entice those that wield the smart money.
It's worth mentioning that New Orleans is 5-0 ATS when coming off a bye week, and Buffalo is just 1-4 ATS in their last five trips away from home. But the Saints have seemed to run out of gas after a hot start, and the Bills' strong 5-2 ATS record on the season makes this a harder pick than most believe it to be. Even with a week of rest, the potential loss of Graham is pushing more and more gamblers towards the Bills.
CarbonSports Lines Manager Michael Stewart:
"We opened Saints -13, and sharp action has backed the dog in this game. They took the 13, and we reacted with a big move going to Saints -12 and now settling on Saints -11.5. If Jimmy Graham is active and plays, I see this game closing back to -12, but if he's a scratch this line could drop to -10. As for the total, we opened 51 and immediately took sharp action under that number. We immediately dropped it to 50 before going to 49 and eventually the number we're currently using of 48.5. We moved this total very aggressively because we believe the Bills are going to try and run the ball as much as possible. Regardless of how much the Saints have improved on defense, they're still struggling against the rush, and we see them struggling against a team that rushes the ball more than any other team in the NFL. All that running should really help keep this total under."
Atlanta Falcons at Arizona Cardinals -2.0
Despite injuries, lackluster play and a shoddy defense, the Atlanta Falcons are still receiving enough love from the betting public to drag this line towards the mean. The Falcons snapped a 0-3 SU and ATS losing streak by barely covering against the Buccaneers last weekend, which had as much to do with luck as it did anything else. The sharps aren't sold that this Falcons team can execute properly, and their ceiling isn't nearly as high as it used to be, even with Steven Jackson listed as "probable" for Sunday.
The Cardinals still possess one of the better defensive units in the NFL, and there is an obvious disparity here between the public and the sharps. Atlanta is still a "big-name" team that people bet blindly on, but there should be a "buyer beware" label on them this week because Arizona matches up extremely well with them. The sharps seem to agree, but the public factor still prefers the Falcons. Which side of the line will you end up on?
CarbonSports Lines Manager Michael Stewart:
"We opened the Cardinals -2.5, -120, as we believe they by far have the better defense. No question the Falcons are better on offense, but we believe the Cards can neutralize that offense, and being that this game is at home and the Cardinals coming off of 10 days of rest, they should perform well at home. Our bettors don't agree with this assessment as they're backing the Falcons in this game. With 75 percent of the action on the Falcons, we went from -2.5, -120, to -2.5 and now dealing -2."
New York Giants at Philadelphia Eagles -5.0
This line has been moving up and down as the money starts to funnel in, and more people are betting on the Giants than you'd expect. That horrendous Monday night performance against Minnesota in Week 7 is doing nothing to deter people from putting faith behind the Giants. Maybe people loved what they saw out of Peyton Hillis?
Or perhaps it has more to do with the Eagles, who are coming off a wretched outing against the Dallas Cowboys. The supposedly high-scoring offensive schemes of Chip Kelly don't seem to be finding consistent traction in the NFL. After a 31-20 drubbing of the Bucs, the Eagles managed a lone field goal against America's Team in Week 7.
Don't be misled by the return of Michael Vick or the 36-21 win the Eagles posted over New York two weeks ago. The two touchdowns that pushed that game out of range were thrown by Nick Foles after Vick left due to a rib injury. The Eagles are a tempting play here, but with the point cushion the Giants are a very attractive bet as well.
This game seems to be a matter of trust for the gambling community. Coughlin and Eli Manning have been absolutely pathetic overall, but there is a lot of starting line shuffling going on with the Eagles, who already have a tough enough time executing Kelly's high-tempo offense. There is enough concern here for people to still place their faith in a known entity like the Giants, and that's why the action is leaning towards the team with the point cushion.
CarbonSports Lines Manager Michael Stewart:
"We're going to do our best to book this game even as this is possibly the toughest game to handicap. I'm not convinced at all that the Giants are a good team, and I can say the same about Philly. That said, we opened the Eagles -6.5 and quickly went to -6 as we saw nothing but Giants money at that number. That didn't slow down the action, and we went to 5.5 and now dealing -5 on the Eagles. Since going to -5, we've seen a lot of money being bet on the Eagles, and I could see us going back to -5.5 or even -6. It's been great 2-way action, but if this game lands 6, we're dead."
Green Bay Packers -9.5 at Minnesota Vikings
When the oddsmakers graded this game as a -6.5 matchup for the visiting Packers, it seemed like free money. The announcement that Josh Freeman was going to start after completing just 20-of-53 passes with zero touchdowns in an absolutely terrible performance seemed to encourage the betting public. Usually, lines won't move more than plus/minus-2.5 points even with considerable action, but the avalanche of bets that came in on the Packers side has moved this line up by three points for the visitors. That's a big shift.
However, news recently trickled down the pipe line that Christian Ponder is back in at quarterback for Minnesota, and that has somewhat leveled out the playing field. Nobody knows what to make of Minnesota, but the one thing we do know is that their defense is atrocious. Green Bay is banged up, but they still have Aaron Rodgers, Jordy Nelson and Eddie Lacy in the lineup. The majority of gamblers out there seem to believe that those three, along with a disciplined defense that has been better at preventing scores, will be enough to quell Peterson and the one-dimensional Vikings.
CarbonSports Lines Manager Michael Stewart:
"How NBC selected this game as the game of the week is beyond me; this game might arguably one of the worst Sunday Night Football matchups in recent memory. That said, it's SNF and it's the game of the day, so we're going to write huge action on this game. We opened the Packers -6.5, but that was before the Vikings Monday Night Football debacle versus the Giants. After that hideous game, we reopened the Packers -10, and to our surprise, sharp action took the points. We went down to -9.5 out of respect of that sharp action, but I can't help to think we'll be going back to Packers -10 by Sunday morning. Everyone and their mother is going to back the favorite, they're going to tease the favorite and they're going to parlay the favorite. The more I think about it, we'll be going back to -10 as early as Saturday."
Get in the game with CarbonSports and use promo code CARBON300 to get up to $300 in free bets which is an over 50% in deposit value with no rollover.