Pro Football Betting: Week 12 NFL Line Moves
by CarbonSports - 11/22/2013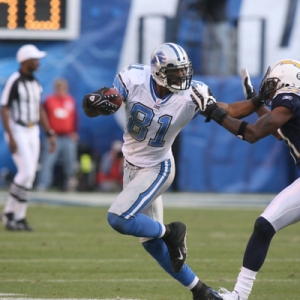 The Colts and Lions are two teams that everyone seems to be high on despite some weird inconsistencies. They're also playing two rising teams that are a combined 5-1 SU and ATS in the past three weeks. It's hard to believe those two teams are Tampa and Arizona. Of course, we couldn't talk about Week 12 without mentioning the Brady-Manning matchup on Sunday Night, so let's get to it.
Tampa Bay Buccaneers at Detroit Lions -8.5
Vegas opened this game at DET -10.0, and the line was quickly adjusted to DET -9.5 and then dropped again to -8.5. But that isn't necessarily the most interesting part. We've seen slightly more than half of the action already come caving in on Tampa's side. After months of absolute misery, the Bucs are starting to show some life. They're 2-1 SU and 3-0 ATS in the past three weeks. I'm sure there are concerns for Tampa since they're playing in Detroit, but they also took Seattle to the limit three weeks ago on the road as well.
Detroit is still an attractive team because of all their big scoring pieces, and Calvin Johnson is the biggest part of that. But his individual performance has slightly overshadowed the horrifyingly bad secondary that the Lions possess. In their last seven games, Detroit has allowed 26.3 points per, and they have been unable to stop big plays. That spells trouble with Vincent Jackson coming to town.
All in all, I think that has less to do with upset potential than it does with Tampa finally getting their act together. The betting public generally held on to Tampa despite all of the drama they endured earlier this year because of the talent on the roster. Eventually it had to come together, and in the past three weeks it has.
This seems like an ideal meeting between a team that is trending upwards going up against a team that is quickly trending back down. The oddsmakers might adjust this line down further, but I can't see it drifting lower than -8.0. If you love that point cushion for the visiting Bucs, now is as good a time as any. The bandwagon for the Bucs is gaining steam, while Detroit's might be losing a few passengers after a 1-3 ATS run in the past four games.
CarbonSports Market Manager Michael Stewart's perspective:
"We opened Lions -10, but that was quickly bet down by sharp action taking the points w/ the Bucs. No question, the Bucs are playing very good football these days, but it's difficult to judge just how well they're playing since their last two wins came against a Falcons team last week that flat out didn't show up to play football and against a Dolphins team that is still in turmoil with the Incognito/Martin situation. After going from 10 to 9.5, more money started to flow in on the Bucs, and we've further adjusted so now the Lions are only 8.5-point favorite. That's a decent move and plenty of support for a two-win team, but the Lions haven't blown anyone out as their biggest home win was by only 10 points vs what is now a very bad Vikings team. I could easily see this line close at 7.0 or 7.5 points for the Lions."
Indianapolis Colts at Arizona Cardinals -2.5
If you had told me that Andrew Luck would be playing Carson Palmer in a "pick 'em" game by Week 12, I would've slapped you in the face and set your pants on fire while you were wearing them. The general public is taking the Colts, but it's a tighter race than you might think. We've seen a massive rash of big-time injuries to major stars affecting good teams, and the loss of Reggie Wayne has certainly crippled the Colts to a certain extent. This is a consensus playoff team according to most experts, and they're the only team to beat Denver this year, so there's that.
Since then, however, they've barely beat Houston, were demolished by St. Louis and nearly lost to Tennessee on Thursday night. Being a playoff team might just be the natural result of playing in a terrible division. I'm not sure the Colts are actually championship contenders considering how they've played in recent weeks. However, a strong 6-2 SU and ATS record in their last eight games is enough to keep the masses believing.
Arizona is an afterthought for the general public, as they should be. But sharps see value in their defense, which is capable of generating turnovers and scoring randomly. The Cardinals are tied for third with 14 picks this year, and they have recovered all of the eight fumbles that they've forced for a grand total of 22 turnovers. Andrew Luck and the Colts have turned the ball over 11 times this season. That makes them the second-best team when it comes to protecting the football. It will be interesting to see if Arizona's defense can corner the Colts in to making uncharacteristic errors.
Whether people want to admit it or not, the Cardinals are looking better and better as the weeks go on. They've gone 3-0 SU and 2-1 ATS in their past three weeks since being blown out in back-to-back games by Seattle and San Francisco. Are they as good as Indy? Most people don't believe that to be the case, but this line is holding steady at zero for a reason. Take that how you will.
CarbonSports Market Manager Michael Stewart's perspective:
"We opened the Cardinals at 'pick,' and we saw very sharp action lay the short price, taking this number from pick to the Cards -2.5 -115 vs the Colts. It's a very interesting game because there's no question; the Cards are the better team on defense, with the Colts the much better team on offense. While the sharps did lay the short price on the Cards, The public is all over taking the extra 2.5 points with the Colts. So far 70% of the action is on the Colts since we went to Cards -2.5 points."
Denver Broncos -2.5 at New England Patriots (Sunday Night)
This has all the potential to be the best game of the year, and for all the reasons that you'd expect. Any matchup that features Tom Brady and Peyton Manning is going to have that sort of gravity. What was a bit surprising, however, is that a game that opened as a pick 'em has turned in to a -2.5 lean for the visiting Broncos. Much of that is likely because the Broncos are co-owners of the best record in the NFL (along with Seattle), and they're also coming off a 27-17 victory against Kansas City, the best scoring defense in the league.
However, that's a one-sided way to look at this game. Denver has only played one team that has consistently ranked in the top-10 in terms of offensive and defensive scoring. That team would be the Indianapolis Colts, who are also the only team that's beaten Denver this year. New England has only given up 19.9 points per game (seventh) and has also scored 25.4 points per game (eighth). By comparison, Indianapolis is currently ranked 10th and ninth in those categories.
Combine those elements with the fact that New England is playing at home, and you have plenty of reason to believe that the Patriots have a stronger chance than the betting public is willing to admit. Denver is currently garnering nearly two-thirds of the action, but it's still quite early. It would be shocking if this line crept even further away from the Patriots, but it's understandable why that would happen. Denver simply looks unstoppable despite their 6-3-1 ATS record, and the offensive ability of Peyton Manning seems to cover up the defensive potholes that are more than apparent on this team.
It's easy to forget that this is a team game when two icons like Brady and Manning meet on the football field. For the most part, the masses seem to find faith in Peyton while a handful of sharps prefer what they've seen out of Brady's Patriots as a whole. Either way, this is going to be a matchup for the ages.
CarbonSports Market Manager Michael Stewart's perspective:
"We opened the Broncos -3 and booked great, two-way action on this game all week. But on Friday morning we took a big bet from one of our sharper players taking the Pats +3 -120, so we moved this game down to 2.5. This is the game of the week, Sunday Night primetime game, and we believe the public will eventually come in and hammer the Broncos, but the Pats are in a great spot playing at home in what should be very cold and windy conditions. No question, I will be booking this game in order to need the Pats come Sunday Night."
Get in the game with CarbonSports and use promo code CARBON300 to get up to $300 in free bets which is an over 50% in deposit value with no rollover.
Sign-up this weekend through this article and you'll receive a $10 freebet no questions asked. Freebet will be issued prior to week 13. Click Here.