Top Quarterbacks in the 2013 NFL Draft Class
by Trevor Whenham - 2/18/2013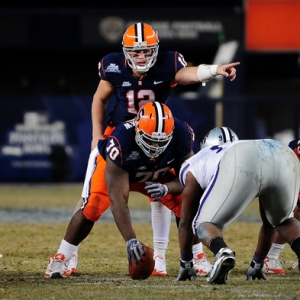 We have been very spoiled by the quarterback draft classes in the last couple of years. Just think about it — Wilson, Griffin and Luck last year, and Newton, Dalton and Kaepernick the year before. That's six very competent starting quarterbacks, and that doesn't include incomplete projects with upside like Locker, Gabbert, Ponder, Tannehill, Weeden, Foles or Cousins. That is two straight bumper crops of starter-caliber (with more than a couple superstars) quarterbacks. Impressive.
It would go down as a major surprise if the 2013 draft class was nearly as accomplished as those last two. It's not a horrible group, but compared to the last two it is more than a little ordinary. The last four years we have seen a quarterback drafted first overall. This year it is far from a certainty that we will see a QB in the first round. That doesn't mean that there won't potentially be stars that emerge from this group. It's just more of a stretch than normal. Let's look at the five best quarterbacks in the class this year, with a wild guess at where they would best fit:
Geno Smith, West Virginia - The fact that Smith is the top guy in this class in the eyes of many tells you all you need to know about the class. When he is "on" he is very impressive. In the first half of last season he seemed to have the Heisman wrapped up. He's confident and very hard working. His biggest issue, though, is that he can be rattled too easily. After a red-hot start he and his team lost five straight last year, and a big reason for that was that teams got into Smith's face and really asserted themselves. Despite his reputation, his feet are not going to be that potent at the NFL level, either. I wouldn't want my team to use a first-round pick on Smith, but with the major lack of QB talent and the number of teams with a burning need he's a prime candidate to go way too high. Arizona seems like somewhere he could land, though with the seventh pick he would be a historic stretch.
Matt Barkley, USC - I am not a Barkley fan. I don't blame him for the mess that the Trojans were this year — Lane Kiffin gets credit for that. I just haven't ever bought into the magic of Barkley. His mobility is statuesque. His arm strength is underwhelming. He's undersized compared to a typical NFL quarterback but doesn't have the magic spark that Russell Wilson does to overcome that. He has been too fragile in his college career. I just don't think he is outstanding in any area. I would be quite surprised if anyone used a first-round pick on him, though the need may also elevate him higher than he should go. I think he'd be a good fit somewhere like Dallas where he can push a starter but doesn't need to be ready in any hurry.
Mike Glennon, NC State - Glennon has been the fastest riser so far, and he has the tools to keep that up. He's huge in a prototypical NFL QB way, and he has a cannon for an arm. He came through the same system that produced Russell Wilson, and produced nicely in it, so that definitely works in his favor. He is far from mobile, though, and not wildly-athletic. If he performs well in the Combine and beyond there is a good chance he comes off the board before Barkley. The risk, yet again, is that he will go far too high. I think Jacksonville early in the second round would be a good fit.
Tyler Wilson, Arkansas - Playing in the brutal SEC for a team with a bumpy road the last couple of years, Wilson put up very nice numbers. He's not exceptional is any particular way, but he's well above average in most areas and lacks a glaring weakness. His hands are small, and that makes ball security a concern — a weakness that was exploited frequently in college and will be far more of a target in the NFL. He would be a solid pick for the Chiefs at the top of the second round.
Ryan Nassib, Syracuse - The Orange completely overhauled their offense this past season with about two weeks notice. You never would have guessed it, though, by the way that Nassib handled the transition. He's a pro. He has solid skills, a good arm, and good instincts. If the Bills don't make a splash picking up a free agent or taking a leap on a first-round QB then new head coach Doug Marrone would love to be reunited with his college QB in the second round. That would be a good fit.
Read more articles by Trevor Whenham