This Week in NFL Betting by the Numbers
by Ricky Dimon - 1/4/2013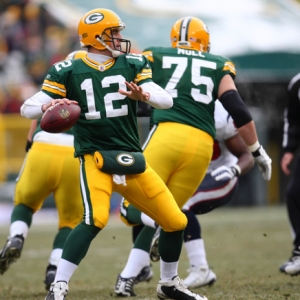 And then there were 12….

Eight will be in action this weekend, with the Broncos, Patriots, Falcons, and 49ers enjoying the luxury of sitting back and relaxing. The 2013 playoff action will begin with a team that was favored to win the Super Bowl as recently as mid-November (Houston), and the wild-card round will end with two rookie quarterbacks going head-to-head. In between we'll be treated to the favorite for NFL MVP (Adrian Peterson) paying a visit to the Frozen Tundra, plus an encounter that has more storylines than "The NeverEnding Story" (Colts at Ravens).
It may be true that numbers never lie, but it's also true that they can't guarantee the future; especially not when it comes to something as wild and crazy as the NFL, and especially not when the NFL turns the page from the regular season to the postseason.

Alas, some wild-card numbers worth considering (all odds provided by Sportsbook.ag):


20.5 - League-leading number of sacks for Houston defensive end J.J. Watt in the regular season. That is good for sixth on the NFL's all-time single-season list. Watt has 3.5 sacks in two career playoff games, and in a 2012 postseason win over Cincinnati he returned an interception 29 yards for a touchdown. The "over/under" for Saturday's contest is 43, the smallest total of the weekend.

1-3 - The Texans' record over their last four outings after starting the season 11-1. It's also Matt Schaub's touchdown-to-interception ratio during the four-game slide. In his first 12 contests, Schaub threw 21 touchdowns compared to just nine picks. He is making his first career playoff start, as he was injured last season and was replaced by T.J. Yates in Houston's 31-10 wild-card win over the Bengals. Houston is a -4.5 home favorite on Saturday.
0 - Playoff games in NFL history prior to last season that featured two rookie starting quarterbacks. The recent Houston-Cincinnati showdown pitted Yates against Andy Dalton, and now it is followed by Seattle (Russell Wilson) vs. Washington (Robert Griffin III). RG3 compiled a 102.4 passer rating in 2012, the best-ever mark for a rookie and the third best in the entire league this season. The Seahawks are -3 road favorites on Sunday.


95.8 - Rushing yards per game allowed by the Redskins, fifth fewest in the NFL. However, the statistic is misleading. Because their pass defense is so dreadful (30th in the league at 281.9 yards per contest), the 'Skins have faced the fewest number of rushing attempts (22.7 per outing). Seattle's Marshawn Lynch finished third in the NFL with 1,590 yards on the ground-trailing only Adrian Peterson of Minnesota and Washington rookie Alfred Morris. The over/under for this one is 46.
409 - A famous song by The Beach Boys about a type of Chevrolet. It also happens to be the number of yards gained by the Vikings' Chevy (Peterson) in two games against Green Bay during the regular season. AP churned out 210 yards in a 23-14 loss in Week 13 at Lambeau Field before amassing 199 in a season-ending 37-34 home victory. He averaged a solid 120.6 yards per game against all other opponents, but that's nothing like the 204.5 against the Packers. Minnesota is a +7.5 road underdog on Saturday night.
132.5 - Aaron Rodgers' passer rating in his last five games against Minnesota (Green Bay is 4-1 in that span and 3-2 "against the spread"). In those five, Rodgers threw 16 touchdowns to just one interception while completing 74.7 percent of his pass attempts. In last week's thriller, he threw for 365 yards with four touchdowns and no interceptions. The over/under for Rodgers' passing yards on Saturday is 292.5.

17 - NFL seasons played by Ray Lewis, who announced that he will call it quits after the Ravens' 2013 playoff run. Lewis has not played since Oct. 14 due to a triceps injury, but he is expected to return to action for a wild-card showdown against Indianapolis. It's also the overall ranking for Baltimore's defense this season, its worst since 2002. The unit has suffered a plethora of injuries and is giving up 350.9 yards per game. The Ravens are -7 home favorites over the Colts on Sunday afternoon.
9 - Win improvement for Indianapolis from last season to this one, the second biggest turnaround in the history of the NFL. After the franchise went 2-14 in 2012, Andrew Luck joined the fray and paved the way to an 11-5 campaign. The 11 victories are by far the most for a rookie quarterback picked No. 1 overall in the draft. A Colts' touchdown pass is +500 to be the first score of Sunday's contest.

RAPID FIRE

2 - Playoff games, out of two, in which Houston halfback Arian Foster has rushed for more than 100 yards. In last season's wild-card win over Cincinnati, Foster carried 24 times for 153 yards and two touchdowns.

3 - Consecutive playoff games Washington has played against Seattle, including Sunday's showdown. The Redskins lost both previous encounters (in 2006 and 2008), but both were contested on the Seahawks' home field.

4 - The over is 4-0 in Green Bay's last four home playoff games, and the home team is 4-0 ATS in the last four head-to-head meetings between the Packers and Vikings.

5 - Consecutive seasons to begin his career in which Joe Flacco has reached the playoffs. He is the only quarterback in NFL history to accomplish that feat.