2014 Baltimore Ravens Opponents and Schedule Highlights
by George Monroy - 4/4/2014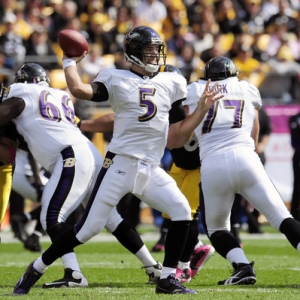 The Baltimore Ravens may have given away their chance to chase a second straight Super Bowl win by signing quarterback Joe Flacco to a massive contact last offseason. The team, however, finished 2013 with a solid 8-8 record, nearly made the playoffs and carried $6.97 million dollars in salary cap room into the free-agent market this offseason.
Baltimore has already given out $53 million dollars in guaranteed money during free agency by resigning most of its own players, but it did manage to sign Steve Smith, center Jeremy Zuttah and safety Darian Stewart to deals. The Ravens seem intent on capturing another AFC North crown on the way to a playoff appearance. Let's take a closer look at Baltimore's 2014 opponents and schedule highlights.
2014 Baltimore Ravens Opponents: Home Schedule
Cincinnati Bengals : last season Baltimore did not host the Bengals until Week 10 and managed to escape with a tight 20-17 overtime victory. At the time Baltimore was only 3-5 and used the win to flip its season around and end the year 5-3. The squads split each of the last two regular-season series, with the home team winning each game.
Cleveland Browns : Baltimore hosted Cleveland during Week 2 of the 2013 season and won an ugly 14-6 game while covering the 5.5-point spread and staying well "under" the 43.5-point total. The Ravens have won three of the last four regular-season matchups, and sweeping the Browns next year is well within reason.
Pittsburgh Steelers : Hosting Pittsburgh is always a highlight on the schedule for Baltimore no matter when the game is scheduled. The Ravens beat Pittsburgh during a tight Week 13 matchup last season, but they were unable to cover the spread and ended up getting swept during the ATS series.
Jacksonville Jaguars : Baltimore hasn't faced Jacksonville since a preseason matchup in 2012. The Jaguars are expected to follow up their horrendous 4-12 record from last year with another poor showing. The team lost its first eight games of the season and had a 3-5 road ATS record during 2013.
Tennessee Titans : The Titans ended last year two games out from the final wild card spot and in the 11th overall position in the AFC standings. The team was 14 th in rushing yards with 118 per game but only 21st in passing yards with 218 per game. Tennessee was a decent road ATS team and ended the year with a 4-4 record.
San Diego Chargers : San Diego snuck into the playoffs with a 9-7 record and managed to cover both of its postseason road matchups to end the year with a 5-5 ATS road record. The squad is probably going to be its typical high-scoring, no-defense San Diego self next year, which makes this matchup very winnable for the Ravens.
Atlanta Falcons : The Falcons may have been the most disappointing team in the league last season after nearly making the Super Bowl in 2012. The squad finished the year with a 1-7 road ATS record, and while they are expected to improve this offseason, the team is still nowhere near being a contender next year.
Carolina Panthers : This matchup will probably be Baltimore's toughest game on its home schedule, and trying to stop Cam Newton and the Panthers offense will be a stiff task for its defense. Carolina had a 5-3 road ATS record to go along with its 5-3 SU mark.
2014 Baltimore Ravens Opponents: Road Schedule
At Cincinnati Bengals : Baltimore ended its year, and any hopes of making the playoffs, with a disappointing 17-point road loss to the Bengals. The squads split the season series 1-1 both SU and ATS. Both teams are expected to be contender for the AFC North division crown, and this matchup could even decide the winner if it comes late enough in the season.
At Cleveland Browns : The Ravens lost a Week 9 matchup against the Browns by six points to cap off a three-game losing streak during the middle of the season. Baltimore has won five of the last six regular season games and probably needs to win both regular season meetings in order to be in contention for the playoffs next year.
At Pittsburgh Steelers : Pittsburgh managed to win another close, three-point game over Baltimore during Week 7. Last season both meetings between the teams were decided by five points total, and the nine out of the last 10 regular-season matchups have been decided by three points or less.
At Houston Texans : Houston managed to win only one home game last season, and it dropped 14 straight matchups after winning its first two games of the season. Houston has $14.7 million dollars in salary cap space and should be able to improve on last season's two-win team. The Texans went "over" in nine of their 16 games last year.
At Indianapolis Colts : A matchup against the Colts will be another highlight on the schedule and will probably get a primetime spot no matter when it is played. The Colts ended 2013 with a 6-2 home SU and 6-3 ATS record (including the playoffs).
At Miami Dolphins : Last season Miami had an 8-8 overall record and 4-4 mark both at home and on the road. These two teams also matched up in 2013, with Baltimore winning by a field goal late in the game. Miami's quarterback, Ryan Tannehill, threw for 307 yards in one of his best performances of the season.
At New Orleans Saints : The Saints were the best home team in all of the NFL last season. The squad ended the year a perfect 8-0 SU and 7-1 ATS record inside the Superdome and was ranked second in passing yards in the entire NFL. Baltimore, who wasn't a great road team last season, will have a tough time stealing a win in this matchup.
At Tampa Bay Buccaneers : Tampa Bay was 3-5 at home last season and dropped eight straight games to start the year. The squad narrowly earned its first win of the season during a Week 11 matchup against the Dolphins. Baltimore was a bad road team in 2013, posting a 2-6 SU record, but should be able to get a win during this matchup.
Get free picks from any Doc's Sports handicapper - there is no obligation for this offer and no credit card required. Just sign up for an account, and you can use the $60 in free picks for any Doc's Sports Advisory Board handicapper and any sport. Click here to get started now.
Read more articles by George Monroy