Cincinnati Bengals Odds to Win the Super Bowl and Betting Futures
by Alan Matthews - 7/11/2014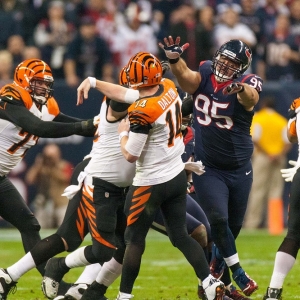 The Cincinnati Bengals should be celebrating probably the greatest three-year regular-season stretch in franchise history. The keywords there are: "regular-season stretch." Cincinnati has gone from nine wins in 2011 to 10 the next year and 11 in 2013, when the team won the AFC North for the first time since 2009. It was the first time in team history it reached three straight postseasons. One could argue the Bengals were the most dominant home team in the NFL last season, blowing out the final five opponents at Paul Brown Stadium to finish 8-0 there, covering the spread in all of them.
So how, then, can the wild-card round loss to visiting San Diego be explained? The Bengals were 6.5-point favorites against a team that barely snuck into the postseason, and to make things even more in Cincinnati's favor it was freezing cold that day. No way a warm-weather Chargers team should win that game. However, the Bengals were outscored 20-0 in the second half for a shocking 27-10 upset. It was the third straight game the offense laid an egg in a playoff opener and lost. Every NFL team has won a playoff game since the Bengals were last victorious in one: the 1990 wild-card game against the Houston Oilers.
QB Andy Dalton is taking most of the blame, and deservedly so. The pressure is really on the redhead this season as well as Coach Marvin Lewis, who dropped to 0-5 in the playoffs with the Bengals.
Offense
Dalton had a career year in 2014, no question. He set career marks for completions (363), attempts (586), yards (4,293), yards per pass attempt (7.3), touchdown passes (33) and passer rating (88.8). True, he did also set a career high with 20 picks. Something happens to Dalton in the postseason as he has a ratio of six interceptions to one touchdown in those three losses. Dalton's contract is up after this season, and he wants to be paid like an elite guy. The Bengals are for good reason not ready to do that yet.
With all due respect to Dez Bryant or Julio Jones or Brandon Marshall, Dalton has the second-best receiver (to Megatron) in the NFL in A.J. Green. He caught 98 balls for 1,426 yards and 11 scores last season. No. 2 Marvin Jones had a breakout season in his second year, catching 51 catches for 712 yards and 10 scores. Not totally sold on him yet. The Bengals have two good receiving tight ends in Jermaine Gresham and Tyler Eifert. Look for a huge season from running back Gio Bernard. He and BenJarvus Green-Ellis got nearly the same number of total touches last season, but this season Bernard will be the primary back. Bernard managed more than 1,200 total yards and eight scores while sharing time in 2013. I wonder if Green-Ellis gets cut. The team took LSU running back Jeremy Hill with its second-round pick in May. He could easily fill BGE's role at a much cheaper price.
The team promoted running backs coach Hue Jackson to offensive coordinator when Jay Gruden left that job to take the Redskins' head coaching gig.
Defense
This unit finished No. 3 in total defense last year, which is rather shocking considering the defense lost eight total players to season-ending injured reserve in 2013. Geno Atkins could be the best defensive tackle in the NFL but tore his ACL on Halloween against Miami. The Bengals allowed just 3.7 yards per rush when Atkins was on the field and 4.3 when he wasn't. Only three times in the eight games before Atkins' injury did the Bengals allow at least 90 rushing yards. The Chargers had 196 in the playoff upset by comparison. The team's top cornerback, Leon Hall, was limited to only five games because of a torn Achilles' tendon. He's officially injury prone now, not playing all 16 games since 2010.
That defense has to replace two key guys in particular: every-down defensive end Michael Johnson, who signed with Tampa Bay, and coordinator Mike Zimmer, who is the Vikings' head coach. Zimmer wanted to take linebackers coach Paul Guenther with him, but the Bengals promoted him to coordinator. Perhaps that familiarity will help avoid a major fall off. The Bengals were a very aggressive, blitz-happy team under Zimmer. Cincinnati did get a potential steal when Michigan State cornerback slid to the No. 24 pick in the May draft. He won the Jim Thorpe Award as the nation's top defensive back last year and shouldn't have still been on the board.
2014 Cincinnati Bengals Schedule Analysis
The Bengals are tied for the 10th-easiest schedule in the NFL as their opponents went a combined 120-136 last season, a winning percentage of .469. It's tied with Pittsburgh for the toughest in the AFC North. The Bengals' home and road slates have the exact same winning percentage for opponents. Cincinnati is a 2.5-point favorite Week 1 in Baltimore, with a total of 43.5. As I mentioned in a recent Ravens preview, that's potentially a huge one for a division tiebreaker down the road, especially if the Bengals can steal one away from home. The Bengals lost 20-17 in Baltimore in OT last year despite tying it on a 51-yard Dalton to Green Hail Mary at the end of regulation and outgaining Baltimore by nearly 200 yards. Dalton was picked off three times.
Should Cincinnati pull the Week 1 upset, I believe it's 3-0 heading into a too-early Week 4 bye. Home games against the Falcons and Titans follow. At least the Bengals get an extra week to prepare for a trip to New England in Week 5. What's very unusual is that after a tough trip to Indianapolis in Week 7, the Bengals play three straight at home (Ravens, Jaguars, Browns), followed by three straight on the road (Saints, Texans, Bucs). The closing four games feature Pittsburgh twice, at Cleveland and home to Denver in the final Monday night game of the year Week 16. That could have potentially huge playoff seeding possibilities.
2014 Cincinnati Bengals Odds to Win the Super Bowl and Betting Futures
Odds courtesy of Sportsbook.ag . The Bengals are +3500 to win the Super Bowl, +1300 to win the AFC championship and +200 to win the AFC North. Somewhat odd that Cincy's AFC and division odds are shorter than Pittsburgh's but its Super Bowl odds are longer than the Steelers'. The Bengals' wins total is nine, with the "over" a -130 favorite. Cincinnati is +150 to make the playoffs and -185 to miss. Dalton is +15000 to win NFL MVP and Green is +10000. Dalton is also +15000 to lead the league in passing yards. Bernard is +3000 to top the NFL in rushing yards. Green is +2000 to lead the league in receiving yardage. Hill is +3000 to win Offensive Rookie of the Year and Dennard is +2000 to win top defensive rookie.
2014 Cincinnati Bengals Picks and Predictions
If I'm the Bengals, I most definitely do not sign Dalton until after the season. Make him play out the deal, and perhaps he has a playoff run in him like Joe Flacco did two years ago in the same situation. The Bengals can always franchise Dalton after the year if need be. This looks like the team to beat for me in the AFC North. Losing both coordinators hurts a bit, but I'd take the offensive trio of Dalton/Bernard/Green over either Pittsburgh's or Baltimore's top three. Cincinnati's defense also appears to be better.
I would say a playoff win is a must for Dalton to get his big money and for Lewis to stick around. But this team will go 10-6 and win the division by a game. Alas, that won't be enough wins for at least the No. 2 seed in the AFC, which could mean another wild-card round loss depending on the opponent.
Doc's Sports has a great offer for new clients. You can get $60 worth of picks from any Advisory Board handicapper for any sport he handicaps. All with no obligation and no credit card needed. Claim your free picks today .
Read more articles by Alan Matthews