2014 Denver Broncos Opponents and Schedule Highlights
by Darin Zank - 4/4/2014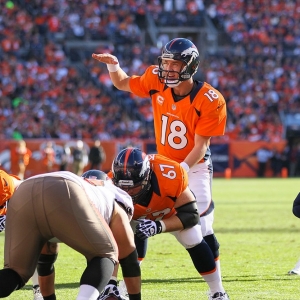 The Denver Broncos rode a record-setting offense all the way to the Super Bowl last season; unfortunately, they ran into the best defense in the league, and in a chilling reminder of Super Bowls past for many older Broncos fans, got blown out.
Since then Denver has parted ways with RB Knowshon Moreno and WR Eric Decker and signed, among others, WR Emmanuel Sanders and DE DeMarcus Ware. Peyton Manning apparently will be back for another rodeo, and Montee Ball will slip into the full-time slot in the backfield.
Here's a quick preview of Denver's 2014 slate of opponents, which includes nine games against teams that made the playoffs last year, featuring an AFC Championship Game rematch with New England and a Super Bowl rematch with Seattle, both on the road. Throw in trips to Kansas City, San Diego, Cincinnati and St. Louis, and home dates with Arizona, San Francisco and Indianapolis, and the Broncos have the makings of a tough road to get back to the Super Bowl.
As of earlier this week Bovada was offering 15/4 on the Broncos winning the AFC this season, and 15/2 on winning the Super Bowl.
2014 Denver Broncos Opponents: Road Schedule
At Kansas City: The Chiefs started 9-0 last year, but the Broncos beat them twice in three weeks, including a 35-28 decision at Arrowhead. KC caught a bit of magic last year but finished by losing six of its last eight games after blowing that big lead in that playoff loss at Indy. The Chiefs were also just 2-6 ATS at home last year.
At Oakland: Denver swept two games from the Raiders last year, including a 34-14 decision in Oakland Week 17. The Raiders finished 4-12 last year, but they have been making noise over the offseason, adding, among others, QB Matt Schaub, RB Maurice Jones-Drew, WR James Jones, DE Justin Tuck and CB Carlos Rogers.
At San Diego: The Chargers, somewhat unexpectedly, made the playoffs last year, and they won a wild-card game before falling at Denver in the divisional round. San Diego and the Broncos split their two regular-season games last year, each winning on the others' home field.
At New England: This one should draw some interest. Manning and Brady hook up for the 16th time and the fourth time since Peyton became a Bronco. Denver bolted to a 24-0 lead on a cold and windy Sunday night last November in Foxboro only to allow Brady and the Pats to rally for a 34-31 victory in overtime. The Broncos got their revenge, though, with a 26-16 victory in the AFC Championship Game at Mile High.
At New York Jets: New York struggled mightily at times last year with rookie Geno Smith at quarterback but still managed to finish 8-8. Also, the Jets went 6-2 both SU and ATS at home last season. Now they've signed Michael Vick. As an aside, the Broncos will be going against one of those who left the herd this off-season, with Decker's signing with New York.
At St. Louis: The Rams went 7-9 last year playing in the toughest division in the league. St. Louis won five of eight home games last year, claiming among the victims the Cardinals, Bears and Saints. Coach Jeff Fisher seems to have this team on the improve.
At Seattle: The Seahawks totally destroyed Denver in the Super Bowl, exposing the Broncos as one of those 1980's-style, offensive-minded AFC paper tigers. Seattle, of course, owns one of the loudest home-field advantages in the league, and it's 22-10 ATS at the Clink since Pete Carroll arrived on the scene.
At Cincinnati: The Bengals have made the playoffs four of the last five seasons, although they haven't been able to get past the wild-card round. Last year Cincy won the AFC North in part by going a perfect 8-0 both SU and ATS at Paul Brown Stadium with win/covers over, among others, the Packers, Patriots, Colts and Ravens.
2014 Denver Broncos Opponents: Home Schedule
Kansas City: Denver is 4-0 SU and 3-1 ATS against the Chiefs with Manning. Last year the Broncos handed KC its first loss of the season, a 27-17 decision in Denver in Week 11, then they went into Arrowhead two weeks later and beat the Chiefs 35-28. KC jumped from 2-14 in 2012 to 11-5 last year under Andy Reid; this year KC might be a candidate to regress.
Oakland: The Raiders have now gone 12 seasons since they last finished above .500. Denver beat Oakland at Mile High last year 37-21, pushing the spread as a 16-point favorite.
San Diego: Denver took two of three tough games from the Chargers last year, but San Diego's victory came in that memorable Thursday nighter in December at Mile High, a 27-20 decision in which the Chargers thoroughly outplayed the Broncos and won as 10-point dogs.
Buffalo: What can we say about the Bills other than they've posted nine consecutive losing seasons, they've gone 6-10 each of the last three seasons, and they're likely to do something similar this season? Buffalo also went just 2-6 both SU and ATS on the road last year.
Miami: The Broncos are 5-11-1 all-time SU against the Dolphins, their worst record against any franchise. Miami had a chance to make the playoffs last year but lost its last two games, scoring a total of seven points.
Arizona: Denver is 7-1-1 all-time SU against the Cardinals, but most of that was done against some poor Cards teams. Right now, Arizona has a pretty good team; the Cardinals went 10-6 SU and 11-5 ATS last year, including 6-2 ATS on the road. The Cardinals defense ranked fifth overall last season and was No. 1 against the run.
San Francisco: The 49ers are 36-11-1 SU, 32-15-1 ATS in three seasons under Jim Harbaugh. This game will match the prototypical pocket passer, Manning, against the supposed QB of the future, San Francisco's Colin Kaepernick. The Broncos defense better be prepared to do some chasing in this one.
Indianapolis: Manning's former team beat Denver in Indy last October 39-33. The Colts out-rushed the Broncos 121-64 and held the ball for almost 32 minutes, winning straight-up as six-point home dogs. Indy is 22-10 SU and 21-11 ATS in two seasons with Andrew Luck at quarterback.
Get free picks from any Doc's Sports handicapper - there is no obligation for this offer and no credit card required. Just sign up for an account, and you can use the $60 in free picks for any Doc's Sports Advisory Board handicapper and any sport. Click here to get started now.