Detroit Lions Odds to Win the Super Bowl and Betting Futures
by Alan Matthews - 7/7/2014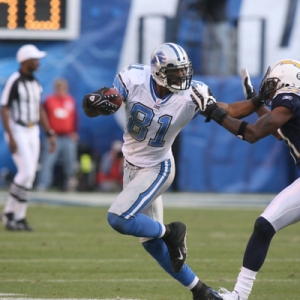 The Detroit Lions have had some awesome offensive talent over the past two decades. Barry Sanders, Herman Moore, Matthew Stafford and Calvin Johnson to name four. But something seems to always go wrong to keep this franchise as a perennial underachiever. There have been questionable coaching hires for sure. True, the quarterbacks haven't been great before Stafford. The defense has often not been up to par to the offense. Usually, it's just the Lions being the Lions: doing something stupid to lose games. How else to explain a franchise with one double-digit winning season since 1995 and only one playoff berth since 1999? The Lions somehow have never won the NFC North: Their last division title was 1993 in the old NFC Central (or "Norris" as Chris Berman always called it).
A lot of things that have plagued this franchise were summed up last year, mainly penalties, turnovers and some bad decisions by Jim Schwartz. The NFC North was there for the taking with both Aaron Rodgers and Jay Cutler missing about half the season. The Lions took a last-second win in Chicago in Week 10 to improve to 6-3, and it was almost hard to see the Lions miss out on the postseason. Of course they did, losing six of their final seven. Schwartz was mercifully fired. Sometimes you don't always get your first choice as a wife, and the Lions know that feeling because they were hoping to hire Chargers offensive coordinator Ken Whisenhunt to replace Schwartz, but he picked Tennessee. The Lions settled for Ravens offensive coordinator Jim Caldwell. He had some success with the Colts in 2009 & '10. Still a questionable move considering how bad the Baltimore offense was a season ago.
Offense
There is no reason this shouldn't be a Top 5 offense, both yardage-wise and in scoring -- especially playing at least eight games a year in the dome. It was sixth in 2013 in yards and 13th in points (24.7). Matthew Stafford threw for 4,650 yards and 29 touchdowns, but he did regress a bit in terms of decision-making with 19 interceptions. That's job No. 1 for Caldwell, an offensive guy. Detroit has a very solid running back duo in the speedy Reggie Bush (1,006 yards rushing, 506 receiving) and the more powerful Joique Bell (650 yards rushing, 547 yards receiving).
There's the incomparable Calvin Johnson at receiver, and Megatron had 84 catches for 1,492 yards and 12 scores. That Johnson continues to put up monster numbers despite the fact the Lions haven't had a good No. 2 receiver is amazing. That problem should be alleviated this season with the addition of free agent Golden Tate, Seattle's leading receiver last season. Plus, the Lions drafted North Carolina tight end Eric Ebron with their first-round pick. He looks like a future stud and probably line up like a receiver at times, but was that a need? The Lions already had Brandon Pettigrew (41 catches, 416 yards) and Joseph Fauria (seven TDs) at tight end.
Defense
This is where I thought the Lions should go with their first-round pick, either linebacker or more likely the secondary. The front four is terrific with Ndaumkong Suh, Nick Fairley and end Ezekial Ansah, last year's first-round pick. Weak-side linebacker DeAndre Levy had a huge 2013 season with 119 tackles, 15 passes defensed and six picks. The other projected linebacker starters, Stephen Tulloch and Ashlee Palmer, are so-so. The Lions took BYU outside linebacker Kyle Van Noy with their second-round pick. They knew him well from scouting Ansah the year before. In 2012, with Ansah up front on the Cougars, Van Noy put up All-American numbers. Those were all down last season.
The secondary looks like a problem area. Chris Houston was signed last season to a $25 million contract to be the team's No. 1 cornerback, but he struggled with injuries and was released in June. The team is counting a lot on one more capable season from Rashean Mathis, who will be 34 in August. Otherwise it's youngsters such as Darius Slay, Bill Bentley, Chris Greenwood and/or Jonte Green at corner. I actually think the Lions would have taken Oklahoma State cornerback Justin Gilbert with their first pick if he hadn't gone to Cleveland two spots previously. Safety Glover Quin is OK, but the team cut injury-plagued but talented Louis Delmas this offseason. Former Raven James Ihedigbo will start opposite Quin. Ihedigbo had his best season last year in Baltimore, racking up 101 tackles and three interceptions.
2014 Detroit Lions Schedule Analysis
The Lions have the 16th-toughest schedule in the NFL (so essentially dead in the middle) as their opponents went a combined 124-128-4 last season, a winning percentage of .492. Detroit's road schedule (.531) appears much tougher than at home (.453). The Lions are 3.5-point favorites for Week 1 at home against the Giants in the Monday night opener. Detroit fans well remember their Week 16 meeting at Ford Field last year as the Lions would have controlled their destiny to win the NFC North with a win against a Giants team already eliminated from the postseason. Things looked pretty good with the Lions up 20-13 with six minutes left, but then Stafford threw an interception that was returned 38 yards by New York's Will Hill to tie it. For some reason, Schwartz chose not to try to get into field-goal range when Detroit got the ball later on with 23 seconds left and two timeouts at its own 25. The Lions ran out the clock, and the fans were not pleased. That about signaled the end of Schwartz's tenure. The Giants won 23-20 in overtime, which eliminated the Lions.
Detroit could be looking at a 0-4 start without a Week 1 win because the Lions should be underdogs the next three: at Panthers. vs. Packers, at Jets. Get through the first four at 2-2 and then the Lions should beat visiting Buffalo in Week 5 and certainly can win Week 6 in Minnesota. New Orleans visits Week 7 in what should be one of the NFL's highest-scoring games next season and then Detroit goes to Atlanta before a Week 9 bye. The good news after the bye: The Lions will be favored to run the table at home against the Dolphins, Bears, Bucs and Vikings. The bad: They will be underdogs in road games at the Cardinals, Patriots, Bears and Packers. Those latter two close the season and it will be rather chilly, never a good thing or the indoor Lions.
2014 Detroit Lions Odds to Win the Super Bowl and Betting Futures
Odds courtesy of Sportsbook.ag . The Lions are +4000 to win their first Super Bowl, +2500 to win their first NFC championship and +360 to take the NFC North. The Lions have a wins total of 8.5, with the "under" a slight -120 favorite. They are +270 to make the playoffs and -360 to miss out. Johnson is +2000 to win NFL MVP with Stafford at +5000. Stafford is +700 to throw for the most yards. Bell and Bush are +10000 to win the rushing title. Johnson is the +300 favorite to lead the league in receiving yards. Tate is +15000. Ebron is +1000 to win Offensive Rookie of the Year. Van Noy is +3000 to win Defensive Rookie of the Year.
2014 Detroit Lions Picks and Predictions
From a pure talent standpoint, this is a Top 8 team in the NFL. I mean, Stafford, Megatron, Tate, Bush, maybe Ebron, Suh, Fairley, Ansah, Levy. That's strong. The Lions more often than not shot themselves in the foot under Schwartz. It's obviously hard to tell what kind of coach Caldwell is because really Peyton Manning was the Colts' coach when he Caldwell was there and Manning healthy. The offense looks great. The defense looks rather iffy other than the line. I expect plenty of over totals with the Lions (other than those outdoor cold-weather games).
Detroit is potentially good enough to compete for a wild card, but I also think it's the third-best team in its own division. I'd lean just under on the wins, looking for an 8-8 finish and no playoffs again. I do like Stafford and Johnson on the yardage props.
Want free sports betting picks? Doc's Sports has you covered - get $60 worth of picks free from any of Doc's Sports expert handicappers. Click here for free picks (new clients only).
Read more articles by Alan Matthews