Free NFL Betting Picks for Sunday: Pro Football Totals Predictions
by CarbonSports - 9/25/2014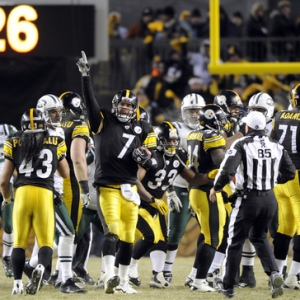 Pick #1: Miami/Oakland Over 41 (-110)
It's the first game overseas in London this year and you can bet that the NFL fans over in England aren't thrilled to see a game between two struggling teams. However, no matter what teams have shown up to Wembley Stadium in the past, the fans are usually treated to points.
The last three games here in in London, (two last year, one in 2012) have all finished with high scoring totals. In 2012 it was the Patriots who put a beating on the Rams 45-7, while last year saw the Vikings beat Pittsburgh 34-27 and San Fran beat Jacksonville 42-10. When you've got the winning team in these games averaging 40.3 points/game, I would not be surprised to see this game sail well over this total.
Miami comes in with numerous questions offensively as HC Joe Philbin has told media members that he's not convinced Ryan Tannehill will be his starting QB in the foreseeable future. Word is he's going to give Tannehill another go at it this week and if the QB can't put up some good numbers against a bad team like the Raiders, it might be time for Miami to look at other options.
Oakland is still going through some growing pains with rookie QB Derek Carr at the helm, but if guys like Alex Smith and E.J Manuel can put up 29+ on this Dolphins defense, Carr should have some success. The last six times these two franchises have met the 'over' has gone 5-1, and Oakland is 4-1-1 O/U after covering the spread in their last outing. Meanwhile, Miami is 5-1 O/U the past six seasons during Week 4 and have a 5-1 O/U run going during the month of September.
This game is an opportunity for both QB's to step up and prove their worth to their respective franchises and like we've seen in recent games across the pond, this one has shootout written all over it.
Pick #2: Tampa Bay/Pittsburgh Over 45.5
Tampa better hope that the extra few days off after Thursday's beatdown in Atlanta was what they needed to right the ship, but sadly I don't think that will be the case. The Buccaneers are a bad team all around, with a worse defense that Ben Roethlisberger and the Steelers offense should shred this week.
Tampa allows 387 yards per game so far this year (28th in the league) and if it weren't for Jacksonville's 39.7 points allowed per game, the Bucs would be last at 31.7/game. Lovie Smith's revival of his old Tampa-2 defense where it all began for him is so archaic in this day and age that opposing teams can attack it with precision every drive. Now that's not to say the Steelers will put up 50+ on the Bucs like Atlanta did last week, but I do believe this Pittsburgh offense will hit 30+ for the third time this season.
Offensively, Tampa is going back to Mike Glennon at QB and if nothing else this shake up should provide a spark to an otherwise lacklustre offense. The Bucs haven't scored more than 17 points in any game this season and going back to last year have only topped the 20-point plateau once on their last 10 games. Normally, I'd say that's not a good sign for this game to go over, but I'm not relying on Tampa to do the bulk of the scoring here.
With Pittsburgh likely getting 30, Tampa just needs to hit that 17-point mark to cash this bet and with a 7-1 O/U mark after giving up 350+ yards last time out, the Bucs are in a good spot to do so. Pittsburgh isn't a defense-first team anymore as they are 6-2 O/U in thier last eight overall and have a 7-1 O/U mark themselves after gaining 350+ yards.
Since this is one of those AFC/NFC games that have generally been higher scoring the past few seasons, I'm looking for this one to threaten 50 points by the time all is said and done.
$100 FreeBet promo is exclusive to new players at CarbonSports.ag. Use promo code: FREE100
(Make a deposit of $25 or more and enter code: FREE100 and get a 50% freebet bonus, no rollover up to $100) Click Here
Also get a $5 freebet for every new CarbonSports join until the end of Sept.30, 2014. Click Here