Handicapping the Atlanta Falcons Struggles
by Trevor Whenham - 10/16/2014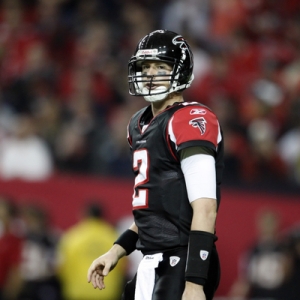 The Atlanta Falcons are just not good at football. They were supposed to be this year. We heard all about how they were supposed to rebound from their disaster of a season last year and get back on track as a perennial contender as we have grown used to them being. They have limped out to a 2-4 start, lost three in a row, and have beaten only New Orleans and Tampa Bay - two teams that aren't exactly off to great starts of their own. They are a disappointment for fans and a nightmare for bettors. So, what does the future hold? Can this team get back on track this year? Or are their struggles here to stay?
Here are six factors to consider when looking at whether this is a team to bet on or avoid:
They just don't care: This is really what it all comes down to. Last year they struggled badly, but the worse things went the less they seemed to care about what happened. They were embarrassing themselves, but it didn't seem to bother them. Teams that succeed are driven by their pride, but the Falcons seemed to have none. They said the right things in the offseason and wanted to make us believe that they were going to be better on that front, but so far that doesn't seem to be the case.
Coach needs to go, just like last year: Mike Smith wasn't fired last year. It was one of the bigger shocks of the early offseason, and it also appears now that it was a mistake. Smith had some success with this team, but last year and so far this year he clearly has not had full command of the team. Unless you are around the team constantly, you can't really know what the problem is, but it is clear that he can't get the most out of his players and that his team seems unprepared and lacking the focus needed for success. I was skeptical that Smith was going to be able to get things back on track this year after the debacle of last year. Now I find it all but impossible to believe that he has what it takes to turn this group around. Oftentimes a change is needed not because a guy is a bad coach but because he is no longer the right coach for a situation. Complicating the situation here, though, is that, at least publicly, owner Arthur Blank is backing Smith and remains confident that things can be turned around.
Matt Ryan is underwhelming: The quarterback is 29 years old and in his seventh season in the league. He should be absolutely at the peak of his game. The fact of the matter is, though, that his accuracy is down from where it has been, he is throwing too many picks, and he just isn't productive enough. He should be much better. More than mechanics, what I feel is missing from Ryan is a desire to win at all costs. Manning, Brady, Luck, Brees - those guys would crawl through lava if a win was on the other side. Ryan doesn't seem to have that total refusal to accept defeat. It's not all his fault, though. The scheme he is working under seems to defy logic more often than it should. Running back Antone Smith is arguably the only part of offense that is consistently working, but he is not being used as much as he should be, while the team instead keeps trying to make things work that just aren't producing.
Defensive line brutal: I could write a bunch here about how bad the defensive line has been - and there would be no shortage of material. Players have underachieved, the schemes have been mystifying, and the performance is just not acceptable. Of course, I could also write just as much about the linebackers. Or the defensive backs. This is just a bad defense - near the bottom of the league in all key stats. The issues all come back to defensive coordinator Mike Nolan. He has bounced around like a rubber ball since being fired as head coach in San Francisco, and I am just not convinced that he is capable of designing a top-level defense in this league. He certainly doesn't seem capable of maximizing the somewhat questionable collection of talent he has been given to work with here.
Personnel: The biggest question you have to ask when looking at this roster is why we should really expect them to be a good team. Outside of Ryan and Julio Jones, who do they have right now who is a truly elite player? Devin Hester has a lot of miles on him. So do Roddy White and Steven Jackson. Tyson Jackson defines unrealized potential. Osi Umenyiora is a shadow of himself. Jake Matthews has plenty of upside, but he is still young. This seems more like a roster made by a fan who picked names he recognized than by a management group determined to build a winner.
Division: I have been relentlessly negative about this team, so it's only fair that I end with something at least a little positive. The NFC South is a farce this year. The Panthers lead it, but they can't run or stop anyone from doing the same. New Orleans has forgotten how to play and has no noticeable defense. Tampa Bay is a total mess. Despite being 2-4, the Falcons are still in contention in this division. It's possible that eight or nine wins will be enough to win this division. While I don't personally think that the Falcons will reach that level of success, the fact remains that this is a winnable division, and the terrible, listless start by this team has not led to another lost season - yet.
Read more articles by Trevor Whenham