Handicapping the St. Louis Rams after Sam Bradford Injury
by Trevor Whenham - 8/25/2014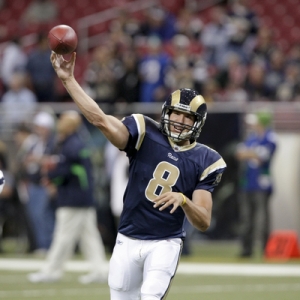 I was high on Sam Bradford heading into this season. He and Jeff Fisher were looking like a good pairing once they got a chance to play together and get comfortable. He had some talent around him. He's old enough and experienced enough to let his talent finally come to the forefront. It was going to be a good year.
Then, in one play, his season came crashing to a halt. For the second year in a row Bradford has blown his left ACL, and now the Rams are without a quarterback for the season - just as they were for more than half of last season when Bradford was hurt the first time. For handicappers this injury is a bit of a headache. A big one, really. It obviously has a huge impact both on how St. Louis can be expected to perform and how the public will respond to the team.
When trying to decode what to do with this team, here are five factors to consider:
They have been here before: The Rams are better equipped than most teams to deal with this situation for the simple fact that they have been here before just last year. Kellen Clemens took over when Bradford went down last year, and he led the team to a 4-5 record in his starts. This year they not only have the benefit of having dealt with this before, but they have a couple of weeks to get ready for it instead of having to adjust on the fly - Clemens started three games before the team's bye week.
Bradford's success wasn't guaranteed: I was high on Bradford this year, and a lot of people were, too, but it was far from guaranteed that he was going to be successful this year. He hadn't been able to consistently translate his college success to the NFL up to this point, and his last full season in 2012 was average at best. While the chance for a strong season definitely was there, there was also a chance that he would have been just as frustrating as he had been to this point. It is easy in a case like this to assume that there will be a big dropoff between the big name starter and the underwhelming backup. It would also be easy to overstate that drop-off here.
There is no easy replacement: There have been many cries for the team to go out and get a new starter since the Bradford injury. The problem, though, is that there isn't going to be an easy option that makes sense. Chase Daniel would be very expensive because the Chiefs like having a strong backup. Kirk Cousins and Ryan Mallett are unproven. Colt McCoy isn't any good. Mark Sanchez has looked very good in the preseason, but he has plenty of history Rams offensive coordinator Brian Schottenheimer when they were both with the Jets, and they didn't exactly bring out the best in each other. He'd also be too expensive. All of the other possible options - Matt McGloin, Christian Ponder and the rest - are not exactly the key to a playoff run for this or any team. There aren't a lot of good options for a team with immediate need out there, and any that could work are going to cost a whole lot because every other team knows where the power lies.
Hill isn't all that bad: Shaun Hill isn't going to sell a lot of tickets, but he isn't a disaster as a starting option. Sure, he's 34 years old and hasn't had any meaningful action in four years. He has done some time starting for both San Francisco and the Lions, though, and he completed nearly 62 percent of his passes with 41 touchdowns and just 23 interceptions. He is an average quarterback, and that's not an insult. Bradford's upside is higher than Hill's, but Hill is every bit as good as what Bradford has been in his career. The team could be in worse hands - and they are in better hands than a lot of people will assume that they are.
The biggest impact is psychological: While I am less concerned than many about the physical impact of this injury on the team and their performance, that is not the biggest concern. The psychological impact of this game is bigger than the physical in a lot of cases, and it would be very easy for this team to feel sorry for themselves heading into this season. If they are not focused and in the moment early in the season then they could fall into a hole that would only intensify their mental issues. It's tough to really know what teams are thinking or feeling, but I will be watching for any possible clue between now and the start of the season. That is far more significant in my eyes than how Hill looks between now and the start of the year.
Doc's Sports wants you to try out one of their expert college football handicappers, and they are now offering new clients a free $60 in credit that they can use for any handicapper on Doc's Advisory Board. This takes less than two minutes to sign up, and there is no credit card needed and no salesmen to deal with. Get your free college football picks now. Also, get three handicappers for the price of one when you sign up for a full-season football package! Click Here for details.
Read more articles by Trevor Whenham