2014 Kansas City Chiefs Opponents and Schedule Highlights
by Darin Zank - 4/16/2014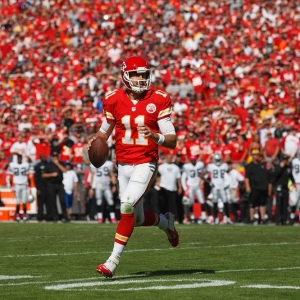 After going 2-14 in 2012, the Kansas City Chiefs rebounded to make the playoffs in their first season under new head coach Andy Reid. But really, how good was KC? The Chiefs started 9-0 last season then lost six of their last eight games. And that playoff loss at Indy, blowing a 28-point lead, must have left a terrible taste over the offseason.
Now the Chiefs must avoid a fate that strikes many teams in the NFL who make huge jumps from one season to the next; the almost-unavoidable letdown.
Kansas City caught some flak last year for starting 9-0 against a weak schedule, and as it turns out that criticism was deserved. The Chiefs went 10-0 SU and 7-3 ATS against teams that missed the playoffs but just 1-5 SU, 2-4 ATS against teams that made the postseason.
This year KC has only seven games against teams that made the playoffs last year, only three of those on the road. But they will also make trips to Arizona, Miami and Pittsburgh.
As of mid-April, Bovada was offering odds of 14/1 on KC winning the AFC this season, and 33/1 to win the Super Bowl.
2014 Kansas City Chiefs Opponents: Road Schedule
At Denver: The Chiefs were 9-0 until they ran into the Broncos last November; Denver proceeded to beat KC twice in three weeks, including a 27-17 decision at Mile High. KC is 0-4 SU and 1-3 ATS against the Broncos since they got Peyton Manning.
At Oakland: The Chiefs swept the series from the Raiders last year, including a wild 56-31 win at O.co Coliseum last December. KC led that game 35-10, let Oakland get within 35-31, then scored three touchdowns for the icing. The Raiders haven't made the playoffs since they lost the Super Bowl to Tampa Bay 12 years ago. But after finishing 4-12 the last two seasons, they've tried to upgrade by bringing in a slew of veteran talent, including QB Matt Schaub, RB Maurice Jones-Drew, WR James Jones and DE Justin Tuck.
At San Diego: The Chargers won their last four games last season to sneak into the playoffs, and then they won a wild-card game on the road. So they're looking for bigger things this season. KC has lost 11 of the last 13 meetings with San Diego, including a 27-24 decision in overtime at Qualcomm in Week 17 last January. But the Chiefs actually put on one of their best efforts of the season that day, playing without many key starters because they were already locked into their playoff spot, covering nonetheless as 15-point dogs.
At Buffalo: Thanks to the quirks of recent standings and the schedule format, these two teams will meet for the seventh straight season. Last year the Chiefs went to Buffalo and beat the Bills 23-13, scoring the last 10 points of the game, covering as four-point road chalk. KC got out-gained that day by 260 yards but forced three Buffalo turnovers and scored on both a kickoff return and a fumble return.
At Miami: The Dolphins had a chance to make the playoffs last year, but they scored a total of seven points in losing their last two games to finish 8-8. The Chiefs have lost the last three meetings in this series, including a 31-3 loss at Arrowhead in 2011 in which KC made Miami QB Matt Moore look like an all-pro. These teams met for one of the first of those classic AFC playoff battles of the 1970s, back on Christmas Day in 1971, a 27-24 Dolphins victory in double-overtime at old Municipal Stadium in Kansas City, still the longest game in NFL history.
At Arizona: These two teams have met only 11 times before, most recently a 31-13 Chiefs victory in 2010. The Cardinals missed the playoffs last year even though they went 10-6 SU and 11-5 ATS. Arizona is suddenly a formidable foe, led by a defense that ranked No. 5 overall last season.
At San Francisco: This game will be played in the Niners' new stadium in Santa Clara. This matchup also gives Chiefs QB Alex Smith his first shot at the team that traded him away two seasons ago. These two teams have also met only 11 times in the past, most recently a 31-10 KC win in 2010. The Chiefs went 7-1 both SU and ATS on the road last season.
Pittsburgh: The Steelers have missed the playoffs the last two seasons, so now comes the big question; has the window closed on this edition of this team? Pittsburgh did show some life late in the season, though, winning six of its last eight games after a 2-6 start. The Steelers have won the last two meetings in this series, by scores of 13-9 in 2011 and 16-13 in 2012.
2014 Kansas City Chiefs Opponents: Home Schedule
Denver: These AFL originals have met 108 times in the past, including a 35-28 Broncos victory at Arrowhead last season. The Chiefs went only 5-3 SU and 2-6 ATS at home last year.
Oakland: Somehow the Chiefs had lost six times in a row at home to the Raiders until pulling out a 24-7 victory last October. But even that game was closer than the score indicated; it was tied at 7-7 late in the third quarter, and KC scored 10 points in the last minutes to cover the spread as an eight-point favorite. The Chiefs lead the all-time series 55-50, with two ties.
San Diego: These teams have played 108 times in the past, including a 41-38 Chiefs loss last November at Arrowhead. KC led almost the entire game, but they gave up a Philip Rivers TD pass with 30 seconds to go to lose. Four of the last six meetings in this series have been decided by exactly three points.
New England: These two AFL originals will meet for just the 30th time in 60-plus seasons of existence. KC is 1-3 against Tom Brady and even lost to Matt Cassel in that 2008 season opener in which Chief Bernard Pollard put Brady out for the season. The Patriots went just 4-4 SU and 2-6 ATS on the road last season.
New York Jets: New York went 8-8 last season playing rookie Geno Smith at quarterback. Over the offseason they signed Michael Vick. The Jets defense ranked 11 th overall last year and third vs. the run. If they could get just some decent play out of the quarterback position this season they could make the playoffs. KC has lost the last three games in this series, most recently a 37-10 decision in New Jersey in 2011.
St. Louis: These two franchises have met only 10 times in the past, five times since the Rams moved to the same state. KC has defended its home ground well, beating St. Louis all five meetings, most recently 27-13 in 2010. The Rams went 7-9 last year playing in the toughest division in the league, and they went 6-4 both SU and ATS outside of the NFC West.
Seattle: These former division rivals clashed for many great battles when they met twice a season from 1978 through 2001, most memorably that day at Arrowhead in 1990 when the great Derrick Thomas sacked Dave Krieg seven times only to have Krieg throw a game-winning TD pass on the final play of the game. These Seahawks, who destroyed Denver in the Super Bowl, are known for dominating at home, but they also went 6-2 both SU and ATS on the road last year.
Tennessee: These two teams just met last October, when the Chiefs went into Nashville and came home with a 26-17 victory. KC trailed 17-13 early in the fourth quarter but scored the last 13 points, covering as a three-point road favorite. These two franchises were once in-state rivals when the Chiefs were known as the Dallas Texans and the Titans were known as the Houston Oilers.
Get free picks from any of Doc's Sports Advisory Board of expert handicappers - and with no obligation or credit card. You can use these free picks for any sport, and you will never deal with a salesman. Click here for your free Doc's Sports picks.