Minnesota Vikings Odds to Win the Super Bowl and Betting Futures
by Alan Matthews - 6/6/2014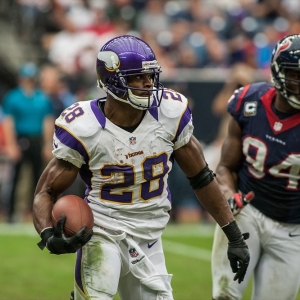 It's almost as if the Minnesota front office expected to lose last season. Sure, the Vikings were a surprising 10-6 in 2012 and played in the wild-card game. However, that club was carried by NFL MVP Adrian Peterson, who had one of the best seasons ever for a running back. The Vikings did little to address their questions about Christian Ponder at quarterback and traded their other best offensive player, receiver Percy Harvin.
I'm sure that I wasn't in the minority in expecting a huge step back last year, and the Vikings finished 5-10-1, their third losing season in the past four. That cost head coach Leslie Frazier his job. To replace him, Minnesota hired Cincinnati defensive coordinator Mike Zimmer. The Bengals defense was very good under him the past five years, but it was a bit surprising the team didn't go with an offensive guy because the Vikings knew they were going to draft a QB high in the 2014 draft, and Frazier also was a defensive-minded coach.
One thing to keep in mind: The Vikings will play outdoors the next two seasons at the University of Minnesota as their new stadium is being built. Think being out of the dome and in the Minnesota elements will affect totals in the winter months?
Offense
I've said this before and I still think it's true for 2014: No offense is more dependent on one player who isn't a quarterback than the Vikings are with Peterson. There is talk this could be his final season in purple. Peterson will be 30 next March, and that's the magic number for when running backs really start to slide. The Vikings might not want his huge salary at that point. Peterson was never going to match his 2012 season but still rushed for 1,266 yards and 10 touchdowns in 2013. His yards per carry were down a whopping 1.5 yards from 2012. He also failed to play all 16 games for the third time in four seasons.
Expect Matt Cassel to start Week 1 under center, but everyone will be watching for when 2014 first-round pick Teddy Bridgewater gets his first action. Cassel is a fine place-holder. He won't win you any games but generally won't lose them. Zimmer has said Bridgewater will start from the get-go if he's the better QB, but that's not going to happen unless Cassel gets hurt. Ponder? My guess is he's cut before the season unless Cassel (or Bridgewater) goes down. I expect a breakout second season from receiver Cordarrelle Patterson, who showed some signs of being a big-play stud like Harvin last year.
Defense
The team hired George Edwards, formerly the Dolphins linebackers coach, to be the coordinator, but I'm sure Zimmer will have his hands all over this unit because that's his specialty. Minnesota was 31st in total defense last year and 31st against the pass, allowing 287.2 yards per game. Pass defense is just slightly important in a division with Aaron Rodgers, Matthew Stafford and Jay Cutler. The Vikings also lost their best defensive player and pass-rusher in Jared Allen, who signed with rival Bears. The Vikings used to simply rush the front four and drop seven into coverage but should be much more aggressive this year. Seven of Minnesota's 10 draft picks were on defense, including their initial first-round pick, UCLA linebacker Anthony Barr.
2014 Minnesota Vikings Schedule Analysis
Minnesota has the 12th-easiest schedule in the NFL as its opponents went 121-133-2 last year for a winning percentage of .477. It's the easiest in the NFC North. The Vikings' road schedule (.465) is slightly easier than at home (.488). Minnesota is a 6-point underdog for Week 1 at St. Louis. The Vikings didn't win any road games in 2013 but also didn't lose all of them. How's that? They tied the Packers in Lambeau Field. Minnesota visited the Rams in Week 15 of 2012 and won 36-22 behind 212 yards rushing from Peterson.
If Minnesota does lose Week 1, as I expect, it is staring at 0-3 and maybe 0-5. The schedule after the Rams: vs. Patriots, at Saints, vs. Falcons, at Packers on Thursday night. Minnesota isn't going to beat New England, New Orleans or Green Bay. Maybe the Falcons only because the Vikings are playing outdoors this season and not in a dome. Atlanta is a dome team of course. In Week 6 the Lions visit Minnesota and Detroit never wins there. Also helps the Lions are a dome team. Trips to Buffalo and Tampa Bay before a visit from Washington concludes Minnesota's slate before the bye. That's the easiest four-game stretch of the year. Likely the only time the Vikings have a chance of being favored after the bye is Week 14 against the visiting Jets.
2014 Minnesota Vikings Odds to Win the Super Bowl & Futures Odds
Odds courtesy of Sportsbook.ag . The Vikings are +12000 to win the Super Bowl, +7500 to win the NFC championship (longest shot) and +2000 to win the NFC North. Their wins total is set at 6, both options at -115. Bridgewater has the fourth-shortest odds to win Offensive Rookie of the Year at +900. Barr is +1000 to win Defensive Rookie of the Year.
2014 Minnesota Vikings Predictions
I have no doubt the Vikings will be better on defense, even without Allen. They aren't going to make the playoffs, and it's hard to gauge a wins total because a lot depends on when Bridgewater plays. I don't see six wins, however. I'd give the Vikings shots vs. Atlanta, vs. Detroit, at Buffalo, at Tampa Bay, vs. Washington, vs. the Jets, but they won't win all of those. Go "under." No Rookie of the Year recommendations here.

Get free picks from any of Doc's Sports Advisory Board of expert handicappers - and with no obligation or credit card. You can use these free picks for any sport, and you will never deal with a salesman. Click here for your free Doc's Sports picks.
Read more articles by Alan Matthews