2014 New York Jets Opponents and Schedule Highlights
by George Monroy - 4/4/2014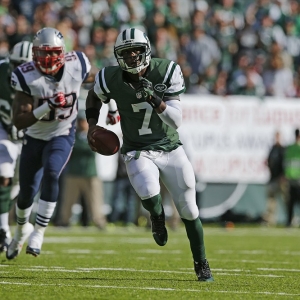 If there is one thing the New York Jets know how to do, it's create quarterback drama. Only days after releasing the perpetually-underachieving Mark Sanchez, New York, who had finally seemed to rid itself of its toxic quarterback situation, signed the always drama-filled Michael Vick to a one-year, $5 million deal. Vick will now compete with second-year and starting-quarterback Geno Smith in what will probably turn into another media circus in New York-particularly if the starting quarterback, whomever that may be, begins to struggle.
New York finished the season with a 8-8 record and with head coach Rex Ryan seemingly on the hot seat heading into the offseason. Team management, however, decided to hand Ryan a multi-year extension with the hopes that he can rekindle the early success that the team enjoyed four years ago when he led them to consecutive AFC title games. The actual 2014 schedule has not been released yet, but we do know who each team will play. Let's take a closer look at New York's 2014 opponents with schedule highlights, predictions and analysis.
2014 New York Jets Opponents: Home Schedule
Buffalo Bills : New York split games with Buffalo last season and was able to earn a seven-point home win when the teams first matched up during Week 3. Rookie quarterback Smith, making his third-career start, threw for 331 yards while Bilal Powell ran for 149. The win left the Jets with a 2-1 record to start the year and was a sign that 2013 wouldn't be as horrible and dysfunctional as most people predicted. New York also covered the 2.5-point spread
Miami Dolphins : Smith showed flashes of potential in 2013, but the majority of his season was a rollercoaster ride as evidenced by his performance against the Dolphins during Week 13. The rookie threw for a total of 29 yards with one interception and was benched early in the third quarter. The Jets lost the game by 20 points, and that loss dropped the team to a 5-7 mark. Outside of that loss, New York was a solid home ATS team and covered six of its eight games inside MetLife Stadium.
New England Patriots : New York always plays its hated rival tough, even if it has lost five of the last six games between the two. Last season the Jets actually managed to take a game away from the Patriots during a Week 7 overtime victory as a 3.5-point underdog. New York will probably be a three- or four-point underdog in this matchup, but the team's track record points to a close game and maybe even a cover for New York.
Denver Broncos : These two teams will match up for the first time since Peyton Manning signed with the Broncos. Denver lost only two road games last year, but you can bet Ryan is probably are working on a defensive scheme to shut down the team's high-octane offense. Last season New York struggled with containing its opponent's passing game and allowed 246.7 yards per game, which was the 22nd highest in the NFL. The Jets might not win this game, but covering the spread is well within reason.
Oakland Raiders : New York faced Oakland during a high-scoring Week14 matchup. Smith threw for 219 yards with two touchdowns (one passing and one rushing) and helped lead the team to a 10-point win, which also snapped New York's three-game losing streak. After the game New York made a late-season run to reach a .500 record. The Raiders were 1-7 on the road last season and may struggle again this year after losing many key free agents during the offseason.
Pittsburgh Steelers : It was only a few years ago that the Jets and Steelers both matched up for the right to represent the AFC in the Super Bowl. This season, however, both teams are miles away from making a conference title game. In 2013 New York lost a Week 6 matchup against the Pittsburgh by 13 points and in the process gave the team its first win of the season. The Steelers have not been active on the free agency market this offseason and could struggle again in 2014 after posting a 3-5 road record last year.
Chicago Bears : New York and Chicago have not played since a Week 16 matchup in 2010. The Bears won the game, but neither is the same team it was four seasons ago. Last year Chicago had a 3-5 SU and ATS road record, but made some free agency upgrades-signing former Minnesota Viking Jared Allen was the most high profile one-and could be a much better team next season. The Jets might be looking at another 4-4 home season, and if that is the case, this matchup will probably be a loss.
Detroit Lions : Detroit spent the first part of free agency signing a few of its own key players and looking to upgrade its offense line. The team is still relatively young yet cannot get over the 7-9 or 8-8 hump. Detroit has talent on offense-it does have Matthew Stafford and Calvin Johnson-but cannot put together a consistent run. The team lost six of seven to end 2013 after starting the year 6-3.
2014 New York Jets Opponents: Road Schedule
At Buffalo Bills : New York visited Buffalo during Week 11 and was sent home with a 23-point loss and another poor performance from its first-year quarterback. Smith threw three interceptions and was later removed from the game. The Bills were one of the best home ATS teams last season with a 6-2 record, while New York produced 2-6 SU road record. This is probably a game that the Jets will not win.
At Miami Dolphins : Coach Ryan was on the hot seat heading into the final two games of the season as the Jets were sitting on a 6-8 record and needed to win the next two in order for him to keep his job. New York managed to beat Cleveland and then Miami to close off the year and finish .500. The Jets split the season series 1-1, with the road team winning each matchup. Both team's finished 8-8 last season, and a win here is possible for New York.
At New England Patriots : On paper this has been a one-sided rivalry, with the Patriots winning nearly every game over the last few years, with a few blowouts sprinkled in. Betting-wise, however, New York has covered three of the last four and generally keeps these games close. Last season the teams met in New England during a hard-fought Week 12 matchup that saw the Jets' defense hold Tom Brady and the Patriots' offense to only 13 points. A large spread here would be a great reason to wager on the Jets.
At Kansas City Chiefs : Kansas City has not made much noise during the offseason and is probably content to bring back its key players from last year with the hopes that another year of experience will make everyone better. The Chiefs went 5-3 at home in 2013 with losses to Indianapolis, San Diego and Denver-all playoff teams. Kansas City, however, covered only two home spreads all season and they may struggle with that issue in 2014. New York will probably be an underdog heading into this game, but it might be a solid bet to cover the spread.
At San Diego Chargers : San Diego could be looking at a 10- to 11-win season in 2014, and in order to get there they would need to beat the Jets at home. New York, however, could improve greatly as coach Ryan has repeatedly stated Chris Johnson will be the team's next free agent target. The Jets won three of their last four games to end 2013 and may have turned a corner with Smith and its offense.
At Tennessee Titans : The Titans released former-Pro Bowl running back Johnson from his contract, and he will now become a free agent. The move will free up some salary-cap space to potentially make some moves over the next few weeks, but at this point there might not be much left for the team to choose from. Johnson had declined over the last few years, yet his departure will still be a blow for the struggling Titans, who only managed to win three home games last season.
At Green Bay Packers : Aaron Rodgers is expected to enter the 2014 season with a clean bill of health after suffering from a shoulder injury last year. And just having the Pro Bowl quarterback behind center should be enough to get a win over the Jets. Green Bay was 4-3-1 at home last season and produced 266.8 passing yards a game, which was ranked sixth in the league. New York's pass defense was ranked 22nd in 2013, and the squad may have a tough time keeping up with the Packers.
At Minnesota Vikings : The only area that Minnesota was ranked in the top half of the NFL was in rushing yards, which is no surprise since the team employs the best running back in the NFL. Minnesota spent much of the offseason looking to shore up its defensive line. The squad was 5-3 at home and went winless on the road in 2013. This matchup is a winnable game for New York, who had the third-ranked rushing defense last year.
Get free picks from any Doc's Sports handicapper - there is no obligation for this offer and no credit card required. Just sign up for an account, and you can use the $60 in free picks for any Doc's Sports Advisory Board handicapper and any sport. Click here to get started now.
Read more articles by George Monroy