NFL Defensive Rookie of the Year Odds, Picks and Predictions
by Trevor Whenham - 8/25/2014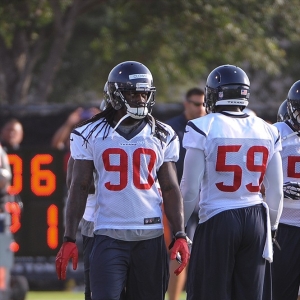 When you are trying to handicap who will be named the Defensive Rookie of the Year in the NFL this year - and profit on futures betting as a result - you probably want to keep a very strong trend in mind. When Charles Woodson took home the award in 1998, he didn't know at the time that he would be the last defensive back to win the trophy. Since then, 15 straight awards have been won by a defensive end, defensive tackle or a linebacker. Voters, it seems, like the big men. So, who is well-positioned to win it all this year? Here are some of the highlights of the prices listed at Sportsbook.ag:
Jadeveon Clowney, LB, Houston Texans (+300): There should be absolutely no surprise that Clowney is favored here. It's also quite tough to justify overlooking him here. He is an absolute physical freak, and he has eased concerns about a substandard season last year so far in training camp and the preseason. He also gets to line up alongside J.J. Watt, so he is going to get a lot more room to move than he would on a team where he was the lone threatening quarterback hunter. He has all of the buzz and is positioned for a very good year. This price is more than fair.
Khalil Mack, LB, Oakland Raiders (+650): Mack is big and very athletic, and he is a very smart player. He has a chance to be a special player, and in many years he would have been the top defensive player off the board. There is always some concern when a player takes a huge jump in class like Mack does after coming from Buffalo, but he should be fine. My biggest concern with Mack is that his team is likely going to be quite bad, so it could be hard for voters to recognize his excellence. He's also likely to have to play a lot more than he ideally would because the offense isn't going to give the defense much rest.
C.J. Mosley, LB, Baltimore Ravens (+800): Mosley was extremely strong in college at Alabama, and as an inside linebacker on a team that values linebackers immensely he is a good bet to lead all rookies in tackles. That alone won't be enough to win the award, though, and it's hard to imagine him overcoming other higher-profile guys who will get more opportunities to make highlight-reel plays. I don't like him at this price.
Ryan Shazier, LB, Pittsburgh Steelers (+800): Shazier is another inside linebacker who faces some of the same issues that Mosley does. The advantage he has here, though, is that he had five interceptions last year at Ohio State, and under Dick Lebeau he'll get his chances to hawk the ball here, too. I like him better as a bet than Mosley but still not enough to bet him at this price.
Aaron Donald, DT, St. Louis Rams (+1200): Donald is in a nice position with the Rams. With Robert Quinn, Chris Long, and fellow rookie Michael Brockers, he makes up one of the best defensive lines in the league. Quinn and Long are going to get a lot of attention at end, so it could open up some room to move and be a force against the run - and also to create some pressure on the QB from the inside. Sheldon Richardson was in a similar position last year with the Jets, and he won this award. Donald could do the same. If you don't want to bet Clowney for some reason then you might like the value offered here.
Anthony Barr, LB, Minnesota Vikings (+1500): Like Mack, Barr is an exceptional linebacker who is well-positioned to succeed thanks to his talent and the scheme he has landed in. Also like Mack, though, he is on a lousy team that voters aren't going to be paying much attention to. I expect many things from him through his career, but a ROTY award is not one.
Calvin Pryor, S, New York Jets (+2000): The last safety to win the award was Mark Carrier way back in 1990, so Pryor faces a serious uphill battle here. Pryor is a heck of a player, though, and a whole lot of fun to watch. He can move up and blitz better than most linebackers, he's strong against the run, and he can stay home and deliver absolutely crushing hits when needed to. He also lands in a defensive scheme that suits him very well. I don't like his chances of overcoming history, but the price might be right for a gamble.
Great offer! Doc's Sports has been a leader in NFL handicapping for more than four decades, and we are offering new clients $60 in free picks for any NFL handicapper on Doc's Sports Web site. You cannot afford to miss out on this great offer - click here. Also, get three handicappers for the price of one when you sign up for a full-season football package! Click Here for details.
Read more articles by Trevor Whenham