NFL Futures Betting: NFC North Season Win Totals Predictions
by CarbonSports - 8/11/2014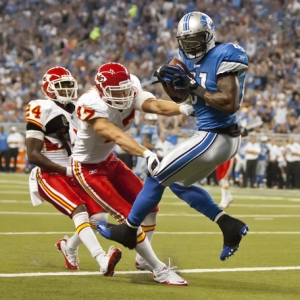 Green Bay has owned the NFC North for the past few years and they are favored to finish atop this division once again in 2014. Chicago, Minnesota and Detroit will have something to say about that but it's only one of those three teams that I believe present the best bets when looking at the season win totals for this division. Every one of these teams have to deal with opponents in the NFC South and AFC East divisions so there will be some 'softer' games in there for some, and teams like the Bears and Lions have to make sure they take advantage of those opportunities if they want to be playoff bound.
Play #1: Detroit Lions Under 8.5 wins (-110)
The Lions finished last year with a 7-9 record, but if it weren't for some blown leads and the inability to protect the ball in key spots that record would have been better. Detroit has a talented offense with the best WR in the game (Calvin Johnson) and the organization feels like they made some great moves this off-season to get the Lions back into the playoffs. However, when you bring in an offensive guy like Jim Caldwell as a re-tread head coach, I'm not sure you've bettered the organization a great deal.
Caldwell has had success in the past when he was coaching Peyton Manning and the Colts, but it's not hard to be a successful coach when you've got Manning running the show. He's a calm guy with a relaxed demeanor and that will help some intense personalities on the Lions (Suh), but Detroit's problem has never really been on the offensive side of the ball. They've built their team to compete in shootouts against the likes of Green Bay and Chicago, but that can only get you so far. This team still needs help stopping people and they won't get it this year.
The Lions also will be tested right out of the gate with games against the Giants, Panthers and Packers in the first three weeks. That slate right there could easily end up with an 0-3 mark and have the Lions trying to dig themselves out of yet another early season hole. The schedule softens up after that with the Jets, Bills and Vikings up next, but it's the Saints, Falcons and Dolphins after that which should bring another losing streak. It's the Cardinals and Patriots up after that before Detroit closes out the season with four of their final five against division opponents, including the last two on the road in Chicago and Green Bay. By the time the Lions get to those games they will probably need to win both to even have a chance at 9 wins. They'll be underdogs in both (barring any injuries, circumstances), and even winning those two games might not be enough. The Lions are still the Lions and will cough up games along the way as turnovers and poor decisions will cost them a game or two as they every year.
This division was tight last year with Green Bay, Chicago and Detroit all finishing with 7-8 wins and it likely won't be much different this season. The NFC North will beat up on each other split many of their games, but it's the Lions who won't be able to get over the hump and win the ones they need to out of division. That will cost them a playoff berth in what will likely be an 8-8 season.
(You must Make a deposit of $25 or more and enter the promotion code: FREE100 in the promotion code field, 50% bonus value of your deposit up to $100). Click here to take advantage of this offer!