NFL Futures Odds: Best Bets for the AFC
by CarbonSports - 7/8/2014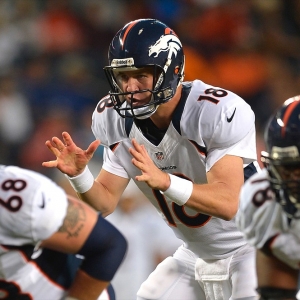 The AFC isn't as top-heavy as the NFC is, and the AFC Futures odds reflect that. Based on these odds it looks like one of last year's AFC Championship game participants (New England/Denver) will be in the Super Bowl this year. However, with some very good teams in a wide-open field behind these two squads, I'm not so sure we will see Manning or Brady back in the big game.
AFC Favorites: Denver (+220), New England (+300)
Both of these teams were in an arms race with each other this offseason, upgrading their weaknesses and preparing for what they believe to be another inevitable showdown between Manning and Brady. But both of those QBs are getting long in the tooth. And while they've shown tremendous ability to stay on the field for the entire season in year's past, an older body can't heal as quickly. If one or both of them were to go down for an extended period it would be quite hard for them to even get to the AFC title game. There is a good chance at least one of them makes it there, but at these prices there simply isn't enough value to jump on the Patriots or Broncos at this early stage.
AFC middle-of-the-pack: Indianapolis (+1400), Pittsburgh (+1500), Cincinnati (+1500), San Diego (+2000), Baltimore (+2000), Kansas City (+2000)
As you can see by these odds, that 2nd tier of teams in the AFC is a tightly-bunched group, and any one of them could come out and challenge New England or Denver on a given Sunday. We've got three AFC North teams in this group (Pittsburgh, Baltimore, Cincinnati) as that division is one of the tightest in football, but I do think you can eliminate one of those teams from Super Bowl contention; Cincinnati.
Until the Bengals get rid of Marvin Lewis they won't find success in the playoffs, and owner Mike Brown just extended Lewis' contract this offseason. Cincinnati lost both of their coordinators to head coaching vacancies, so there is plenty of coaching turnover as well and this team is one that will regress a lot in 2014.
Another team on the down swing this year will be KC as I don't think we see the same success from the Chiefs in Andy Reid's second year. QB Alex Smith just isn't a top-tier guy at the position and their passing game - which is what they'll need when they are down - can't hold up under pressure.
Regarding the remaining teams, Indy's got the easiest path to the playoffs playing in a weak AFC South division and could find their way to another home playoff game. I don't believe they've got the defense to take them all the way though and against high-scoring teams like Denver or New England you need to keep them out of the endzone.
Pittsburgh and Baltimore should both have bounce-back seasons this year, and I would not be surprised to see one of them in the AFC title game when it comes around. They both have tremendous continuity on their rosters and in their coaching staff, and you need stability in this game to fight for a title. At +1500 and +2000 the value is there to back one of these AFC North teams.
AFC Long shots: Houston (+2500), NYJ (+2800), Miami (+3000), Cleveland (+3000), Buffalo (+3500), Tennessee (+3500), Oakland (+8000), Jacksonville (+11000)
All of these teams can basically be written off for Super Bowl contention this year because they all have one fatal weakness; poor quarterbacks. You aren't going to get far in the NFL without a good QB, and all of these teams are starting first- or second-year guys that have limited weapons around them. The odds might be enticing, especially if you are a fan of one of these teams, but realistically none of them will challenge for a Super Bowl berth.
If I had to choose one of them to consider backing it would be Houston at +2500 for a couple of reasons. One they are likely going to have one of the better defenses in the NFL this year, and a strong defense can carry you a long way. They've come out and named Ryan Fitzpatrick as their starting QB, and he's not a first- or second-year guy as he has plenty of experience in this league as a backup in Cincinnati and starter in Buffalo. He's a smart player who will take care of the ball, and when you've got a great defense backing you up, taking care of the ball is a must. They play in the weak AFC South division and will give Indy a run for the crown and if they get hot at the right time, and Fitzpatrick plays way above his head in the playoffs there's an outside shot they could end up in the title game.
Plays:
However, the AFC is all about the top two dogs in New England and Denver, but neither of them warrant a future play at these numbers. Chances are both of those franchises will be in the divisional round at worst, and I would not be surprised to see and AFC Championship rematch.
But in terms of future value, I believe you've got to go with Pittsburgh (+1500) or Baltimore (+2000) as the team that will represent the AFC in the Super Bowl. Both teams have ferocious defenses that put pressure on QBs and both have had success against Manning and Brady during past playoff runs. The value is there at 15-1 or higher, and if I was forced to make a play today on who will win the AFC, I'd settle on one of those two squads.
$100 FreeBet up for grabs on your next deposit at CarbonSports if you use this promo code: FREE100
(You must Make a deposit of $25 or more and enter the promotion code: FREE100 in the promotion code field, 50% bonus value of your deposit up to $100) Click Here to claim your bonus today!