NFL Futures Odds: NFC West Season Win Totals Predictions
by CarbonSports - 7/31/2014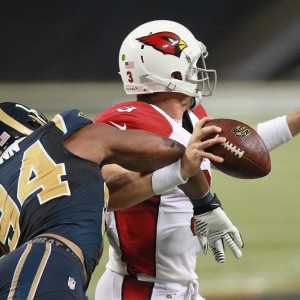 The West is the best at least when it comes to the NFC as the defending Super Bowl champion from Seattle are here, along with the NFC's runner up from San Francisco. Those two franchises are atop the odds list to represent the NFC in the Super Bowl again this season and with the talent level both teams have, they'll both be in the mix up until the end. Seattle and San Francisco are two of the five teams in the league with double-digit win totals this season so for as good as they might be, finding value with their win total future is tough.
We can't forget about Arizona and St Louis who are also in this division and are looking to improve upon last year's mark and be considered as one of the best from this division as well. The expectations aren't as high for either franchise, but they both should be able to get some signature wins this year. It's with one of these two teams that I begin my plays.
Play #1: Arizona Cardinals Over 7.5 wins (-150)
Slowly, the Cardinals have been following the blueprint for success laid out by San Fran and Seattle. Arizona has built their team into one that plays a physical brand of football and relies on their defense to get stops and/or turnovers. The used that motif to go into Seattle last year and end the Seahawks two years long home winning streak as coach Bruce Arians is hoping that win is a sign of things to come for the Cards.
Everyone in the NFC West has to go through the NFC East and AFC West this year which does no favors for any team in this division. But Arizona's schedule has some 'softer' spots early on before things get tough for them in the final month+ of the year. Arizona finishes with three straight division games (@ St Louis, vs. Seattle, @ San Fran) so they are going to have to do a lot of heavy lifting before that to cash this play. They've got two weeks to prepare for a game @ Denver where they could surprise some, as well as a stretch in Oct-early Nov where they could rattle off multiple wins. You know the Cards will always play the 49ers and Seahawks tough and could very well get the split in those four games, meaning only six wins have to come from elsewhere to cash this bet.
Veteran QB Carson Palmer has more weapons around him this season and with WR Michael Floyd having another year under his belt in the system we should see him breakout into a star this year. Palmer's got to protect the football to get this team where they want to go, but while getting to the playoffs will be tough in a loaded NFC, getting to 8-8 will be something Arizona does accomplish this season.
Play #2: Seattle Seahawks Under 11 wins (-110)
Great teams will always have a target on their back, but when you are the defending Super Bowl champs you better be prepared to get everyone's best punches on a weekly basis. The Seahawks have now become the 'hunted' throughout the NFL and with a tough 1st place schedule on tap, going 12-4 or better might be out of reach.
I've already touched on the schedule for teams in this division and for Seattle to go through the NFC East and have a Super Bowl rematch with Denver (along with the other AFC West teams) isn't going to be easy. They've also got dates with Green Bay and Carolina as a division winner in the NFC last season and both of those games are going to be physical. Seattle has the best home field advantage in the league which will definitely help them out, but when they can't lose more than four times this season to cash on the high side of this total, I believe 'over' bettors are biting off more than they can chew.
For one, it's going to be interesting to see how this Lynch holdout situation progresses over the next few weeks although I believe he'll be back in time for the season to start. But if bad feelings linger on both sides of that disagreement, I'm not sure we will see full-blown "Beast Mode" on Sunday's anymore.
Secondly, it's inevitable that the hunger you have for a title subsides quite a bit after reaching that mountain top. This is something Seattle will have to deal with early on this year and knowing that they've just got to get into the playoffs and anything can happen, having the best record in the NFC might not become a priority if they drop a couple early contests.
Finally, with their rivalry with SF reaching a boiling point in last year's NFC Championship game and the Cardinals and Rams coming up quickly, Seattle's going to be involved in wars any time they play a division opponent this year and may only be .500 within their division. Historically this has been a franchise that struggles away from home and that could rear it's ugly head again this year.
Quite frankly there are just too many things (Injuries as well) that could go against the Seahawks this season in their quest to defend their crown. They'll be in a dog-fight with SF to win the NFC West, but even if they do come out on top again it won't be with a 12-4 or better record.
$100 FreeBet up for grabs on your next deposit at CarbonSports if you use this promo code: FREE100
(You must Make a deposit of $25 or more and enter the promotion code: FREE100 in the promotion code field, 50% bonus value of your deposit up to $100). Click here to take advantage of this offer!