NFL Handicapping: Browns Coaching Quandary
by Trevor Whenham - 1/16/2014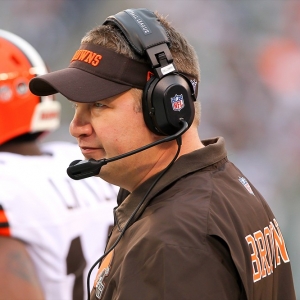 I wasn't sure it was possible, but I think that since the season ended the Cleveland Browns have actually found a way to sink to a new all-time low as a franchise. Rob Chudzinski didn't exactly redefine the career of coaching in his one season with the Browns — he was 4-12, after all — but he certainly didn't deserve to get fired. There was a lot he did that you could like, he suffered through a QB crisis, and he had a major deficit in talent to overcome. No one deserves to be fired after one year, but Chudzinski deserved it much less than most.
When a guy is fired unexpectedly and seemingly prematurely, you often figure that the team has something up their sleeve and that their motivation and plan will immediately become clear. Not so much, here. Chudzinski was fired on Dec. 29, and as I write this on Jan. 16 they don't seem any closer to a hire than they were back then.
For handicappers, this whole farce of a situation creates a puzzle and perhaps an opportunity. Here are five factors to consider when looking at how this situation unfolds and what it means going forward:
The firing was moronic: There is no way around this one. Ownership and the front office made a major miscalculation when they made this move. Chudzinski couldn't help but come across as sympathetic given his situation and fate, so they were in a bad place as soon as they pulled the trigger. The organization already had a major credibility issue, and this only served to enhance it dramatically. Acting in such a reckless manner has made everything else that much more difficult — and it already seemed to be more than the organization could handle.
Positive side of delay: If there is a positive side to this long delay in hiring, it is that at least they are recognizing that there is no point in hurrying now. The damage has already been done, so they might as well wait to make the best possible hire they can. Presumably, they are now waiting to make contact with coordinators that are still in the playoffs. There is not a burning need to have a coach in place for the next few weeks — the new coach will be behind but not insurmountably so. It's far more important for the team to get the right person than settle for any person right now.
Negative side of delay: While it was tough to find the bright side, it's not hard to find the downside. There is certainly no shortage of them. If the perception of this team is bad now, it's only going to get worse if they reach out to coordinators, after waiting for them to get eliminated, and then don't land them. Really, you have to ask why a guy who is in a good position on a strong team would want to move to the Browns. Sure, it's a head coaching position, but others will likely come along if they continue their success — ones with more upside. Beyond that, the longer this situation drags on, the more confidence in the team will be shaken, and the tougher it will be to attract significant free agents to fill any of the many holes the team has.
Public perception almost irreversible: The public has understandably lost all faith in this team. Unless the team pulls off a real home-run coaching hire, the new coach isn't going to change that. The problem is that it's really tough to see who that home-run guy could be at this point. Guys like Kevin Sumlin and David Shaw aren't leaving college, and Bill Belichick is probably not aching for a second shot at taming the Browns. Since the public is all but certain to be negative, there is at least a small chance that a decent hire could provide some value for this team. A coach isn't likely to perform miracles given what he has to work with, but if he can do a better-than-average job, it wouldn't be tough to exceed expectations — and the public isn't likely to give him enough credit unless he shatters expectations. There is a solid range of performance in which the new coach could provide a lot of value.
Coach needs QB clarity above all else: As important as the hire is what the team does at QB. No coach can succeed without a lot of help under center, and guys in Cleveland haven't consistently had that since, well, Bernie Kosar, I guess. Brian Hoyer looked good at the start of the year, but it's hard to believe that some combination of him and Jason Campbell are a long-term solution here. QB is far from their only need, but it will be crucial to see what the organization does to address the situation. Given how they have dealt with the coaching, pretty much anything is possible.
Read more articles by Trevor Whenham