NFL Handicapping: Dallas Cowboys Surprise Success
by Trevor Whenham - 10/17/2014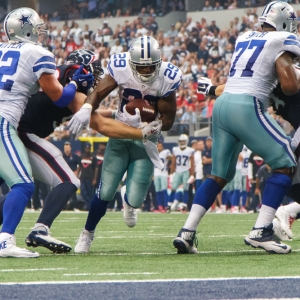 The biggest positive surprise of the young NFL season so far has to be the Dallas Cowboys. It has been so long since anything has been positive in a sustained way with the team that we just expect mediocrity from them - at best. Mocking Jerry Jones for his maniacal control and lack of skill as a GM has become boring because it is too easy. Tony Romo is as often as frustrating as he is exciting, and he's never really predictable or reliable. This has just become a team that bettors love to hate.
This year, though, they are 5-1, have won five straight, and just pulled off the seemingly impossible by winning in Seattle. So, how good is this team? Can they keep winning? Can bettors trust them? Here are four factors to consider when figuring those questions out:
Defense: You can't talk about this team without talking defense. Heading into the season the expectations for this unit were pretty low. They have been horrible for years, and their personnel issues were seemingly many - top-lined by the loss of Sean Lee, their best defensive player, to a blown ACL.
Despite the woes, though, they have allowed six fewer points per game and 73 fewer yards per game than they did last year. It's an impressive improvement, and it's the biggest reason why this team is succeeding. But how is it happening?
The path to this success began two years ago when they did the same thing the Saints are about to do to improve their horrible defense - they fired Rob Ryan. That instantly makes a unit better. Last year they hired Monte Kiffin to replace Ryan, but Kiffin was tainted by working for his son at USC, and he couldn't get the job done. This year Rod Marinelli was brought in. Normally, having three defensive coordinators in three years would be a recipe for disaster, but Marinelli has simplified things and ramped up the intensity dramatically, and the results are evident. For the first time in recent memory with this team, Marinelli is actually getting the most out of his personnel.
Beyond the coaching, though, you have to look at a factor for the improvement that actually has nothing to do with the defensive players. Romo and the offense have had the ball an average of 5:46 longer per game than they did last year. That means that opposing offenses are averaging one fewer drive and 12 fewer plays per game. This defense is improved from last year, but even if it wasn't it would be statistically better because it is being asked to do less and is getting more time to rest.
Demarco Murray: One of the reasons that the defense has had it so easy is the stunning start to the season by the Dallas No. 1 running back. Murray has become just the second player, behind only Jim Brown, to start the season with six straight 100-yard games. He has just been brilliant.
Strong running has helped the defense and has opened up room for Romo to throw as well.
There are concerns here, though. For starters, Murray can't get 100 yards in every game, and when he does inevitably come crashing down to earth in a game it's going to have a ripple effect on the team. Murray is also carrying the ball a whole lot, and it takes a special player to hold up under that massive strain. If Murray gets hurt then there are real concerns.
Schedule: A team is often as good as the teams they play. On that front you can't help but feel that the Cowboys could be a bit of a mirage - or at least they are untested. Their first four wins came against Tennessee, St. Louis, New Orleans and Houston - hardly the four strongest teams in the league right now. Seattle is more impressive, but they were hardly in strong form in the three games prior to the Dallas game and clearly have some issues to work out on their road to defending their title.
Dallas still gets credit for winning the games, but if they were 3-3 instead of 5-1 the story would be that they were losing games that they should have been winning. Luckily for them, the next five games are reasonable as well - Arizona is a strong opponent, but they play the Giants twice, and New York isn't good right now, and Washington and Jacksonville have no shortage of issues.
After that, though, the Cowboys face a massive challenge. In a four-week stretch starting Nov. 27 they play the Eagles, who they are tied atop the division with, travel to Chicago and Philadelphia and then host Andrew Luck and the Colts.
The dogs keep barking: The team is a solid 4-2 ATS on the season. What stands out, though, is the continuation of a trend that has developed over the last several years - this team is much better as a betting underdog than as a favorite.
They are 3-1 ATS this season as underdogs, and just 1-1 as the favorite. Since the start of the 2011 season they are a dismal 10-21 ATS when favored in games and a very profitable 14-8 ATS when they are underdogs. Last season was the most pronounced difference - they were 6-2 ATS as dogs and 3-5 ATS as favorites.
We know how to spot more likely betting opportunities with this team, then. The problem, though, is that the more this team succeeds, and the more people fall back in love with them, the less they are going to be underdogs.
Great offer! Doc's Sports has been a leader in NFL handicapping for more than four decades, and we are offering new clients $60 in free picks for any NFL handicapper on Doc's Sports Web site. You cannot afford to miss out on this great offer - click here. Also, get three handicappers for the price of one when you sign up for a full-season football package! Click Here for details.
Read more articles by Trevor Whenham