NFL Handicapping: Pleasant Surprises from Training Camp
by Trevor Whenham - 8/15/2014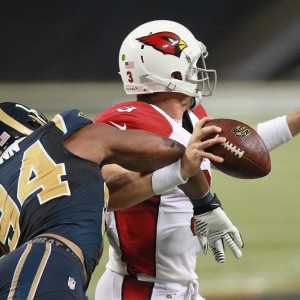 When NFL training camps begin we typically have an idea of how we expect teams to perform and what we expect to see in the weeks before the real games begin. Quite often we are right - at least that is what we hope. Sometimes, though, there are teams, or at least aspects of a team, that perform much better in training camps and the preseason than they were expected to. That may or may not translate into success in the regular season, but when an aspect of a team that was a potential concern heading into the season doesn't seem to be as much of an issue it could be a good thing for the team.
Here are four teams that have provided a pleasant surprise in one way or another so far this spring:
Arizona Cardinals: I am very high on Bruce Arians, and I like a whole lot about what this team has done and what they are capable of. One concern coming into the season, though, was Carson Palmer. While he is a good fit and more than capable of doing good things with this team, he is not the youngest quarterback in the league, and thinking about his durability makes me nervous. That means that the backup situation was key to me, and heading into the season I didn't like what I saw at all. While it is still early, I have been very pleasantly surprised by rookie Logan Thomas. I didn't like him much at Virginia Tech, but so far in the NFL he has been much more accurate, and he has played and practiced at a much more casual, relaxed pace than he did before. Arians is a perfect choice to develop a young QB, and he and Thomas are working well together, I'm not suggesting that Thomas will be a star or that Palmer should be worried, but it does make it easier to like this team long term.
Jacksonville Jaguars: The second half of their season was strong last year, and that is a testament to how effective Gus Bradley is as a coach. I think this team could take another step forward this year after a good offseason, but they need good QB play to get it. So far it seems like that is going to be the case. I am a reasonable fan of Chad Henne, and he has been at least as good as expected so far. His performance in his second preseason game in particular showed poise and confidence. He can lead this team as long as needed until third overall draft pick Blake Bortles is ready to take over. It was widely expected that that wouldn't be until next year, but Bortles clearly has something to say about that. He has looked very confident and strong in practice, and has been outstanding in both of his preseason outings. No matter who starts for the Jaguars and how long it lasts, we can be more confident than a month ago that the level of play will be decent and that it will allow the team to progress like they seem capable of.
San Diego Chargers: I really liked the season the Chargers had last year, and Mike McCoy is yet another second-year coach that I am high on (last year's class of new coaches has the real chance to go down as a historically strong one). What was most striking last year was that Nor Turner was not in charge anymore. The team plays with focus and intensity both early and late in the season - something they never did under Turner. I was very nervous coming into the season that McCoy would not be able to carry that forward into the second year. His message was new and fresh last year. However, would a team that had had plenty of issues internally be willing to keep listening and working? So far, all indications are definitely positive. The team is relaxed and confident. Philip Rivers seems to be ready for another strong season. Things are casual yet confident.
Carolina Panthers: In the offseason one of the most striking storylines was the bizarre decision to get rid of every receiver they had while not adding a star-caliber player to replace them. They were coming off such a strong season, and Cam Newton was so effective last year, that it didn't really make any sense. It was a good reason to really doubt what we might see from this team this year. Early on in the preseason, though, it seems like things really are ahead of expectations here. Kelvin Benjamin was a first-round pick, and he is playing like it. He could step right into a legitimate No. 1 role. Jason Avant and Jerricho Cotchery are veterans that really seem to be relishing the chance they have. I was concerned that the wide receiver weakness would also minimize the effectiveness of the tight ends because defenses could focus on them, but so far it seems reasonable to believe that the receivers can do their job.
Want free sports betting picks? Doc's Sports has you covered - get $60 worth of picks free from any of Doc's Sports expert handicappers. Click here for free picks (new clients only).
Read more articles by Trevor Whenham