NFL Power Rankings Week 6
by Robert Ferringo - 10/7/2014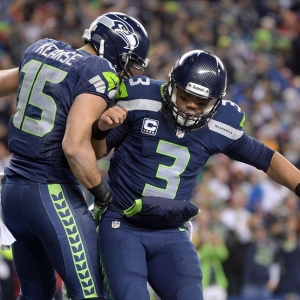 One of the things I enjoy about hitting the meat of the NFL season is that now we're starting to have enough information to identify macro-trends in the sport while still having enough time left in the season to capitalize them. It's one thing to project paths prior to the season and another to assess results at the end of the year. But the middle of the season provides the opportunity to cash in on our hard-earned analysis.
One of the key trends I am eyeing this year is how the AFC is performing against the NFC in inter-conference matchups. The NFC has absolutely dominated its partner the last three years, both on the field and at the window. The NFC's four Super Bowl championships in the last five years are a strong testament to which is the stronger conference. But it is nothing compared to the raw in-season data that we can use with our handicapping.
The NFC has posted three straight winning years both straight up and against the spread. That includes their peak season of 2012, when the NFC went 39-25 ATS during the regular season. (But, ironically, lost the Super Bowl.) And heading into this season there was little doubt which conference boasted more potential Super Bowl teams.
However, the AFC has acquitted itself quite well so far this season. They are 14-9 ATS so far this season, and blindly betting the AFC in interconference matchups has produced three of five winning weeks. That includes last weekend, when Houston, Buffalo, Denver and Kansas City each took the cash against an NFC opponent for a perfect 4-0 ATS effort.
Obviously there is a lot more that goes into this trend. Matchups, home-field advantage, and line value are all factors in this ATS mark. But through one-third of the regular season it is worth noting that the AFC has been holding its own against the perceived "dominant" conference.
Here is Doc's Sports NFL Power Rankings for Week 6:
1. Seattle Seahawks (3-1) - I think Pete Carroll was obviously watching San Francisco on Sunday, as Carroll's fake punt call on Monday night mirrored the one the 49ers used to spearhead their win against the Chiefs on Sunday. Seattle is just 2-5 ATS against the Cowboys, and the favorite is just 2-6 ATS in this series. But Seattle has gone 40-18 ATS in its last 58 home games, and they are 20-6 ATS in their last 26 conference games.
2. Denver Broncos (3-1) - Why does Peyton Manning insist on throwing short of the sticks on third downs? There were at least three drives against the Cardinals that ended with Manning completing a pass to a wide receiver - not some running back dump-off - that was several yards short of the first down marker on third down. Manning loves that catch-and-run crossing pattern. But that's a second down play. If you're going to complete a pass on third down it better be past the line to gain.
3. San Diego Chargers (4-1) - The Chargers are averaging a league-low 2.8 yards per carry. That right there may be the strongest argument for Phil Rivers' MVP candidacy. San Diego keeps losing centers and running backs, but they keep on winning games. Right now the Chargers have a Yards Per Point Margin of 9.2, by far the best in football. However, the average YPPM of the No. 1 team over the last decade is generally between 5.6 and 6.6. That tells me the Chargers are set up for a regression, and their 5-0 ATS mark should start to level off over the next month. San Diego's next three games are divisional tests, and three of the next four are on the road.
4. Philadelphia Eagles (4-1) - The Eagles play such a unique style that I don't know if they are subject to the same statistical norms as the rest of the league. To wit, they are 2-1 in their last three games despite being outgained by an average of 146.7 yards per game. Is that a red flag or a red herring? For a frame of reference, the 0-5 Jaguars are being outgained by an average of 163.2 yards per game. The Eagles are 8-22 ATS in their last 30 home games. But they have owned the Giants, going 9-3 ATS in the last 12 meetings.
5. Cincinnati Bengals (3-1) - Wait, so the Bengals AREN'T the best team in the AFC? Look, this is a quality team and roster. But Andy Dalton misses way, way too many throws for the Bengals to truly be considered a threat to win this conference. And he hasn't been getting the same support from the running game. I think Gio Bernard is going to be an absolute stud, and I can see him running for 1,300 yards next year. But the Bengals have yet to break a run longer than 19 yards this season. Cincinnati is 13-3 ATS in its last 16 home games and 6-1 ATS after a loss.
6. San Francisco 49ers (3-2) - That's now back-to-back wins, and everyone is lovey-dovey about the Niners again. Their offense is still woefully underperforming, as indicated by their 1-4 mark against the total. If they can't hang at least 30 points on a Rams defense that's allowing 29.8 per game then it should be considered the last straw. The 49ers are an incredible 22-6 ATS in their last 28 "Monday Night Football" games and a stunning 15-5 ATS on Mondays as a road favorite. That includes a spectacular 10-1 ATS mark as a divisional road favorite on Monday night.
7. Green Bay Packers (3-2) - The Packers were very flat following their first Thursday night game this year. We'll see if they are better prepped this time around. Mike McCarthy has always been a guy that took advantage of bye weeks (9-1 ATS out of a bye), so I would be surprised if the Packers came out flat with extra rest again. Also, some of last year's special teams woes looked like they were creeping back up last week in that Vikings game. Green Bay was one of the worst teams in the league in kick coverage last year, and that's something to eyeball this week.
8. Arizona Cardinals (3-1) - I am expecting either Carson Palmer or Drew Stanton to be under center this week. That's a relief since Logan Thomas is not, nor will he ever be, an NFL-caliber quarterback. But I don't think either Palmer or Stanton will play well, and the Cardinals look like a team, physically, that is on a down swing. Calais Campbell is out this week, and Matt Shaughnessy was placed on IR. Patrick Peterson sprained his ankle as well, although he will play this week against the Redskins. These guys are beat up, and it's not even mid-October. The Cards are 13-5 ATS after a loss by 14 or more and 8-1 ATS in the game following a loss to the spread.
9. Indianapolis Colts (3-2) - The Colts have won and covered three straight, outgaining their opponents by 185.7 yards per game and outscoring them 35-16 during that stint. The Colts have beaten the Texans three straight and four of the last five, but the road team has really suffered in this series. The visitor is just 1-7 SU and ATS in the last eight meetings. Indy's defense has been pretty good against the run this year (No. 12 overall). They better be ready to bow their backs against the Texans rushing attack this week.
10. New York Giants (3-2) - The G-Men have caught a rush here, which has been aided as much by their schedule as by their improved execution. They won last week despite being outgained by 80 yards, which is generally a bad sign. But the road team has been the play in the Eagles series, with the visitor winning five of the last seven meetings outright. The underdog has gone 5-2 ATS in the last seven, and the puppy has gone an amazing 14-4-1 ATS in the last 19 games of this series.
11. Baltimore Ravens (3-2) - No team in football has had a better red zone defense than the Ravens this year, allowing just 31.3 percent of opposing drives to result in a touchdown. Over the last five years the No. 1 red zone TD defense in the league has been around 38 or 39 percent, so we should count on a regression in the next few weeks, and that should lead to some higher-scoring Ravens games.
12. New England Patriots (3-2) - I will admit that I failed to factor in what a major, massive, total loser Josh McDaniels is when handicapping this team. He is not the main reason this Patriots offense is New England's worst in the past 10 years. But he's certainly a factor. I am interested to see what Brandon Browner will bring to the league's No. 3 pass defense. He has served his four-game suspension, and the guy was a straight baller opposite Richard Sherman in Seattle. The Patriots are an amazing 20-9 ATS in their last 29 meetings with the Bills and 8-2 ATS in their last 10 trips to Orchard Park. The favorite is 21-8 ATS in this series.
13. Dallas Cowboys (4-1) - Again, I'm sorry, but I'm not buying into the Cowboys at all. They are riding a wave of momentum and emotion right now. And with three home games waiting after their trip to Seattle this team has a chance to hit its Week 11 bye with seven wins in its pocket. But they've only got so many close wins and superhuman plays in their toolbox, and they're using them all up early in the year. This week's trip to Seattle is the lone road trip in the middle of five home games. Dallas has gone 12-5 ATS as an underdog over the last three years.
14. Kansas City Chiefs (2-3) - I know they are 2-3, but I love how this team looks on the field each Sunday. These guys can play. The Chiefs continue to be subverted by Andy Reid's idiocy and lack of detail down the stretch (that 12 men on the field penalty with just over four minutes to play was unforgivable). But this team is still very much in the hunt. They have a bye week and then they will be a very active underdog out in San Diego.
15. Detroit Lions (3-2) - I still can't believe what a loser Matthew Stafford is. He is another one of those guys that makes just enough throws to keep you interested and on his side. But when it comes down to it he's not accurate enough or consistent enough to be a reliable signal caller. Also, the Lions just should've rolled with Havard Rugland (aka "Kickalicious") last year out of training camp. The unorthodox kicker had a great camp, and everyone loved him. It has been downhill for the Lions kicker slot since then.
16. Chicago Bears (2-3) - Last week's game turned on a dime when Robbie Gould, one of the most reliable kickers in NFL history, missed a kick that would've put Chicago up 24-7. Instead, the Panthers marched down and scored a touchdown before the half to cut it to 21-14, and they had all the momentum from there on out. The Bears have 11 second-half turnovers the last two games. They have more turnovers (five) than they do points (three). The Bears also have just one rushing touchdown this year and need to toughen up. But, again, their safeties are still an EZ Pass, and Mel Tucker's schemes are still just a shade north of finger painting. This team should be 4-1, but instead their season is on the line this week in Atlanta.
17. New Orleans Saints (2-3) - What the hell is going on with this team? Losing on the road is one thing. I get it. The Saints stink on the road. But barely beating the Bucs at home is really unacceptable and a huge red flag. Drew Brees does not look good at all. He is not in sync in the passing game at all. The irony is that he's never had more rushing support, as the Saints are averaging 5.2 yards per carry with seven rushing touchdowns. Both of those marks lead the NFL.
18. Carolina Panthers (3-2) - Other than the Bills, I'm not sure if there is a 3-2 team that is more of a mirage than the Panthers right now. Their running back situation is laughable. Their offensive line is overmatched. Their quarterback is overrated. And the defense is leaky. Thomas Davis's return last week was a big boon. But the Panthers are just 1-4 ATS in their last five road games. Continuing the no-huddle offense would be a major mistake for this team. Their whole system is set up around shortening the game and winning with defense. If the Panthers try to speed things up they are going to run off the rails.
19. Pittsburgh Steelers (3-2) - Dick LeBeau is now 18-2 straight up against rookie quarterbacks dating back to 2004. But that wasn't an impressive win on either side of the ball against the pathetic Jaguars. I just wish that Pittsburgh had held off the Bucs, because at 4-1 they would've been grossly overhyped over the next several weeks. Pittsburgh still has a disgustingly easy schedule, though, and they follow this trip to Cleveland with three straight home games. Pittsburgh is 9-4 ATS in its last 13 games and 5-2 ATS in its last seven divisional games.
20. Miami Dolphins (2-2) - Former Packers OC will face his old team for the first time since leaving Lambeau to take the Dolphins job. Miami has had two weeks to prepare after their trip to London. But I'm not convinced that this team has turned the corner. They are still too sloppy in to many facets. After seven years as the worst home bet in the game the Dolphins have covered 10 of 14 in South Beach and are 7-1 ATS as home dogs. They are also 15-7 ATS against a team with a winning record and should be pretty active as a home underdog this week. Only 26 percent of the early-week action was coming in on the Fins, and they could be in a spot to smoke the public.
21. Houston Texans (3-2) - A crucial early-season divisional game - Houston's first test against an AFC South opponent - gives the Texans plenty of motivation for this Thursday night game. However, the Texans are definitely in a letdown spot after their OT loss against in-state rival Dallas. The Colts game means more in the big picture. But I think that Cowboys game meant more to Houston personally. The Texans have been outgained in all five of their regular-season tilts this year but are somehow 4-1 ATS. It is almost the exact inverse of last season when they consistently won the stats battle but lost the cash.
22. Atlanta Falcons (2-3) - It has to be disconcerting to Falcons backers that they really played three quarters above their heads and still lost by double-digits. This week the Falcons face one of the few teams in the league that is as bad in the back seven as they are (Chicago). And this is a make-or-break game for both teams. I cannot imagine a situation where Matt Ryan doesn't throw for at least 400 yards this week, so I would bet every offensive prop for the Atlanta signal caller to go 'over'. The home team is 4-0 ATS in this series, including Ryan's 2008 miracle finish in a 22-20 win.
23. Cleveland Browns (2-2) - The last time the Browns were favored over the Steelers was November 2003, and they lost that game 13-6. In fact, Cleveland has lost 21 of the last 25 meetings in this series. I also don't know how quick I'd be to lay points in a Browns game considering the underdog is 3-1 ATS in their four games this season, and the average margin of victory is just two points per game. The Browns gave up over 500 yards to the Steelers in Week 1. It could be even worse this week if they don't have Joe Haden, who is questionable.
24. Buffalo Bills (3-2) - Yeah, I'm not getting carried away about this bunch of losers. They should've lost at Chicago in the opener and at Detroit last week. So the fact is they are lucky, flat out lucky, not to be 1-4 right now. They have just one rushing touchdown on the season, and their offense has mustered a measly 19.2 points per game. Buffalo's defense has been extremely impressive, holding four of their five opponents below their season scoring average. New England's offense is shaky at best, and I'll be surprised if the Bills don't hold them below 28 points this week as well.
25. Minnesota Vikings (2-3) - Teddy Bridgewater was back at practice on Tuesday, and I expect him to make the start this weekend against the Lions. We saw Tampa Bay bounce back from its embarrassing Thursday night performance with a road upset at Pittsburgh. I think the Vikings will bounce back as well. I expect the Vikings are going to absolutely force the ball into Cordarelle Patterson's hands this week, and I'll be stunned if he doesn't get at least 10 targets/touches. The Vikes are 6-1 ATS after a loss and 7-2 ATS after a loss of two touchdowns or more.
26. Washington Redskins (1-4) - Schedule-makers have really been twisting the Redskins this year. They already had one short week, playing on Thursday night in Week 4. They got extended rest before their MNF game in Week 5. But now they not only have another short week but they also have to travel. That's a lot to throw at a rookie coaching staff. The Redskins actually have an eight-game winning streak against the Cardinals that dates back to their time together in the NFC East back in 2000. Washington is just 4-12 ATS against the NFC and 4-9 ATS in their last 13 overall.
27. St. Louis Rams (1-3) - Jeff Fisher wants to be a guy that wins with a strong defense and running game. Right now the Rams can't do either. They are 19th in rushing offense, and they do not have a single run of more than 20 yards this year. Defensively the Rams are a mess. Do not be fooled at all by their No. 1-ranked pass defense. They are No. 30 in rushing defense because their linebackers stink and because they're missing Chris Long. But that secondary is not good. At all. Their 11.6 opposing yards per point will improve, though, so I would expect some low-scoring games on the horizon.
28. New York Jets (1-4) - I was expecting the Jets to be at least an 11.5-point home underdog to the Broncos. I can't decide if the seemingly thin spread is low because it's a trap or because the books (and bettors) just refuse to believe how piss-poor this team is. Dating back to the preseason, the Jets are 1-6 ATS and they are 0-4 ATS in their last four games after a loss. They have to face Peyton Manning and Tom Brady in the span of five days, and I sense that at least one of those games is going to result in another embarrassing blowout. Just six of the Jets' last 22 losses the last three years have come by a touchdown or less.
29. Tennessee Titans (1-4) - At this point I don't even know what to say. Jake Locker can lament being waylaid by what he calls a "dirty hit". And the play was dirty. But it was also completely avoidable if Locker had any sense of where he was on the field. The loss of Bernard Pollard is huge. He brought an edge to a team that was sorely lacking one. At this point if I'm Ken Whisenhunt I am definitely going with Zach Mettenberger, whether he's ready or not. Why not? The Titans are now 2-12 ATS in their last 14 divisional games.
30. Tampa Bay Buccaneers (1-4) - That is now back-to-back ATS wins for the Bucs, who are showing that improvement that everyone was predicting coming out of training camp. Sean Glennon is showing outstanding poise in the perpetually collapsing pocket, and I will admit that he's a little better than I gave him credit for. He also hasn't gotten much help as only two other teams in the NFC have more drops than Tampa's 10 this season. The Bucs are 13-31 ATS in their last 44 home games.
31. Oakland Raiders (0-4) - The Raiders are just 26-53 ATS in their last 79 home games and I don't know how much fight they'll have in them this week, even under new coach Tony Sparano. The reports about Sparano's reception in the locker room have been positive. But the fact is that this is the worst roster in the league and is lacking in so many areas. Not the least of which is quarterback. Oakland is 7-3 ATS in its last 10 against San Diego and the underdog is 9-1 ATS in the last 10 meetings.
32. Jacksonville Jaguars (0-5) - Wow. I mean, it is one thing to be as bad as the Jaguars have been this year (avg. score: 33.8 to 13.4) but it is something else to go 0-5 ATS when spreads are already being inflated in your favor. Oddly, Jacksonville's defense leads the NFL in sacks (17), and they are No. 2 in red zone touchdown percentage allowed. I can't ever remember seeing the worst defense in football be so good in two crucial areas like that.
Throughout the season I will have my NFL Power Rankings every Tuesday. My next ones will be released on Tuesday, Oct. 14.
Robert Ferringo is a lead writer for Doc's Sport and he has posted three straight winning NFL weekends and back-to-back winning football months. Robert demolished the books for $2,000 in football profit last weekend alone and swept his three top plays this weekend. Robert has 9 of 11 winning football months and 14 of 19 winning NFL weeks and he is going to build on that sensational resume again this week with more. He is one of the best in the business and will be back with more this week.
Read more articles by Robert Ferringo