2014 NFL Schedule Analysis: NFC Futures Odds Picks and Predictions
by George Monroy - 5/2/2014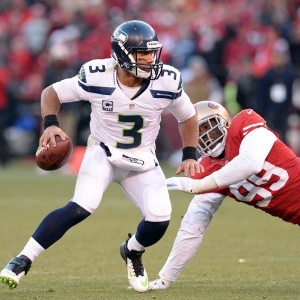 The NFL schedule has been released, which means that countless fans have spent the last few weeks counting their team's potential wins and losses and making predictions on how the 2014 season might end up. Earlier in the week we took a look at the AFC side of the schedule and made a few predictions on how things might pan out. Now let's take a closer look at the 2014 NFC schedule with analysis and predictions.
NFC North
Green Bay Packers
NFC Title Odds: +750 Sportsbook.ag
Green Bay will start off the first half of the season with five of its first eight games on the road. To make matters even worse, the team will also face Seattle, Chicago, Carolina and New Orleans during that span as well. Don't worry about the Packers, though; if they can stay healthy, 2014 should be a bounce-back year.
Predictions: 10-6; division champs
Chicago Bears
NFC Title Odds: +1500
Chicago has a tough schedule with matchups against Green Bay, San Francisco, Carolina, New England, Dallas and New Orleans. The Bears will also be on the road for five of their first eight matchups. A 9-7 record feels like a best-case scenario for the team.
Predictions: 8-8; miss playoffs
Detroit Lions
NFC Title Odds: +2600
Detroit will open the season with games against New York (Giants), Carolina and Green Bay and could be 0-3 before the season even gets any traction. The Lions will again be a talented squad that simply does not put things together 2014.
Predictions: 7-9; miss playoffs
Minnesota Vikings
NFC Title Odds: +6000
Minnesota was surprisingly a very good ATS team last season and could be a solid bet to cover the spread in 2014. The Vikings have eight or nine games that will be extremely difficult to win, but winning the other matchups are in play.
Predictions: 5-11; miss playoffs
NFC South
New Orleans Saints
NFC Title Odds: +1300
New Orleans surprisingly has a manageable schedule that can could see the team jump out to a 6-0 record and 12-4 or 13-3 mark for the season. The Saints do have a rough patch from Week 8 to Week 12 where they will play Green Bay, Carolina, San Francisco, Cincinnati and Baltimore.
Predictions: 11-5; division champs
Carolina Panthers
NFC Title Odds: +2000
Carolina has a brutal schedule to start the year and from Week 3 to Week 9 will have to face Pittsburgh, Baltimore, Chicago, Cincinnati, Green Bay, Seattle and New Orleans. The team might miss the playoffs if it does not have a near perfect season.
Predictions: 9-7; miss playoffs
Atlanta Falcons
NFC Title Odds: +2500
Atlanta made a few free-agency upgrades and expects to add a few more pieces during the draft. It will be difficult for the team to not improve on last year's 4-12 record. Atlanta will not be a playoff team but could win five or six games.
Predictions: 6-10; miss playoffs
Tampa Bay Buccaneers
NFC Title Odds: +4200
Tampa Bay has a tougher-than-expected schedule for a team that went 4-12 last season. The team plays three straight road matchups early in the year and will end the season with matchups against Carolina, Green Bay and New Orleans.
Predictions: 3-13; worst record in the NFC
NFC West
Seattle Seahawks
NFC Title Odds: +280
Seattle has a tough schedule simply because they are in a very good NFC West division but should be able to handle the regular season with ease. One of the team's biggest games of the year (outside of its San Francisco matchups) will be when it faces Denver during Week 3.
Predictions: 12-4; division champs, best record in NFC
San Francisco
NFC Title Odds: +400
San Francisco might be in for a letdown this season. The team is on the fourth year of its elite-level run and could simply fizzle out because of fatigue and lack of focus. The 49ers have a manageable schedule and should be able to make the playoffs once again.
Predictions: 10-6; earns wild card spot
Arizona Cardinals
NFC Title Odds: +3000
Arizona won't be able to surprise teams anymore after last year's 10-6 record that wasn't good enough to make the playoffs in the NFC. The squad will start the year with matchups against San Diego, New York (Giants), San Francisco, Denver and Washington and could be 3-3 by the time Week 7 comes around.
Predictions: 9-7; miss playoffs
St. Louis
NFC Title Odds: +4200
St. Louis has a prime draft spot because of the pick it owns from the Robert Griffin trade a few seasons ago. The team could upgrade itself on defense if Jadeveon Clowney is still available in the No. 2 spot. Expect the Rams to be much better than expected-they might also be a great ATS team.
Predictions: 9-7; miss playoffs
NFC East
Dallas Cowboys
NFC Title Odds: +2200
Dallas has a very manageable schedule and could win 10 games if the team simply stays focused and plays solid football. However, everyone knows that Dallas always plays below their level. Expect another ugly season from the team that luckily results in a backdoor playoff berth.
Predictions: 9-7; division champs
Philadelphia Eagles
NFC Title Odds: +1400
Philadelphia flipped Michael Vick for Mark Sanchez during the offseason but still should be a very good team. The Chip Kelly experience will be on its second year and could make some waves with a team that understands how to run his high-paced offense.
Predictions: 9-7; earns wild card
New York Giants
NFC Title Odds: +2500
New York is a mystery. If the team bounces back with an 11-5 record and makes another Super Bowl run, no one would really be surprised. However, if they produced 5-11 record and looked horrible, no one would be shocked either.
Predictions: 8-8; miss playoffs
Washington Redskins
NFC Title Odds: +3000
Washington is starting to feel the squeeze from the Robert Griffin trade. The team has no first-round draft pick and up until this point has used very little of its $33 million in salary-cap space. Expect Washington to improve but still miss the playoffs because of a tough schedule.
Predictions: 7-9; miss playoffs
Read more articles by George Monroy