Tennessee Titans Odds to Win the Super Bowl and Betting Futures
by Alan Matthews - 6/10/2014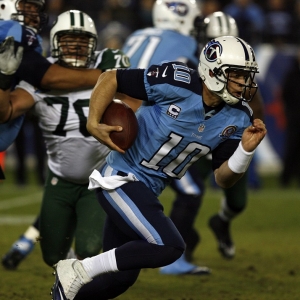 I like to compare the Tennessee Titans to the NBA's Atlanta Hawks. Tennessee is usually a pretty solid team but never much of a championship threat (that Super Bowl loss in the 1999 season notwithstanding). However, the Titans also never get bad enough to land a franchise player. Just like Atlanta.
Last year the Titans finished 7-9 and missed the postseason for the fifth straight year. Coach Mike Munchak was fired with a 22-26 record in his three seasons. He actually was offered a two-year extension but only on the condition that Munchak fire several assistant coaches. He declined. The Titans were a terrible bet under Munchak against teams that finished with a winning record, going 2-20 under the Hall of Fame guard.
Tennessee hired former Cardinals head coach and Chargers offensive coordinator Ken Whisenhunt to replace Munchak. Don't think money doesn't matter? Whisenhunt could have taken the open Detroit job instead, and that's a better gig right now with Matthew Stafford and Calvin Johnson in place. So why did Whisenhunt take the Titans job? There's a state income tax in Michigan but not Tennessee. That's certainly his right to do. The Titans also interviewed Bengals defensive coordinator Mike Zimmer (took the Minnesota head coaching job), Ravens offensive coordinator Jim Caldwell (took the Lions job) and Jay Gruden (took the Redskins job).
Offense
The Titans have been a rather bland offensive bunch under Munchak, and that should improve under Whisenhunt, although it all depends on quarterback Jake Locker. In his one season in San Diego, Whisenhunt took an offense that ranked 31st in the league in 2012 and turned it into NFL's fifth-ranked unit last year. The Bolts averaged around 297 yards per game in 2012 and 393.3 last year. Philip Rivers was much-improved, and that's the hope here, that Whisenhunt can get the best out of Locker. This could well be Locker's final year with the Titans. He can become a free agent after this season as the Titans opted not to pick up the 2015 option year on his rookie contract. Locker has some skills but is brittle. Impeding free agency often motivates a player to stay on the field.
Former 2,000-yard rusher Chris Johnson has moved on, so the Titans are likely going to give rookie second-round pick Bishop Sankey a big workload from the get-go. Currently Shonn Greene is listed as the No. 1 back, but he's coming off knee surgery and a hugely-disappointing 2013 season. It wouldn't surprise anyone if he's released as the Titans would save $2.3 million if Greene is dumped. If Sankey is the real deal then Locker has some weapons. Kendall Wright is a rising star at receiver. He caught 94 balls for 1,079 yards and two TDs last year. Dexter McCluster was a nice addition from Kansas City. Justin Hunter is a big-play machine waiting to happen.
Defense
Whisenhunt hired Ray Horton to run the defense. Last year he was the coordinator for the Browns, whose defense ranked No. 9 overall in the NFL after being 23rd in 2012. Horton spent two years as the coordinator in Arizona under Whisenhunt as well. Horton is shifting the Titans from a 4-3 front to a 3-4 alignment. That means defensive end Derrick Morgan, for example, will have to play some outside linebacker, which he has never done. Morgan had 12.5 sacks over the past two seasons and 47 quarterback pressures. The Titans do have to replace their top cornerback, Alterraun Verner (five interceptions), who signed a big free-agent deal with Tampa Bay. His replacement is slated to be Blidi Wreh-Wilson, who played only 93 snaps a year ago.
2014 Tennessee Titans Schedule Analysis
The Titans have the second-easiest strength of schedule in the NFL as their opponents were 112-144 last season for a winning percentage of .438. Tennessee's home schedule is the easiest in the league with a percentage of just .406. The Titans are 6-point underdogs for Week 1 at Kansas City with a total of 44. The Chiefs visited Nashville in Week 5 last year and won 26-17. Locker was out injured, so backup Ryan Fitzpatrick got the start and was 21-of-41 for 247 yard with a touchdown and two fourth-quarter interceptions. He scored on a 9-yard run early in the fourth to give Tennessee at 17-13 lead, but those two picks were very costly.
Tennessee has a tough four-game opening stretch. After the Chiefs, Dallas visits Nashville and then the Titans go to Cincinnati and Indianapolis. Get through that 2-2 and the team could be in good shape because the next four are all winnable: vs. Cleveland, vs. Jacksonville, at Washington and vs. Houston. The Titans have a bye in Week 9, then have a tough three-game stretch: at Baltimore, vs. Pittsburgh and at Philly. Then it eases up again: at Houston, vs. the Giants, vs. the Jets, at Jacksonville and home to Indianapolis.
2014 Tennessee Titans Odds to Win the Super Bowl and Betting Futures
Odds courtesy of Sportsbook.ag . Tennessee is +9000 to win the Super Bowl, +3500 to win the AFC title and +400 to take the AFC South. The team's wins total is set at 7.0, with the "over" a slight -120 favorite. Locker is +20000 to lead the league in passing yards. Sankey is +10000 to lead the league in rushing and 12/1 to win Offensive Rookie of the Year (ROY odds from Bovada; for some reason he's not a betting option on Sportsbook.ag, which must be an oversight). Nate Washington is +20000 to lead the NFL in receiving yards.
2014 Tennessee Titans Picks and Predictions
Tough team to get a grasp on. It could win 10 games or lose 10 and neither would be shocking. Locker's current backup is Charlie Whitehurst. And that's not a good thing. I don't have any faith Locker can play all 16 games and have no faith the team can win with Whitehurst at QB. Don't bite on any Super Bowl or division odds. I'd say this is a .500 team, so go "over" the wins. And I do like Sankey a lot for OROY. This isn't one of those years where it looks like there's a clear-cut rookie QB who would steal all the headlines and win the award.
Doc's Sports has a great offer for new clients. You can get $60 worth of picks from any Advisory Board handicapper for any sport he handicaps. All with no obligation and no credit card needed. Claim your free picks today .
Read more articles by Alan Matthews