Where Will Michael Sam be Drafted? Odds and Predictions
by Alan Matthews - 2/11/2014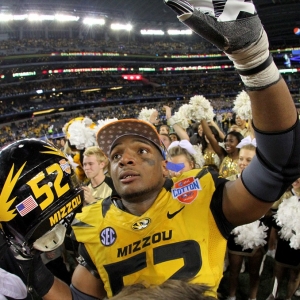 Leave it to the creative folks at Bovada to turn the biggest sports story in America right now, the Michael Sam revelation of his sexual orientation, into a betting prop. I certainly never thought in my career I would be writing about the draft stock of an openly gay college football player. Sam is set to be the first active NFL player out of the closet, although there have been few guys who came out after their careers. And common sense tells you there are probably dozens of gay players currently in the league.
First off, I don't think you can compare Sam's situation with that of NBA player Jason Collins. He had a long and prosperous career in the NBA despite the fact he was never very good -- just 7-feet tall. Collins hasn't been signed yet, but there's really not a market for a 35-year-old 12th man. Has the fact Collins is gay cost him a potential job? New NBA commissioner Adam Silver says Collins' sexuality isn't a factor. There's no reason for some team to pay Collins the veteran's minimum, which is a lot for someone with his amount of tenure in the NBA, when you can get a young guy much cheaper. In the 38 games he played for the Boston Celtics and the Washington Wizards last season, Collins averaged 1 point and 1.5 rebounds per game. I do think there are a few teams out there who might have signed Collins but didn't feel his talent level was worth the potential distraction level.
And that's what I also believe Sam will encounter. He apparently didn't want to come out yet, but it wasn't a secret whatsoever at Missouri -- kudos to teammates for not leaking the information -- and apparently not in many NFL circles, either. Sam was hoping to wait until after the combine when he interviewed with teams but didn't want the story to break without getting in front of it.
Most NFL coaches/executives who have spoken, either anonymously or not, have said if Sam can play and fits a need on their team that he would be chosen. Some have also said the NFL or their teams aren't ready yet. After all, look at what happened on the Miami Dolphins. If Jonathan Martin could be bullied that hard so as to walk away from his teammates, what could happen to Sam? If you have been in a locker room in any sport, gay slurs are simply commonplace.
The last two days of the NFL Draft this May -- remember it was moved back -- now will be must-see TV to see where Sam goes. Probably the NFL Combine too, which starts Feb. 22. It is generally accepted that Sam was given at best a mid-round grade, with perhaps the most optimistic scenario seeing him chosen in the third round. Sam is ranked as the No. 110 player overall on NFLDraftSout.com's big board. ESPN's Mel Kiper Jr. said Sam projects as a fourth-round pick. Gil Brandt, a former draft guru of the Cowboys, tweeted that Sam has physical limitations: "Michael Sam was not in my top 100 of senior NFL prospects. Player without position. Can't play in space, not big enough to play with hand on the ground.''
Sam was terrific this past season for surprising Missouri. He was named the Co-SEC Defensive Player of the Year and an All-American after compiling 11.5 sacks and 19 tackles for a loss. However, nine of his sacks came in three games against weak offensive competition in Vanderbilt, Arkansas State and Florida. Sam is considered too small to play end in the NFL as he did at Missouri as Sam is 6-foot-1, 260 pounds. Thus he probably has to transition to linebacker. He also didn't show all that much during the Senior Bowl when stationed at outside linebacker, and his 4.79 40-time wasn't great. Sam's intangibles like work ethic -- and obviously personal courage -- are off the charts good.
Usually winning an SEC Defensive Player of the Year Award translates into a pretty successful NFL career and/or high draft pick. Check out the last seven winners: Jarvis Jones, Morris Claiborne, Patrick Peterson, Rolando McClain, Eric Berry, Glenn Dorsey and Patrick Willis.
Bovada lists Sam's draft position at "over/under" 125.5, with both at -120. That's late fourth round. If you are wondering, the No. 125 pick in 2013 was UCLA running back Johnathan Franklin by Green Bay and No. 126 was Michigan State defensive end William Gholston by Tampa Bay.
I think at least a third of the NFL teams will shy away from Sam just to avoid the circus that will follow. He certainly needs to go to a team with strong leadership in place, like New England, instead of some locker room that appears to be a mess like Cleveland. I also believe any new head coach or GM is going to steer clear -- it will have to be a guy with job security like the Pats' Bill Belichick (he took a chance on Tim Tebow) or Seattle's Pete Carroll to pull the trigger. Thus, I would take the over on this prop with Sam going in the fifth round. I'm almost more intrigued to see if Sam is highly in demand in terms of marketing opportunities and which companies he signs with. That alone could result in some jealousy in the locker room from veterans.
Read more articles by Alan Matthews