Handicapping the 2015 NFC West Schedule with Important Games and Predictions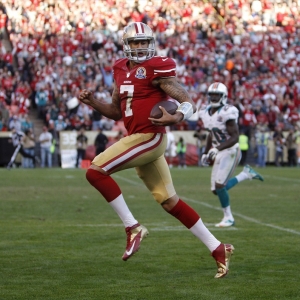 For the last three seasons, the NFC West has been the power division in the NFC and still is considered to have the toughest group of teams in the entire NFL. Even the under-.500 St. Louis Rams earned a measure of respect for the way they played defense and conducted themselves with multiple key injuries to the roster. Seattle is once again the Super Bowl favorite. And even though San Francisco is expected to take a step back, the division is still filled with teams that no one wants to play.
Let's take a closer look at each squad in the NFC West, go over important games with predictions and analysis. All odds come from Bovada.
Seattle Seahawks
Super Bowl Odds: +600
NFC West Odds: -250
Games of consequence : Week 2 at Green Bay; Week 7 and 8 at San Francisco and Dallas; Week 10 to 12 against Arizona, San Francisco and Pittsburgh; Week 14 at Baltimore; Week 17 at Arizona
The two biggest pieces of news coming out of the offseason for Seattle was the signing of Jimmy Graham and the stalled contract extension talks with franchise quarterback Russell Wilson. The organization, it seems, is looking for ways to move past the devastating defeat at least year's Super Bowl, and free-agent signings and drama with contract talks is the way to do it. Signing Graham could be a huge addition for the squad if the former Pro Bowler can regain his form after two subpar seasons.
Schedule-wise, the Seahawks have a brutal mountain to climb, and every victory will be well earned in 2015. The squad has 12 interesting to downright difficult matchups, with four possible "gimmes" against Chicago, Detroit, Minnesota and Cleveland. Expect another rollercoaster of a season with a few peaks and valleys.
Prediction : 12-4, division champions
Arizona Cardinals
Super Bowl Odds: +2500
NFC West Odds: +550
Games of consequence : Week 1 against New Orleans; Week 6 at Pittsburgh; Week 7 against Baltimore; Week 10 at Seattle; Week 12 and 13 at San Francisco and St. Louis; Week 15 at Philadelphia; Week 16 and 17 against Green Bay and Seattle
Much of the expectations for Arizona's 2015 season will depend on how quarterbacks Carson Palmer and Drew Stanton return from last year's injuries. Palmer suffered the more serious issue with another ACL tear, the exact same injury that nearly ended his career in Cincinnati. Arizona, with a healthy Palmer, was and still is a Super Bowl contender, mainly off the strength of the squad's defense. The only issue is whether or not he will be healthy.
Schedule-wise, Arizona and the NFC West in general will have a rough 2015 with matchups against Green Bay, New Orleans, Pittsburgh, and Baltimore. The team's entire outlook will depend on a healthy quarterback, but the defense should still be dominant enough to keep Arizona in the playoff hunt. Expect the Cardinals to figure out their quarterback situation and become a contender again.
Prediction : 11-5
San Francisco 49ers
Super Bowl Odds: +3300
NFC West Odds: +750
Games of consequence : Week 2 and 3 at Pittsburgh and Arizona; Week 4 against Green Bay; Week 6 and 7 against Baltimore and Seattle; Week 11 at Seattle; Week 12 at Arizona; Week 17 against St. Louis
The loss of Jim Harbaugh could be a good thing heading into the season as the dysfunction and tension between the coach and management took a toll on San Francisco toward the end of the year. The squad is in flux but still has a solid core of talented players, even though the trendy analysis is to leave the 49ers left for dead. San Francisco biggest problem is the division its plays in and a tougher-than-normal schedule. Expect the team to struggle out of the gate with matchups against Pittsburgh, Arizona and Green Bay during the first four weeks of the season. A 3-5 record during the first half of the schedule is very likely.
Prediction : 9-7
St. Louis Rams
Super Bowl Odds: +3300
NFC West Odds: +650
Games of consequence : Week 1 against Seattle; Week 3 against Pittsburgh; Weeks 4 and 5 at Arizona and Green Bay; Weeks 11 and 12 at Baltimore and Cincinnati; Week 16 and 17 at Seattle and San Francisco
St. Louis was one of the surprise teams from 2014 and managed to cover four straight spreads late in the season. The Rams may have been the best 6-10 team in the league, and they could have been much better if not for another Sam Bradford injury that stopped their offense from ever gaining any traction. The biggest move of the offseason was the organization finally cutting ties with the quarterback and trading him to Philadelphia for Nick Foles (another often-injured prospect). If St. Louis can ever put a decent offense on the field to go along with Coach Jeff Fisher's tough-as-nails defense, the team might make some noise.
Prediction : 8-8
Get free picks from any Doc's Sports handicapper - there is no obligation for this offer and no credit card required. Just sign up for an account, and you can use the $60 in free picks for any Doc's Sports Advisory Board handicapper and any sport. Click here to get started now.
Read more articles by George Monroy