How New Extra Point Rules will Affect NFL Betting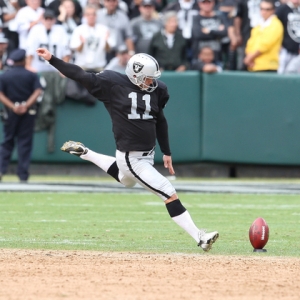 I understand that The Powers That Be running the National Football League hate sports gamblers ( well, some sports gamblers), but this is getting ridiculous. A cavalcade of rule changes over the past several years has warped the game and forced football bettors to stay on their toes. But the NFL's latest alteration is one that has a lot of pros shaking their heads.
On Tuesday the NFL owners voted 30-2 to change the rule governing extra points. The league has decided to move the kick back to the 15-yard line, rather than the two-yard line, for a point after attempt. The ball will remain at the two-yard line for any two-point conversion.
Also, the defense is now capable of scoring two points of its own by returning a blocked kick or turnover on a two-point conversion. Any defensive score off these plays would be worth two points.
The move was likely made in response to the enormous public outcry to get kickers more involved in the game. "Having NFL kickers play a more important role is a great thing for the sport and for the fans," said No One Ever.
Over the last 48 hours every shill, mouthpiece , and NFL puppet in the media has been extolling and accepting of the NFL's pronouncement. Many see the move as a jazzy new wrinkle to help liven up an otherwise "boring" and "empty" portion of the game.
However, I think the new rule change is a joke and absolutely ridiculous. It was a solution in search of a problem and doesn't make sense on any level.
The straw man argument was that the extra point had become too easy and it needed to be turned into a more exciting, challenging play. But in all of my decades of watching pro football I can honestly stay that I have never once heard a single human being say that they wanted, much less needed, the extra point to be exciting.
The extra point was fine the way it was. There were zero complaints about it, and the play served its purpose. The extra point gives fans of the team that scored another chance to go nuts. For everyone else it marked the beginning of the key eight-minute stretch fans have (extra point-commercial break-kickoff-commercial break-play resumes) in between meaningful action. That time is for going to the bathroom, grabbing a drink and some eats, and maybe even throwing in a token check on the wife and/or kids.
Now the owners have turned the extra point into a circus. The idea is that the play becomes more difficult and therefore more "exciting". But when the hell is any kick - beyond a potential game-winning field goal - exciting? Field goals and extra points are necessary annoyances. But no one is actively rooting for field goal kickers, and no one takes them seriously. They are the least football-like entity in the sport. Yet now they have more responsibility and influence on the game?
Cui bono? And it certainly isn't the kickers, many of whom are either annoyed or ambivalent about the new rule .
There have also been suggestions that making the extra point tougher might spur coaches go for more two-point conversions. If the NFL wanted more two-point conversions they could've easily just moved the ball to the one-yard line for those attempts and left the extra point alone.
At this point you might be wondering why I would care so much or feel so strongly about something that's being portrayed as an insignificant alteration. The answer is easy: it takes something that is already extremely difficult - handicapping the NFL and making money betting on football - and makes it that much more difficult.
Don't believe me? Just wait until the first time - and there will be many times - that you lose a wager because some asshat kicker misses an extra point. Or how about the first time that your number gets blown because a kick attempt or conversion attempt gets returned by the defense for two points the other way? So instead of that last touchdown putting your team up seven and ahead of the 4.5 points that you were laying, that defensive two-pointer means that you're only up four after a touchdown and back behind the eight ball.
Think I'm being alarmist? The numbers that we've heard thrown out over the last week are that kickers successfuly made 99.4 percent of all extra points from the two-yard line. That's good. They are SUPPOSED to get that point. Comparatively, kickers made 94.4 percent of all field goals from 32-33 yards out last year. So the reasoning goes that this gimmick isn't REALLY going to impact the game.
But that's ridiculous. Kickers made 94.4 percent of the short field goals last year. But the 10-year average for 32-33 yard field goals is only 91.6 percent. That is still high. But it's nearly a 10 percent difference in extra point conversion rates over the same time period! Right now there might be two missed extra points a month (there were eight total last year). Now I'm willing to bet that there will be two or three per week (and several sites have projected anywhere from 30-40 misses next season).
You ever watch a game where the kicker misses the extra point? It instantly becomes a shit show. The team that should have the momentum - the team that just scored the touchdown - instantly loses it. The players are fans both get pissed. And you can actually see the coaches' brains start to overheat as they are now forced to take an algebra test for the rest of the game.
"Hey, it's just one point. How much can it change things?" Half of the coaches in the NFL don't even know how to use their timeouts properly in the final minutes of each half. Now you're going to add even MORE in-game, strategy-related components for them to worry about? Honestly, you trust guys like Lovie Smith and Rex Ryan to be able to process game theory and statistical probabilities on the sideline after their kicker hooks his second extra point of the afternoon? They're going to screw things up and their stupidity is going to end up costing me money.
Missed extra points really do have a significant impact on game strategy. And it is not for the better. The best coaches and players are able to function with machine-like efficiency. But when things go off-script it changes their approach and game plan. It throws things out of their natural rhythm.
Further, a key component of being a successful NFL handicapper is the ability to understand and process the mathematics of football betting. Understanding things like key numbers, for example, is crucial. But the new rule change is going to change the math of NFL games and is going to make things like totals betting and playing off those key numbers even more difficult. Key numbers are important because three, four or seven points decide an inordinate number of games. But that was based on numbers from a sport with a single, nearly automatic extra point. Now there are going to be even more scoring permutations - I can't wait for my first 19-11 game or a 26-18 final - and those key numbers could lose some strength.
I'm sure someone would reason that missed extra points are arbitrary anomalies. So for every bet that you lose because of a missed extra point you should win a bet with the new rules working in your favor. But that is complete BS; in my opinion bad beats outnumber lucky breaks by about 10-to-1. Anyone that wins a bet because of a missed extra point - or, god forbid, because of a defensive two-point conversion - is simply being rewarded for an atrocious wager. And there are already enough arbitrary components to a football game without having one more than can torch an otherwise sound bet.
Again, you might think that I'm overreacting. But the fact is that the rule change is going to have an impact on the NFL this fall, and I can't think of a single way in which that impact will be positive.
Which leads me to a slew of other issues that can be taken with this maneuver. The first is the fact that, again, they are coming up for solutions for nonexistent problems. If the owners really wanted to solve an issue in the sport, how about we all figure out what the hell a catch is? Or how about we fix the joke of a replay system or come to a consensus about what is or isn't pass interference? Those are actual problems in the game. But they're not being discussed at all. Instead we have this mess.
Football has by far the most convoluted rulebook and is overly complicated in a lot of instances. If the owners are looking to expand their fan base and lure in more fans, they should be looking to simplify the game. Not muddle it even further.
The second is what about all that talk of player safety? The NFL owners waddled up onto their soapbox last year when they announced their rule change that no one asked for, moving the kickoff up five yards. But by creating a more chaotic extra point or more two-point conversions they are creating a significantly higher injury risk for linemen and defenders . They basically took what was a free play and turned it into a free-for-all.
Third, the NFL owners are a bunch of attention whores. This whole announcement just smacks of a group of people that simply have to dominate the news at all time and refuse to cede the national spotlight. It's the offseason. Give it a rest. It is OK not to be front-and-center on the sports page every day of the year. The NFL owners are basically that crazy-needy girlfriend that texts you 12 times a day when you go on that guys' trip for the weekend. Enough already.
Finally, it has once again been comical to watch how the sports media has covered this story. Instead of calling out the NFL and its owners for the stupidity of this idea, all of the outlets that cover the league are simply lapping it up. No one can articulate why this weird, unnecessary rule change is a good thing for the sport. Yet 95 percent of the stories I've read and segments I've watched are treating the decision as either some kind of progressive, intelligent approach to improving the game or some nominal change that won't really impact anything.
The NFL has become an economic juggernaut. Sports are singlehandedly propping up the decaying cable television model right now, and football is the biggest sport in the country. So every media outlet is so afraid of pissing off their Football Overlords that no one is criticizing the NFL for this absurd scheme. Just like they didn't criticize the ownership for its positions in the lockout or the officiating strike or expose the massive scam of publicly-financed stadiums. The media is terrified of crossing the NFL. And it's pathetic.
There was no public outcry to change the extra point. And I suppose there is no public outcry after the NFL altered it. So apparently we will all just sit back and swallow whatever garbage the monolithic corporation that runs pro football will feed us and be happy that we get to taste anything at all.
But the first time you are on the losing end of some horrible beat thanks to some idiot kicker missing an extra point or some jaw-dropping decision by some dolt head coach, just remember who predicted it first. And then get used to it. Because it is going to be happening a lot more this season, to the benefit of no one.
Robert Ferringo is one of the best football handicappers in the country and no one can top his $15,300 in football profit over the last three seasons. Robert has notched four of five winning overall football seasons, which has resulted in over $23,000 in football profit, and Robert has a devastating stretch 35 of 40 winning football months. His unique and innovative Ferringo Method is unlike anything else in the country and has his clients have enjoyed more long-term profit across all sports than any handicapper in the country over the last five years. Put the Ferringo Method to work for you today!
Read more articles by Robert Ferringo