NFL Betting: Handicapping the Remaining Unbeaten Teams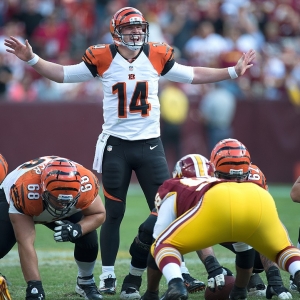 The huge matchup headlining Week 8 of NFL action is a meeting between two titans in Peyton Manning and Aaron Rodgers when the Denver Broncos and Green Bay Packers face off in a battle of unbeaten teams. The legendary quarterbacks have played against each other only one time in their respective careers, during Rodgers' first year as the starting quarterback in Green Bay. The matchup will cross off one of the five unbeaten teams left this year, so let's take a closer look at each one and figure out who has the best value to keep the streaking going into the second half of the season.
Cincinnati Bengals (6-0)
Week 8: at Pittsburgh
This is a matchup between division rivals and two very good ATS teams. They have a combined 10-1-2 ATS record through 13 games, and if Pittsburgh wants to stay in the AFC North division race, Sunday is almost a must-win situation. The good news for the Steelers is that quarterback Ben Roethlisberger is finally expected to return after missing four weeks due to an MCL sprain. Cincinnati, however, has been a Top 5 offensive team through the first part of the year, and that production may not slow down anytime soon. After Sunday's matchup, Cincinnati's next tough game won't come until Week 11 at Arizona, and the team could enter that matchup with a perfect 9-0 mark.
Prediction : Cincinnati's streak will depend on Roethlisberger's knee. If the quarterback is fully healthy then Pittsburgh has enough talent and incentive to put an end to Cincinnati's winning ways. I'm taking the Steelers to get the win.
Denver Broncos (6-0) vs Green Bay Packers (6-0)
Week 8 Sunday Night Football Matchup
Spread: Green Bay -3.5
Green Bay is a road favorite heading into this matchup against another unbeaten team, and, barring a tie, someone's streak will come to an end. Denver's defense has been to the key to winning during the first half of the season as Manning seems to be deteriorating right before our eyes. Green Bay, on the other hand, has been winning off the strength of Rodgers' talent behind center. The team's offense is banged up, and the quarterback does not have many weapons on the field after a key injury sided his favorite target. If the Packers manage to get through the Broncos on Sunday, their reward is a second road matchup against another undefeated team in Carolina. If we are assuming no one is going undefeated this season, both Green Bay and Denver are due for a loss over the next couple of weeks.
Prediction : Taking Green Bay to cover Week 8 is the smartest play. And even though the schedule is difficult, a loss might not be coming anytime soon. Expect the Packers to drop a division game to Minnesota or Detroit late in the season.
Monday Night: Carolina Panthers (6-0)
Week 8: vs Indianapolis
Spread: Carolina -7
Cam Newton and the Panthers have surprised many NFL experts by staying undefeated this long, but the assessment from many pundits is that the team is not in the same league as the other unbeatens in Green Bay and New England. Carolina's offense is sparse with talent, and Newton's newfound leadership and maturity has been the main factor in the group's success during the early part of the year. The Panthers first loss will probably come during Week 9 against Green Bay or even this weekend when they face Indianapolis.
Prediction : the Colts are not a good team at the moment. Andrew Luck is a good QB, but there still isn't much evidence that things are about to change for Indianapolis. And while I do like taking the seven points, all signs point to another Carolina win.
New England Patriots (7-0)
Week 9: vs Washington
New England dispatched Miami with ease on Thursday night and may be steamrolling to another historic season. Tom Brady and Coach Bill Belichick make very few mistakes, so dropping a random game against an under-matched opponent probably will not happen. The team, however, has a road game looming against its Super Bowl nemesis New York Giants during Week 10, a road game against Denver during Week 12 and a home matchup against Philadelphia during Week 13. Staying undefeated during those three matchups will be tough.
Prediction : The chances that New England goes undefeated this season are small. Expect the team to be the last unbeaten group but to suffer a loss against one of the Manning brothers.
Doc's Sports has been successfully handicapping the NFL for years - more than four decades in the business - and wants to give new clients a chance to try our service for free. Click here for the hassle-free sign up and get $60 in free NFL picks today . Also, get three handicappers for the price of one when you sign up for a full-season football package! Click Here for details.
Read more articles by George Monroy