NFL Betting: Handicapping the Unbeaten Teams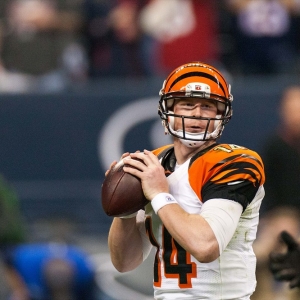 Three weeks ago there were 32 unbeaten teams in the NFL. Now there are just seven. Unlike some years, none of those seven are truly shocking. More shocking are probably a couple of teams that aren't on the list. What's more interesting going forward is how long these teams can remain unbeaten and whether any of them can match the Patriots by winning all 16 regular-season games - or exceed them by winning the Super Bowl as well. Here's a look at each ( odds of winning the Super Bowl are from BetOnline):
New England Patriots (+350): There is no question in my mind right now that this team is playing the best football in the league. That doesn't necessarily mean that they are the best team. They are certainly the best-coached and most-determined, and they have the best quarterback, but they aren't the deepest or overall most talented - and that could come back to haunt them. But then again, it might not - they have won 16 of their last 18 games and are scoring points like it's easy. This bye week comes earlier than they would like given the momentum and relative health. There will be tough games after the bye, but not a single one that stands out as a terrifying challenge. In fact, there is a decent chance that they will be favored in every remaining game - especially if they keep playing like they have been. If a team is going unbeaten this year it is this one.
Cincinnati Bengals (+1600): This is the best we have seen Andy Dalton play, and he has a lot of impressive offensive weapons - A.J. Green, Tyler Eifert, Gio Bernard. They have also played a weak schedule and needed some luck to get past a winless Baltimore team. The schedule has some challenges, too - Seattle, at Arizona, Pittsburgh twice, at Buffalo, at Denver and so on. Good team. Playoff team for sure. Not anything close to an undefeated one, though. They will have a loss before their bye week.
Denver Broncos (+1200): There is no chance that this team remains unbeaten. None. Peyton Manning has no mobility and no touch on long balls. He's more vulnerable than he has ever been in his career. They have played a soft schedule so far, and things will get tough. They host their strongest opponents but still have to play Green Bay, New England and Cincinnati. It's been an unlikely start, but the frustration is coming.
Green Bay Packers (+375): Through three weeks we have already forgotten that the issue was supposed to be that the team had no receivers. They have had three different leading receivers in three games, and Rodgers has 10 passing touchdowns without a pick. They are going to win a lot of games and stand out right now as one of the three best teams in the league. Their road schedule is tough, though, and they will fall short at some point.
Carolina Panthers (+3600): I like this team. They have a workmanlike approach to everything they do. They aren't the best team in any aspect of the game, but they are tough, fairly talented, and relentless. That won't get them anywhere close to 16 wins, but there is a decent chance it could get them 10 or 11 and a playoff spot. I just hope they stay under the radar where they are now.
Atlanta Falcons (+2200): I give them real credit for having a totally different mindset than the one that has crippled them in recent years. That's big. Their start has really benefitted from good fortune in the schedule, though - facing Philadelphia and the Giants when their offenses were MIA and facing Dallas without Tony Romo. The enthusiasm towards this team is higher than it has been in a long time, and it is only going to get higher - a soft schedule means they have a shot at 9-0 by their bye week, and 11 wins seems like a floor given what they are up against. The season is still young, but at this point they are better than every opponent they face. This is a tough situation to evaluate - I don't like this team nearly as much as others, but their schedule means they will have a fat record if they keep playing like they are now. The hope, then, is that their inflated record inflates odds in the playoffs and creates value on their opponent.
Arizona Cardinals (+1000): What a start. They have scored the most points, allowed the third fewest points, and outscored opponents by a combined 77 points through three games. However, some enthusiasm has to be dialed down a little bit because they have played a very weak schedule - New Orleans, Chicago and San Francisco are all doing very good impressions of terrible teams so far this year. They aren't as dominant as their early results suggest, but they are very good as long as Carson Palmer stays healthy, and their coaching is excellent. They have a Week 9 bye and have a fair chance of getting to it unbeaten - or with no more than one loss at the worst. After the bye, though, they travel to Seattle then host Cincinnati. Two brutal weeks. They also close the season with back-to-back games against Green Bay and Seattle. Not an unbeaten team, but a very tough one that no one will want to play in the postseason.
Want free NFL picks? Doc's has you covered. New clients can take advantage of this great offer of $60 in free Doc's Sports members' picks for any handicapper on Doc's Advisory Board. Just check out these guys' pages and see what great work they have done making money for themselves and their clients over the years. Click here for this exclusive $60 picks offer. Also, get three handicappers for the price of one when you sign up for a full-season football package! Click Here for details.
Read more articles by Trevor Whenham