NFL Handicapping: Atlanta Falcons a Headache for Bettors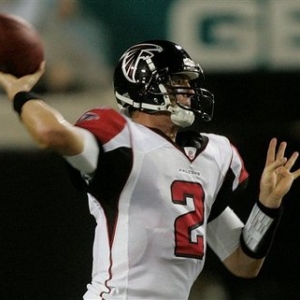 It has been a tale of two seasons this year for the Atlanta Falcons. They jumped out of the gate 5-0, and people were ready to give Dan Quinn the Coach of the Year hardware. After all, he had taken a team that had averaged just five wins over two pathetic seasons and won his first five games. Impressive. But then the team went out and lost four of their next five. Ouch. Even worse, the four losses were all against teams - New Orleans, Tampa Bay, San Francisco and Indianapolis - that they absolutely should have been able to beat.
Over these last five games you couldn't help but flash back to the nightmares of the last couple of years. It was as if, despite all the changes, nothing at all had changed. When a team presents two very different looks like this then it can be very tough to assess which look is actually real - or where between the two reality really is. So, how do we assess this Atlanta team? Here are four factors to consider when pondering this squad:
Matt Ryan: I respect Ryan. The fact, though, is that he just isn't good enough. He's good, but based on his trajectory early in his career it seemed like he would be way beyond where he is now - a solid middle-of-the-pack QB who doesn't overwhelm. He is on pace for the lowest TD total he has had in a full season since he was a rookie and the second-highest interception total of his career. He has already set a new career high for fumbles, and his completion percentage is the lowest in four years.
There are no true causes for alarm - though some of his decision making from time to time is far worse than what we should see from an eighth-year starter - but he just isn't sharp enough. He's not progressing. More significantly, it seems clear that he isn't a truly dynamic leader. That's fine - except the team doesn't seem to have anyone to take his place and lead fearlessly when things start going off the rails. I'm not blaming this all on Ryan by any means, but I also don't feel a lot of optimism regarding him. Matt Ryan is what he is.
Early wins hollow?: Sitting where we sit now it's pretty hard to get too excited about those five wins. A win is a win in this league, but they certainly weren't the toughest wins any team has had. They beat an Eagles team that is just a mess right now then a Giants squad that is perfectly average. They got by the Cowboys without Tony Romo, the Texans while they were still sleepwalking on defense, a Washington team that is just a farce, and a Tennessee team lacking any depth of talent at all. There isn't a signature win among them. Combine those six opponents with the four teams that they have lost to and you have a schedule that is almost unbelievably soft. This is a 6-4 team that is almost entirely the product of its schedule - the schedule makers flatter them.
Coaching: It is too easy to suggest that Quinn has not been doing a good job lately - that the team wouldn't have lapsed into the same bad habits that hurt it so much last year if he were doing a better job. There could be something to that - especially given the schedule - but it doesn't tell the whole story.
Realistically, he faced a massive rebuilding job. The team needed a whole new look on defense, and the running game hadn't worked properly in too long. We could focus on the negatives of the last five games or we could consider that first half of the season was ahead of schedule and that they are performing more realistically now. It's a tougher argument to make given the schedule, but it's important to show some patience here.
You also need to keep in mind that the last three losses have been by a combined total of seven points. A break here or there and Quinn is back in the Coach of the Year discussion. If the team looks like this at this time next year then there is a serious issue, but right now we don't know much.
Manageable remaining schedule: The good news, at least, is that the weakness of the schedule mostly continues the rest of the season. Things are a bit tougher than they have been, but not horrifyingly so. They play Carolina twice, and it's tough to imagine that going very well at this point. Minnesota this week could be challenging - or not if they play like they played against the Packers last week. That leaves the Bucs, the Jaguars and the Saints. It's not tough to imagine the team going 3-3 over that stretch if they can get on track. That would leave them at 9-7 on the year, which would almost certainly be good enough for a wild-card spot given how weak the NFC is right now.
Want free NFL picks? Doc's has you covered. New clients can take advantage of this great offer of $60 in free Doc's Sports members' picks for any handicapper on Doc's Advisory Board. Just check out these guys' pages and see what great work they have done making money for themselves and their clients over the years. Click here for this exclusive $60 picks offer. Also, get three handicappers for the price of one when you sign up for a full-season football package! Click Here for details.
Read more articles by Trevor Whenham