NFL Handicapping: Betting Prospects for 0-2 Seattle Seahawks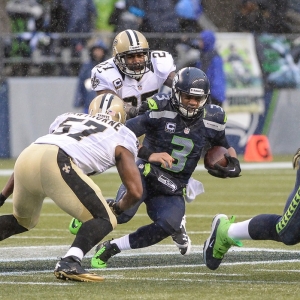 Making any type of dire predictions after the second week of the NFL season is never a good idea, particularly after we did that to the New England Patriots last season and they ended up winning the Super Bowl. In today's 24/7-social-media-obsessed news cycle, however, overreacting and overanalyzing is what experts and fan loves to do. And while we'll try not to take that approach in this article, bettors cannot ignore the fact that Seattle has started the season 0-2 and does not resemble the team that dominated in NFL over the last two seasons.
Free $60 in Member NFL Picks No Obligation Click Here
The question on everyone's mind is whether or not the Seahawks are in trouble. Pete Carroll and company started out 2014 with a 3-3 mark and went on to win nine of their next 10 games to finish the year with a 12-4 mark -- they came within one yard of winning a second consecutive Super Bowl. The NFL season is long and anything can happen, so let's take a closer look at Seattle's schedule and figure out if the team is actually in any trouble.
Seattle's Record : 0-2
Conference odds : +550
Division odds : Even
Week 3 line : -14 vs Chicago
Week 3 : vs Chicago: The Bears are coming off a 25-point loss to Arizona, a team with a similar make up to Seattle. There is no reason a struggling Seahawks team should lose this game. Prediction: Seattle win/no cover
Week 4 : vs Detroit: The story with Lions is always the same. The team has talent but cannot make it work. Detroit is currently winless, and this is one of those matchups were they will be motivated. Prediction: Seattle win.
Week 5 : @ Cincinnati: Bettors can never really trust the Bengals no matter how solid they look to start out the year. This is a tough matchup that Cincinnati can win, but the result could go either way. Prediction: Seattle win
Week 6 : vs Carolina: The Panthers have played a couple of tough, low-scoring matchups against Seattle, so expect nothing different in this meeting. Does Carolina have enough to pull off an upset? Probably not. Prediction: Seattle win.
Week 7 : @ San Francisco: The 49ers surprised many people during their opening matchup against Minnesota and then went the other way against Pittsburgh last week. San Francisco doesn't have the offensive weapons to be a real threat this year. Prediction: Seattle win.
Week 8 : @ Dallas: The Cowboys season is probably over, barring a miracle to addition to the team at the quarterback position. There is no reason to think Seattle will lose this game. Prediction: Seattle win.
First half of the season predictions : 6-2. Would it really be shocking to see Seattle roll off six straight wins? Even if they drop one of those games, a 5-3 mark isn't that bad.
The rest of the schedule
Week 9 : Bye
Week 10 : vs Arizona: Prediction: Loss
Week 11 : vs San Francisco: Prediction: Win
Week 12 : vs Pittsburgh: Prediction: Loss
Week 13 : @ Minnesota: Prediction: Win
Week 14 : @ Baltimore: Prediction: Win
Week 15 : vs Cleveland: Prediction: Win
Week 16 : vs St. Louis: Prediction: Win
Week 17 : @ Arizona: Prediction: Loss
Predictions : 11-5. Even if my game-by-game predictions are not accurate, which is entirely possible, Seattle's schedule gets much easier, and the team is still on course to make a playoff appearance and possibly win the division once again-it all depends on what a very good Arizona team ends up doing. Yes, the Seahawks do not look as dominant as in year's past, they are still missing Kam Chancellor in the secondary, while their prized offseason acquisition, Jimmy Graham, hasn't done much through two games.
Even if Seattle struggles a bit, the schedule is set up for a 10-6 season at minimum-unless of course the team is in store for a disaster. Every year a potential contender starts off slow and the football world predicts the sky is falling. The Seahawks might have come back down to earth a bit, but those first two losses were more matchup issues-the team struggles against a similar-styled St. Louis squad that understands what Seattle does on offense-than major signs of anything deeper. Yes, Seattle needs to improve. But now is not the time to panic.
Doc's Sports is offering new clients free NFL picks from any handicapper on our Advisory Board. This special offer does not require a credit card, and you will never have to deal with a salesman. Click here to get your free $60 NFL picks credit today. Also, get three handicappers for the price of one when you sign up for a full-season football package! Click Here for details.
Read more articles by George Monroy