NFL Props Odds with Expert Betting Picks and Predictions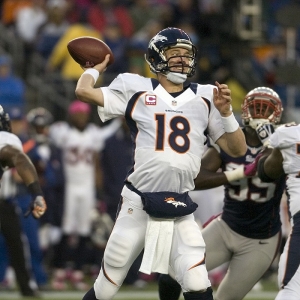 Week 10 in the NFL marks the official start of the second half of the 2015 NFL regular season, with all 32 teams having at least eight of 16 games under their belt. To get things started the right way, Bovada has released its special prop bets for a few of the top NFL storylines trending right now. After going through this week's list of both player and team props, here are my "best bet" picks for a few of these unique betting opportunities.
Free $60 in Member NFL Picks No Obligation Click Here
Peyton Manning Touchdowns vs. Interceptions
Future Hall of Fame quarterback Peyton Manning has led the Denver Broncos to a 7-1 start in their first eight games, although some football experts would argue that the Broncos are off to a great start despite his current play.
Bovada has set a special player prop for whether or not he ends the regular season with more touchdown passes or more interceptions. The moneyline odds for touchdowns are set at +140, and the odds for interceptions are -180.
Since we are talking about one of the greatest quarterbacks to ever play the game, I would immediately go with the favorable odds on touchdowns. However, when you break down his current numbers it is easy to see why the odds favor more interceptions. Through eight games, Manning has just nine touchdown throws verses 13 interceptions, and the numbers appear to be heading in the wrong direction with just three passing touchdowns and six interceptions in his last three games.
Another concern is Manning's overall health that has limited him in practice. The 18-year vet is currently plagued with a foot injury, but the wear and tear on his whole body makes you wonder whether he will even make it through the entire season.
Despite the current trends and his health situation, I still believe that Manning has the ability to right the ship over the next eight weeks and squeeze out one or two more touchdowns than interceptions when it is all said and done.
First Overall Pick in the 2016 NFL Draft
Bovada has set betting odds for 12 different teams when it comes to winning this dubious distinction of earning the first overall pick in next year's draft, starting with the 1-7 Detroit Lions at +225 and going all the way to +3300 for the 2-6 Dallas Cowboys.
A few of the other top favorites on Bovada's list include Cleveland (2-7) at +325, San Diego (2-7) and Tennessee (2-6) at +600, San Francisco (3-6) at +700 and Jacksonville (2-6) at +800.
The Lions are clearly the worst of the bunch through their first eight games, and the prospect for any kind of second-half turnaround does not look all that promising. They still have to play Green Bay twice as well as Oakland, Philadelphia and St. Louis, which are all .500 teams. Looking at this schedule, Detroit might get to 3-13 if they can beat San Francisco at home and Chicago on the road in its final two games.
If you want to stretch the value in these odds a bit, then my top pick would be Cleveland. The Browns already have the jump on things with nine games played, and their remaining schedule does not point to too many more wins. They face Pittsburgh twice starting this Sunday as 5.5-point road underdogs. Cleveland also has to play Cincinnati at home and Seattle and Kansas City on the road. The two possible games it could win are against Baltimore and San Francisco at home, but I think at best that will be a split.
More Rushing Yards: Eddie Lacy or James Starks
Surprisingly enough, the Green Bay Packers are ranked 25th in the NFL this season in average passing yards (225.2) and ranked 14th in rushing yards with 115.6 a game. Third-year running back Eddie Lacy was expected to carry the load in the backfield heading into the season, but heading into this Sunday's game against Detroit, six-year vet James Stark has been named the Packers' starting running back.
Bovada has set the player prop odds at +120 that Lacy ends the regular season with more rushing yards than Starks, who is a -160 favorite to end up on top.
Through Green Bay's first eight games , Lacy has carried the ball 83 times for 308 yards and two touchdowns. That equates to 3.7 yards a carry verses a career average of 4.3 yards per attempt. At this pace, he is projected to rush for 616 total yards this season.
Starks is in the lead right now with 334 rushing yards and two touchdowns on 78 carries. He has definitely been the more consistent runner in matching his career average of 4.3 yards per attempt, and his projected total on the year is 668 yards.
You have to get the ball to get the yards, so with Starks named as the starter he should also get the bulk of the carries for now. Lacy will still be in the mix, so it will be interesting to see how he reacts to his unexpected role as a backup.
In my opinion, Lacy is still the better overall runner, and this situation may provide the spark he needs to earn back his starting role. As far as this prop, I am going with the better value in his moneyline odds to eventually outduel Sparks in total rushing yards by the end of the regular season.
Read more articles by Dave Schwab