Odds for the 2015 Denver Broncos NFL Home Schedule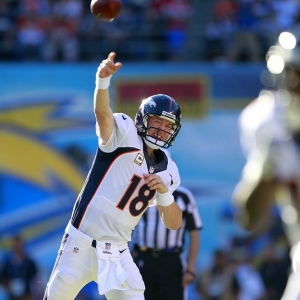 To no surprise, Broncos QB Peyton Manning decided not to retire after that hugely disappointing home playoff loss to Indianapolis in the AFC's divisional round in January. Manning even says he would like to play past this season, but if his Broncos either really struggle or win the Super Bowl then I believe he walks away. Good luck to teams trying to win in Denver during the regular season as the Broncos are 22-2 there since Manning arrived in the Mile High City. He just has some problems winning playoff games in Denver.
Denver was 8-0 at home last regular season, with Green Bay the only other team without a home loss. The Broncos were 4-4 against the spread and the 6-2 "over/under." Denver's 2015 home schedule ranks as the sixth-toughest (tied) in the NFL with an opponents' 2014 winning percentage of .566. It's the second-hardest in the AFC West behind Oakland.
Here's the schedule with very early (opponent) odds.
Sept. 13 -- Ravens (+4.5): Denver will open the season at home for the fourth straight season, and it won the previous three. You no doubt remember the 2013 season opener when Manning threw for 462 yards and a record-tying seven touchdowns in a slaughter of defending Super Bowl champion Baltimore -- the Ravens had to play that one in Denver because of a scheduling conflict in Baltimore with the Orioles. The teams haven't met since. The Broncos won't want to be upset here because then they have a short turnaround before going to Kansas City on a Thursday. Key trend: Broncos 6-4 ATS (8-2 SU) in past 10 at home vs. AFC North.
Oct. 4 -- Vikings (+7): This follows tough road games at the Chiefs and Lions for Denver, and in fact is the only home game in a five-game stretch for the Broncos with trips to Oakland and Cleveland following. It's Minnesota's first trip to Denver since 2007. The Vikings have their bye week following this for what that's worth. Key trend: Broncos 7-3 ATS (9-1 SU) in past 10 at home as a favorite between 6.5-7.5 points.
Nov. 1 -- Packers (+1.5): Perhaps the marquee matchup of the regular season and 100 percent guaranteed the last time Aaron Rodgers and Manning face off barring a Super Bowl meeting. Manning hasn't faced the Packers with Denver yet. This game is out of the Broncos' Week 7 bye. Key trend: Broncos 8-2 ATS in past 10 out of bye week (any location).
Nov. 15 -- Chiefs (+5): This one follows a mammoth game in Indianapolis in Week 9 for the Broncos. The Chiefs will be coming out of their bye. Last season at home, Denver beat Kansas City 24-17 in Week 2. Manning was 21-of-26 for 242 yards and three TDs with no interceptions. The Broncos needed a late goal-line stand to avoid overtime. They had the ball for just 23:46 and were outgained by nearly 60 yards. Key trend: Denver 5-5 ATS (8-2 SU) in past 10 at home vs. Chiefs as a favorite.
Nov. 29 -- Patriots (+2.5): It's game No. 17 in the Tom Brady-Manning rivalry, and it most certainly could be the last. Last season in Foxboro, the Broncos lost 43-21 despite Manning's 438 yards and two touchdowns. He was picked off twice. The game was never much in doubt after the Patriots outscored Denver 24-0 in the second quarter. Most of Manning's numbers were in garbage time. Key trend: Broncos 4-6 ATS in past 10 at home vs. AFC East.
Dec. 13 -- Raiders (+10.5): This will undoubtedly be the biggest spread in a Broncos game this season. Denver smashed visiting Oakland 47-14 in Week 17 last season. That locked up the No. 2 seed. Manning threw for 273 yards but didn't have a touchdown pass for only the second regular-season game in 2014 (yet Brock Osweiler had one). C.J. Anderson ran for three touchdowns. Key trend: Broncos 6-4 ATS (9-1 SU) in past 10 at home as a favorite of at least 10 points.
Dec. 28 -- Bengals (+4.5): Any shot Denver had at getting the top seed in last season's playoffs disappeared in a Week 16 37-28 loss at Cincinnati in the rain. Dre Kirkpatrick returned Manning's third interception of the game for a touchdown in the closing minutes to clinch it. Manning was picked off four times overall. It was his sixth career four-interception game, including the playoffs, and his first since he was with the Colts in 2010. Manning lost for the first time in nine career starts against the Bengals. He dropped to 22-2 all time when playing against AFC North teams. Key trend: Denver 5-4-1 ATS in past 10 December games as a home favorite.
Jan. 3 -- Chargers (TBD): No Week 17 lines available because too many intangibles on final Sunday of season. Could this be Manning's final game? Denver beat the visiting Chargers 35-21 in Week 8 last season on a Thursday night. Manning threw for 286 yards and three scores, with all the TDs going to Emmanuel Sanders. That was the game after Manning broke Brett Favre's career TD mark. In the win, Manning eclipsed the 20-touchdown mark for the 16th season in his career, passing Favre for the most such seasons all time. Key trend: Denver has covered only two of its past 10 at home vs. Chargers.
Want free sports betting picks? Doc's Sports has you covered - get $60 worth of picks free from any of Doc's Sports expert handicappers. Click here for free picks (new clients only).
Read more articles by Alan Matthews